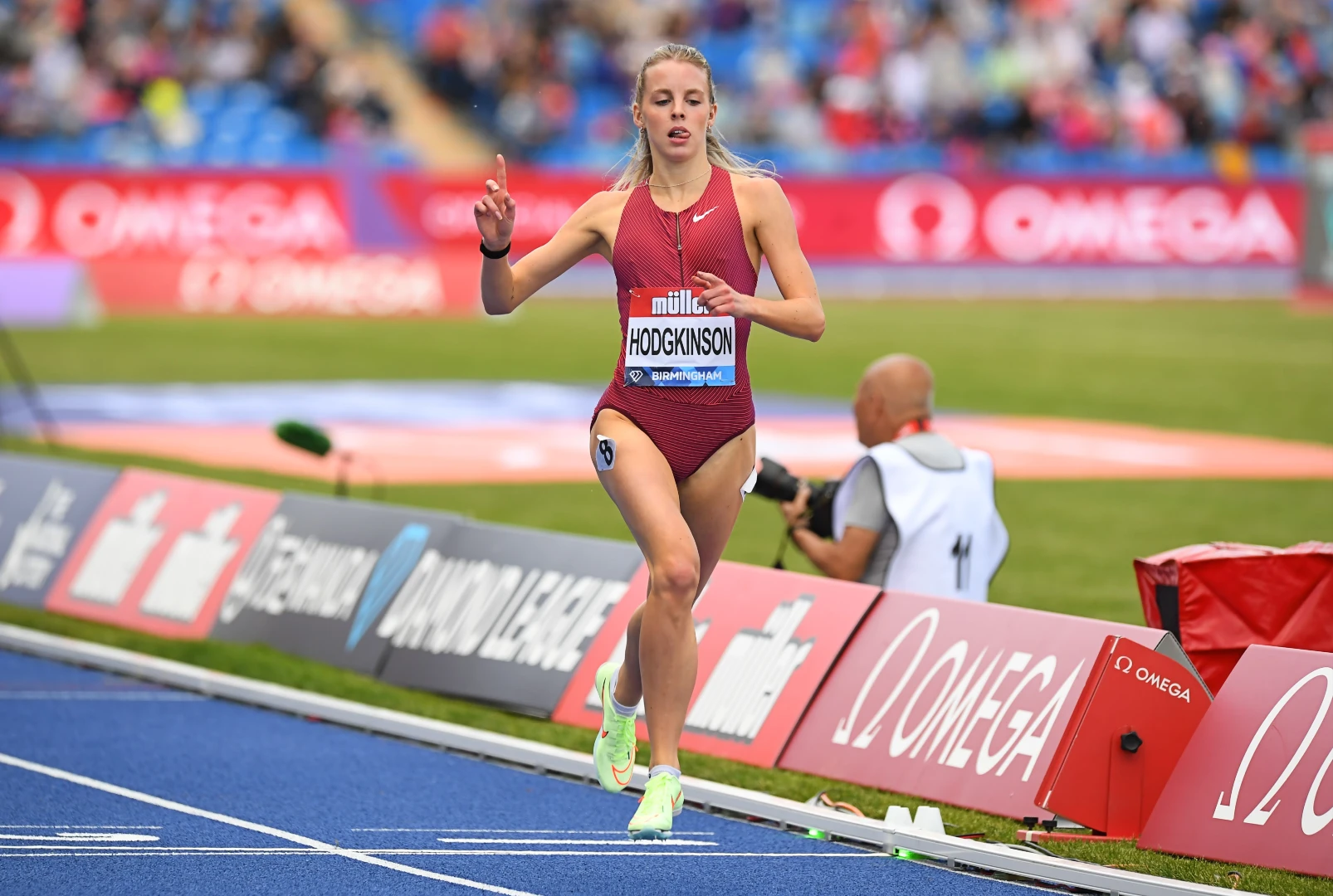 By David Monti, @d9monti
(c) 2023 Race Results Weekly, all rights reserved
NOTE: This story was written remotely –Ed.

BIRMINGHAM — It was a particularly good day today for Neil Gourley (Under Armour) and Keely Hodgkinson (Nike) at Utilita Arena Birmingham.
The two British athletes not only won their individual events in the 2023 World Indoor Tour Final, but also set British indoor records for 1500m and 800m, respectively, and clinched the overall World Indoor Tour points titles in their disciplines.
As a result, they will receive award payments of USD 10,000 and have earned a bye into the 2024 World Athletics Indoor Championships in Glasgow. – Read more: Results from the 2023 Birmingham World Indoor Tour Final
Gourley's victory today was a mild upset. His 1500m race was set up as a British indoor record attempt for 2021 Olympic 1500m bronze medalist Josh Kerr (Brooks Beasts TC) who, indeed, did make an honest attempt at breaking his own mark of 3:32.86 set in Boston almost exactly a year ago. 
Pacemaker Erik Sowinski took the field through 800m in 1:53.53 with Kerr, Gourley, Adel Mechaal of Spain (New Balance), and Andrew Coscoran of Ireland (New Balance) following closely.  Kerr was comfortable leading at that point and still focused on the record.
"I really enjoy racing that way," Kerr told Athletics Weekly.  "If I had felt good being further back I would have been annoyed that I wasn't at the front."
Sowinski made it to 1000 meters in about 2:20 before stepping aside, leaving Kerr at the front with Gourley, Mechaal and Coscoran still close behind.  Kerr continued to lead at the bell, but on the final time down the backstretch he started to labor and Gourley passed him with authority. 
From that point, it was Gourley against the clock.  He broke the tape in 3:32.48 about half a second inside of Kerr's record.
"That race was something else," an elated Gourley told British Athletics.  "I knew it was going to be quick, it was a case of hanging on and using my pace in the last 150m, and thankfully I managed to do that."
READ ALSO: Oklahoma State and Texas Tech win Big 12 Indoor Championships 2023 team titles
Mechaal sprinted hard to get second and was rewarded with a Spanish indoor record of 3:33.28.  Coscoran got third in a personal best 3:33.49, and Luke McCann of Ireland (On Running) also got past Kerr to take fourth in a career best 3:34.76.  Kerr, who ended up fifth in 3:34.93, was satisfied with his race.
"I just didn't have that last 200 in me, and that's OK," Kerr said.  "It's February for me.  I'm not doing European Indoors so it's all geared towards outdoors.  We'll find that gear, but right now 3:34 is where I'm at."
The women's 800m was set up for Hodgkinson, but it was Noélie Yarigo of Benin (Nike) who tucked-in behind pacemaker Aneta Lemiesz of Poland after the first 200m.  But 50 meters later, Hodgkinson passed Yarigo and was the only athlete able to follow Lemiesz through 400m in a blistering 56.94. 
Lemiesz dropped out on the backstretch, and the 20 year-old Hodgkinson ran solo for a lap and a half and never lost form.  Her winning time of 1:57.18 was just 2/100ths of a second below her own record set in the same arena a year ago.
"It was pretty smooth running, but the line got away from me towards the end so I'm a bit gutted because I feel like I'm capable of faster than that," Hodgkinson told British Athletics.  
"Nevertheless, I'm happy to come away with another British record."  She added: "For me now, it's straight into the Europeans (in Istanbul) next week and that's my focus now."
There were record attempts in the other two distance disciplines contested today, but despite putting up excellent marks the winners did not achieve their goals.  In the women's 1000m, Britain's Laura Muir tried for Maria Mutola's vaunted World Athletics indoor record of 2:30.94 set in Stockholm in 1999.
Muir (Nike) got excellent pacemaking from Jenny Selman who took her through 600m in 1:29.36, and at that point the record was still possible. Running in pink spikes, Muir slowed in the final two laps, and her finish time of 2:34.53 was actually slower than her own British indoor record of 2:31.93 set in 2017.
READ MORE: Arkansas Razorbacks sweep SEC Indoor Championships again
"I was going to go for it," said Muir who was clearly exhausted after her race.  "I think when you are running at that pace it's going to hit at some point and it's at what point it's going to hit. Unfortunately, it hit a bit too soon, but I had to go for it, and I had to run those times at the start."
In the 3000m Ethiopia's Gudaf Tsegay (Nike) made a valiant attempt at Genzebe Dibaba's World Athletics indoor record of 8:16.60 set in Stockholm in 2014.  Getting good pacemaking from Ireland's Nadia Power (adidas) and her Ethiopian compatriot Birke Haylom (Nike), Tsegay made it to 2000m in 5:31.06, right on pace. 
With two laps to go, she was running just behind the pacing lights which ringed the inside of the track, but she sped up on the final lap and it looked like she would get the record.  But despite running a closing kilometer of 2:45.65, she came up 9/100ths of a second short. 
Still, her official time of 8:16.69 was the second-fastest in history.
"I'm so happy, it was so close," Tsegay told British Athletics.  "My body is more tired from the traveling, but I am sure that I will get the world record next time.
"I enjoyed the track, it was very good, and I want to thank the crowd in Birmingham and all of the event organizers."