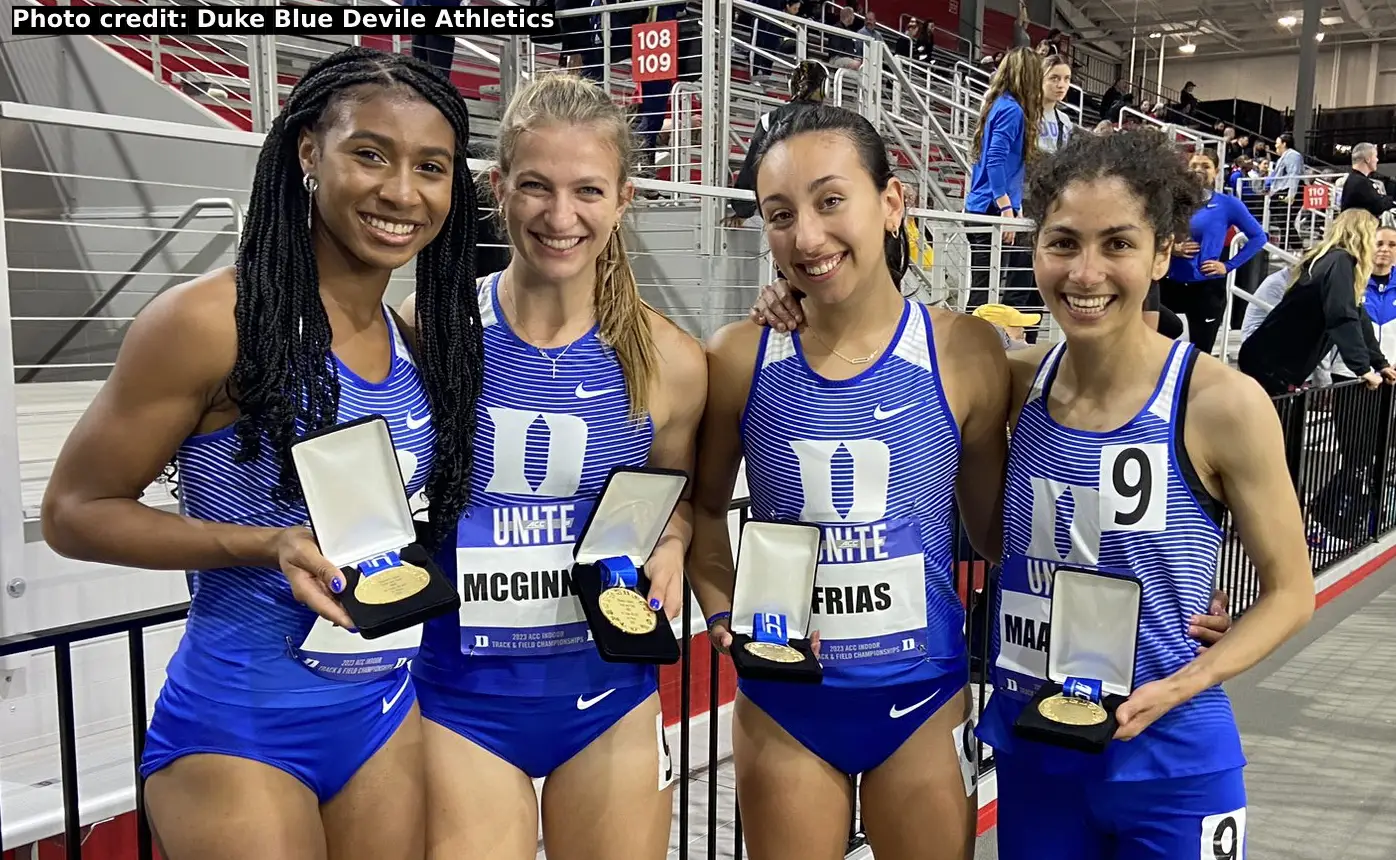 Cameron Miller tied his own Louisville 200m record, posting 20.33 seconds to also set a new ACC Championships meet record on the first day of the ACC Indoor Track and Field Championships Thursday at the Norton Healthcare Sports & Learning Center. Dajaz Defrand of Florida State ran 23.22 to lead the way on the women's side.
Miller also tied his own Louisville record in the men's 200m, while six men dipped under 21-seconds in the qualifying heats on Day 1. – Read more: Day 1 – ACC Indoor Championships 2023 points standings; Louisville men and Virginia Tech women lead
Amir Willis of Florida State ran a personal best of 20.75 to advance to the final, along with Cole Beck of Virginia Tech, who also clocked a PB of 20.82 to secure passage into the title race. Cameron Rose of Clemson (20.84), teammate Wanya McCoy (20.95), and Nolan Macklin of Louisville, who ran a personal best of 20.96, all advance to the final as well on Saturday.
In the meantime, Halle Bieber of Duke was the second quickest on the women's side after she ran a personal best of 23to .29 win her heat and also advanced to the final. Ockera Myrie of Clemson and training partner and Kiara Grant both recorded personal beof sts 23.39 and 23.44 secs, respectively.
Tiriah Kelley of Louisville (23.55 PB) and teammate Kiyah Yeast (23.58 PB) also advance. They will be joined by Moriah Oliveira of Miami (23.78) and Abby Geiser of Duke (23.89) in the women's 200m final lineup.
Duke women's record-breaking DMR run
In the Women's DMR Finals, Duke delivered an outstanding performance, setting a new facility record, meet record, school record, and Atlantic Coast Conference (ACC) record with a time of 10:49.87.
The Blue Devils secured the top position in the event ahead of Notre Dame in second place with a time of 10:51.52, and Katelyn Tuohy split 4:23.36 on the anchor for NC State which took the bronze with a time of 10:52.16.
In the women's 5000m final, Kelsey Chmiel of NC State registered a season-best of 15:55.54 to take the gold medal, with Sydney Seymour of NC State collecting the silver medal in a time of 15:57.18.
Meanwhile, in the men's 5000m final, Paul O'Donnell of Syracuse circled the track to end with a lifetime best of 13:50.94 to take gold, with Ethan Coleman of Notre Dame (13:52.0) getting the silver and Ian Kibiwo of Louisville running a personal best of 13:52.74 to round out the top three.
The second day of competition ACC Indoor Championships 2023 will continue on Friday and begin at 11:00 a.m. The championship starts with the continuation of the men's heptathlon, with the men's 800m preliminaries capping off the evening at 7:30 p.m. The day's events will be available for viewing on ACC Network Extra.