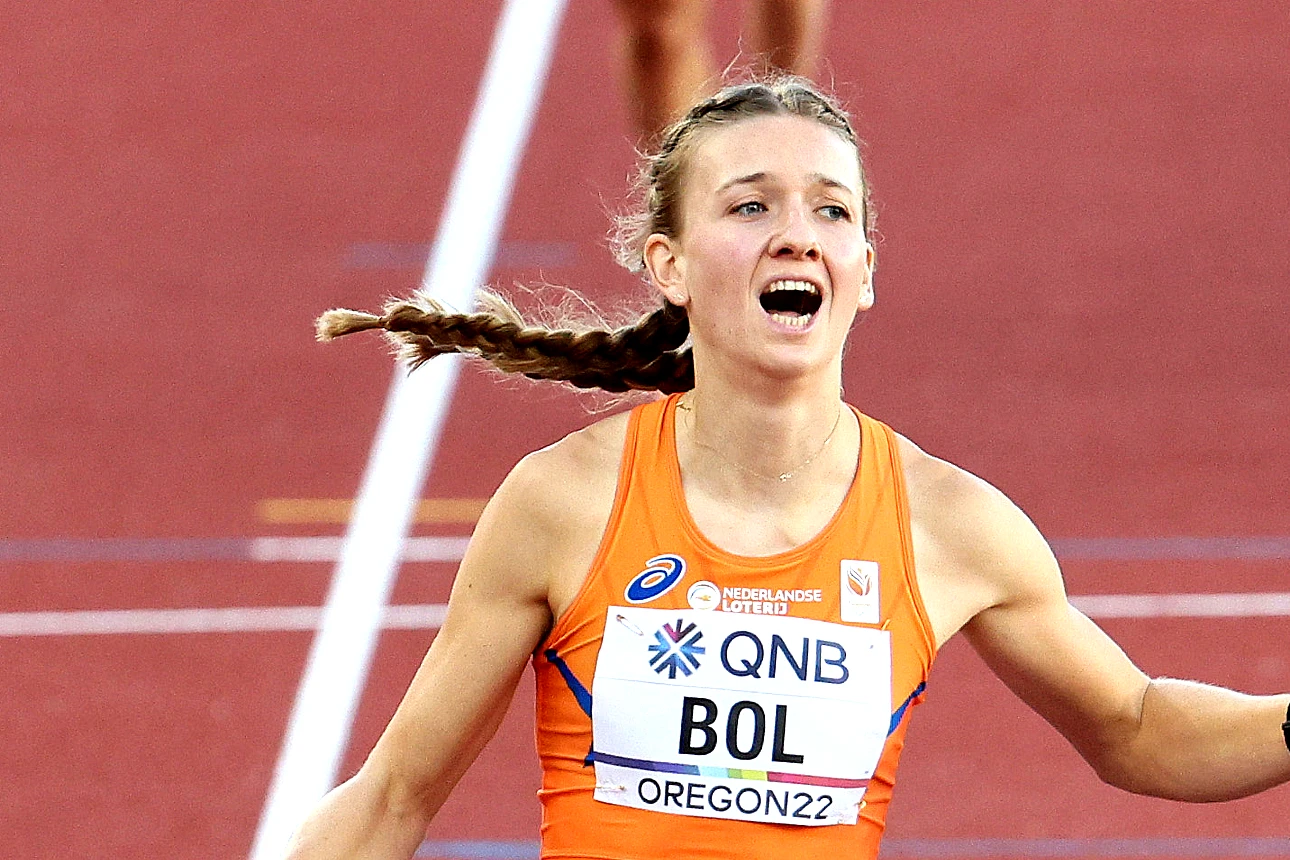 Dutch 400m hurdles silver medalist Femke Bol, was the star of the show at the 2023 Meeting Metz Moselle Athlelor – World Athletics Indoor Tour Silver meeting in France on Saturday after she registering 49.96 and 22.87 to break two national records on the day. CLICK HERE TO WATCH THE RACE
Building on her 1:05.63 season opener to set an all-time world best over 500m at the New Balance Indoor Grand Prix last weekend, Bol, return a week later to clocked 49.96 seconds to get her day's schedule underway after splitting 23.93 secs for the first last and then maintaining her speed throughout the second 200m to cross the finish line first in a new personal best.
Despite being forced to wait for a long time for the start of the race, having brought out on the track some 10 minutes ahead of time, Bol wasn't affected, while her winning time improved her previous best from 50.30 secs, set almost a year ago in Apeldoorn.
Poland's Anna Kiełbasińska was second overall with a time of 51.49 seconds after winning the second section of the event, while Ireland's Sharlene Mawdsley clocked a big personal best of 51.91 for second place behind Bol and third overall.
Bol's performance today was good enough to move her to fourth on the world indoor all-time list and make her the sixth-fastest performer in history, according to World Athletics.
Meanwhile, the two-time European Indoor champion return almost an hour and a half later set another lifetime best and national record in the 200m –clocking a time of 22.87 seconds to defeat Kiełbasińska (23.17) in the same heat.
Bol's compatriot and training partner Lieke Klaver had initially set the Dutch record at 22.97 to win the 'B' race moments, but her time was quickly pushed down the order.
Another standout performance of the day came from Ukrainian high jumper, Yaroslava Mahuchikh, who won that competition with a clearance of 2.02m, which was a two-centimetre improvement on her world-leading mark.
Dutch World U20 silver medalist Britt Weerman clearing 1.96m for second.
Other notable performances of the day included Halimah Nakaayi of Uganda who won the women's 800m in a season's best time of 1:59.18, Belgium's Alexander Doom won the men's 400m in 46.06, while France's Yann Schrub took the men's 3000m in 7:40.54 and Marquis Dendy of USA secured the top spot in the men's long jump with a mark of 8.01m.
Full results can be found here