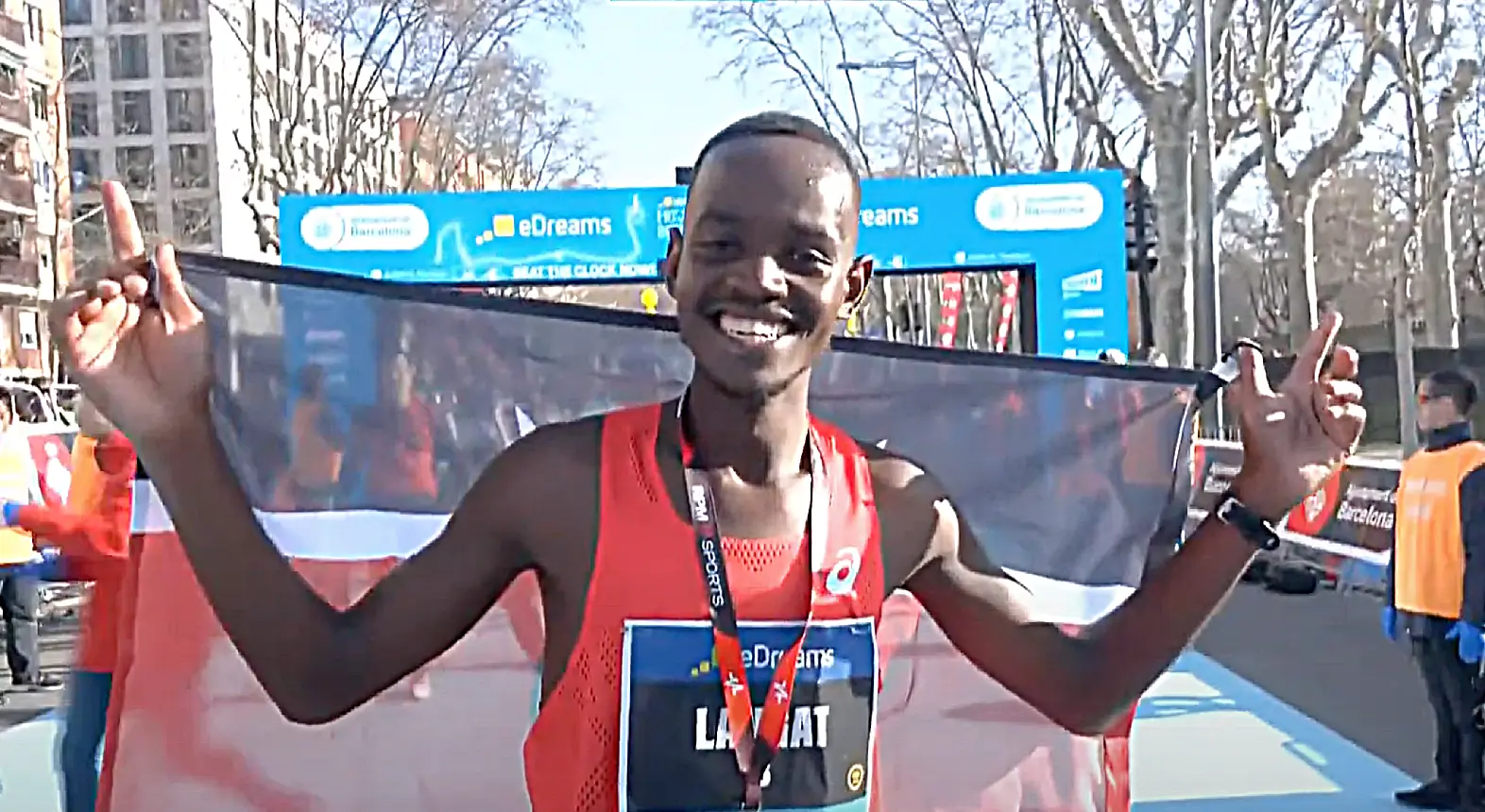 Kenya's Charles Kipkurui Langat and Irene Kimais won the men's and women's half-marathon races at the Edreams Mitja Zurich Marato Barcelona 2023 on Sunday, setting new personal-best times. Langat also set a course record on his way to victory today.
Langat, participating in only his fourth competitive half marathon, won the men's race in a personal best time of 58 minutes and 53 seconds to also set a new course record, while Kimais clocked a time of 1 hour, 4 minutes and 37 seconds to win the women's race, breaking Florence Kiplagat's course record of 1:05:09 and also recorded a PB performance.
Irene Kimais Starts Season With Another PB, Plus A Record
Kimais emerged victorious in the women's category, slicing nearly two minutes off her previous personal best time. The 24-year-old who set a new course record today, won three out of five half marathons in 2022 and she started 2023 with yet another personal best performance, just as she did in Ostia last March. – Read More: Ras Al Khaimah Half Marathon 2023 results; wins for Hellen Obiri, Benard Kibet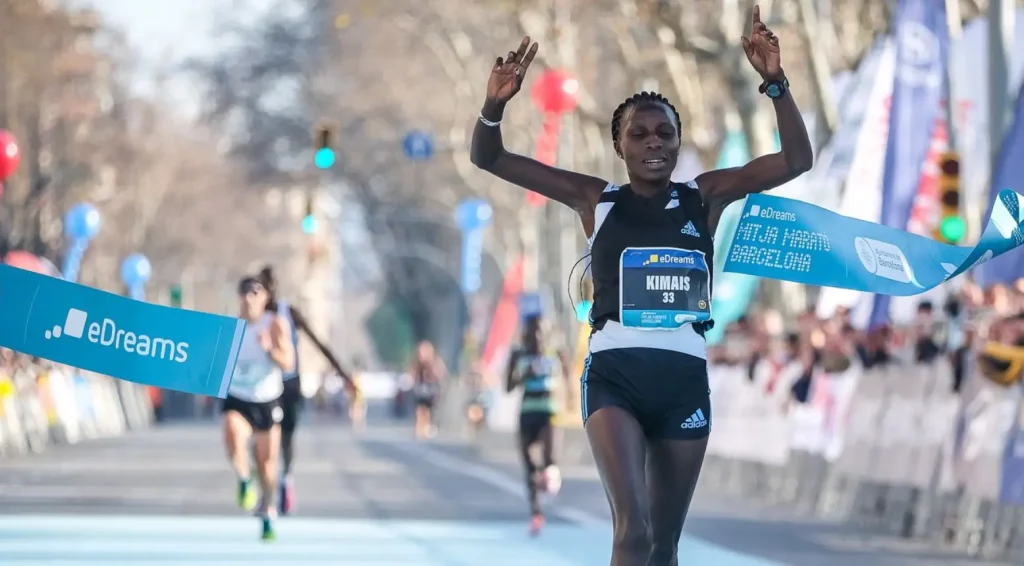 In the women's race on Sunday, Joyciline Jepkosgei, the Half Marathon World Championships silver medalist in 2018, finished second in 1:04:46, improving her personal best time. Catherine Relin, a 20-year-old Kenyan, also set a new personal best with her time of 1:05:39 good enough for third place.
Gladys Chepkurui and Genzebe Dibaba, a five-time World Indoor champion, finished fourth and fifth, both with a time of 1:05:46.
Joyciline Jepkosgei finished second with a personal-best time of 1:04:46, while Catherine Relin of Kenya came in third with a personal best of 1:05:39. Gladys Chepkurui was fourth with 1:05:46 personal best and Ethiopia's Genzebe Dibaba, the five-time World Indoor champion and world 1500m record-holder, taking fifth with 1:05:46.
Delighted Charles Kipkurui Langat Surprised with Sub-59 minutes
Berhanu Legesse and Charles Kipkurui Langat ran neck-and-neck in the final stretch of the race, having broken away from the pack earlier.
However, it was Langat who made a final sprint to break away and claimed the victory and lowering Haftu Teklu's course record of 59:06, which he set to win last year.
Langat was visibly elated after his unexpected performance, having entered the race with the goal of running a sub-60-minute half marathon for the first time in his career.
READ ALSO: Jacob Kiplimo and Beatrice Chebet win World Athletics Cross Country Championships titles
The Kenyan athlete was all smiles as he set a new course record and crossed the finish line in 58:53, earning himself a well-deserved place on the winner's podium.
"It was a good race," said Langat, who was making his debut in the Barcelona race and he set a course record. "The pace was good. This race was so organized. I felt fantastic and [very] courageous."
He added: "I wasn't expecting a course record, but I did it and so this was terrific. I was expecting to run 59-minutes because I have never ran 59-minutes."
Ethiopia's Legesse was rewarded for his efforts, though, as he finished second in the men's race with a personal-best time of 58:59, followed by Kenya's Solomon Yego in third place with a season-best time of 59:29.
The Edreams Mitja Zurich Marato Barcelona 2023, which is part of the 2023 World Athletics Label Road Race Gold series, attracted some top runners from around the world, including Dibaba and Jepkosgei.
Four of the top five finishers in the women's race achieved personal bests, while eight of the top 10 across the finish line set new lifetime bests as fans were able to watch two of the fastest women's half marathon performances of all time.
Edreams Mitja Zurich Marato Barcelona 2023 Results
Women – Half Marathon Result:
Irene Kimais KEN 1:04:37 PB
Joyciline Jepkosgei KEN 1:04:46 PB
Catherine Relin KEN 1:05:39 PB
Gladys Chepkurui KEN 1:05:46 PB
Genzebe Dibaba ETH 1:05:46 SB
Aberash Minsewo ETH 1:08:38 PB
Matea Parlov Koštro CRO 1:09:53 PB
Jacelyn Gruppen NED 1:11:01 PB
Aoife Cooke IRL 1:11:08 SB
Sara Schou Kristensen DEN 1:12:07 PB
AnnMarie McGlynn IRL 1:12:35 SB
Mireia Guarner ESP 1:13:33 PB
Celestine Chepchirchir KEN 1:13:37 SB
Anya Culling GBR 1:13:44 PB
Grace Lynch IRL 1:13:52 SB
Anne Le Cunuder FRA 1:13:55 PB
Courtney McGuire IRL 1:14:03 SB
Lysanne Wilkens NED 1:14:16 SB
Maxence Castel ESP 1:15:12 PB
Marina Bagur ESP 1:16:44 PB
Samira Schnüriger SUI 1:16:59 PB
Roberta Schembri MLT 1:17:33 SB
Ariadna Fenes ESP 1:17:43 PB
Anna Beltran ESP 1:18:05 PB
Alex Ciherean SUI 1:18:18 PB
Verena Cerna GER 1:18:54 PB
Alex Comella ESP 1:19:11 PB
Felicia Körner GER 1:19:35 PB
Ane Zabala ESP 1:19:49 PB
Cyn Cano GBR 1:19:52 PB
Men – Half Marathon Result:
Charles Kipkurui Langat KEN 58:53 PB
Berhanu Legesse ETH 58:59 PB
Solomon Yego KEN 59:29 SB
Josphat Boit KEN 59:51 SB
Gebrie Erkihun ETH 1:00:41 PB
Richard Ringer GER 1:01:09 PB
Abdi Nageeye NED 1:01:10 SB
Simon Boch GER 1:01:23 PB
Samuel Barata POR 1:01:40 PB
Senay Amlesom Fissehatsion ERI 1:01:55 PB
Ahmed El Jaddar MAR 1:01:59 PB
Rui Pinto POR 1:02:16 PB
Samuel Freire CPV 1:02:47 NR PB
Michael Gras FRA 1:02:49 PB
Abdenasser Oukhelfen ESP 1:02:51 PB
Enos Kakopil KEN