By David Monti, @d9monti
(c) 2023 Race Results Weekly, all rights reserved

BOSTON (04-Feb) — It's been three years since the New Balance Indoor Grand Prix has been held in its birthplace in Boston, and for Heather MacLean today's homecoming was particularly sweet.
Raised in nearby Peabody, the University of Massachusetts graduate was pushed by the partisan crowd as she battled Lucia Stafford in the final 100 meters of the women's mile.
Heather MacLean takes top honors at New Balance Indoor Grand Prix
Stafford, the Canadian indoor record holder for 1000m, had passed MacLean coming into the final turn, but MacLean had battled back, and was trying to pass her rival in the homestretch. 
The crowd at the spanking new TRACK at New Balance was clearly with MacLean, a 2021 Olympian who runs for the New Balance Boston club under coach Mark Coogan.
"When I got passed I woke up a little bit," MacLean told Race Results Weekly.  "I was happy to have that extra little push to take it to the finish line."
READ MORE: Results: 2023 New Balance Indoor Grand Prix (Feb.4)
It was close, but MacLean just nipped Stafford at the line, 4:23.42 to 4:23.52.  Her time was a 2023 world leader and a personal best, and she broke the meeting record of 4:24.80 set by Stafford's older sister, Gabriela, in 2019. 
Spain's Esther Guerrero finished third in a national record 4:24.92, and fourth went to one of MacLean's training partners, Emily Mackay, who ran a personal best 4:26.09.
For MacLean, 27, winning at her sponsor's new facility was particularly meaningful.  Not only was it a coup to triumph in front of all of the company's top executives, but she also felt a special connection to the building itself and how it was constructed. It has expansive glass windows and the roof is held in place by massive steel arches.
"Most of my training I do here at the TRACK; I live ten minutes away," MacLean explained.  She continued: "It's really special.  My whole family's here.  My dad, it's the six-year anniversary of his passing, so it's just really special. 
"He was an iron worker and his union actually helped build this facility, so it has a lot of good energy for me."
Woody Kincaid wins Men's 3000m with a personal best time
Woody Kincaid, who won this afternoon's 3000m in a personal best 7:40.71 on the strength of a 25.79-second last lap, also loves to race in Boston. 
Just a week ago, he set the USA indoor record for 5000m of 12:51.61 at the Boston University Track & Tennis Center just a ten-minute drive from here. 
Racing tonight, he was running in fourth place with two laps to go behind Brian Fay of Ireland, Christian Noble of New Balance Boston, and another Irishman Darragh McElinney. 
READ ALSO: Marcell Jacobs, Swoboda, Skrzyszowska shine at Orlen Cup in Lodz
Kincaid surged with 250 meters to go, and nobody was able to match his speed.  He won over Noble by nearly two seconds, who also set a personal best of 7:42.55.
"More than last week, that last lap actually took a lot out of me," Kincaid told reporters.  "I think just coming off that 5-K and being tired. 
"But I like that I was able to close in 25-something on really tired legs.  So, I think I lost all my form that last lap; I didn't know where anybody else was."
Laura Muir wins women's 3000m in 8:40.34
The women's 3000m lacked the last-lap fireworks of the men's, but was a thrilling race in a different way.  Two Britons, Laura Muir and Melissa Courtney-Bryant, broke away from the field after a quick opening kilometer of 2:51.09. 
Courtney-Bryant, who was running her first indoor race in two years, got into Muir's slipstream and did her best to hang on to the Scotswoman as she pounded out 34-second laps. 
Muir, the 2022 Commonwealth and European 1500m champion, soon pulled away from Courtney-Bryant and spent the final kilometer of the race just competing with the clock. 
Her lap times slipped into the 35's, and her final lap of 36.17 seconds was actually the slowest of the race.  She won in 8:40.34 to Courtney-Bryant's 8:41.09.
"The 3-K's hard," said Muir, who had never raced indoors in the United States before.  She continued: "It was solid.  I felt a little tired on the back of traveling here.  I know I'm in a good place."
Muir will run the Rudin Women's Wanamaker Mile at the Millrose Games next weekend in New York City.
The men's mile finished much like the women's with two athletes battling to the line.  New Zealand's Sam Tanner, who led most of the second half of the race, seemed to have victory in the bag when he rounded the final bend in the lead.
Neil Gourley wins by just 1/100th of a second
But Scotsman Neil Gourley was closing fast and came up on Tanner's right side in the homestretch.  The two men crashed through the tape together, and the photo timing showed that Gourley had won by just 1/100th of a second, 3:52.84 to 3:52.85.  Gourley's time was a 2023 world leader and a personal best.
"I messed up; I'll be honest," Gourley told reporters. "I went far too late.  Sam really should have had me.  I just had enough room in the last 50 meters to close on him.  Next time I'll be sharper and won't let that happen again."
Also winning tonight was Ajee' Wilson in the 800m.  Wilson, the reigning world indoor champion, ran a patient race and did not immediately chase Kaela Edwards when Edwards jumped the field just before the halfway mark.
Instead, Wilson let the race come back to her.  She got on Edwards's back with about 100 meters to go, then eased past her in the homestretch to get the win, 2:00.45 to 2:01.09.
READ MORE: Impressive wins for Holloway, Lyles and Hobbs at New Balance GP
"I think it's all about being competitive," said Wilson who, at 28, has been racing at the elite level for ten years.  "That's one of the things I love about the sport. 
"I think that's what makes training worthwhile; it can get a little mundane.  But racing, being competitive and just going after it is what drives me."
The men's 800m victory went to Spain's Mariano Garcia, the 2022 European Champion.  Garcia, 25, also repeated as meet champion, albeit in a slower time of 1:45.26. 
He finished ahead of the hard-charging American Olympian Isaiah Jewett who tried to run the Spaniard down in the final 100 meters, but came up just short in a personal best 1:45.75.  Ireland's Mark English got third in 1:46.57.
The international junior miles were won by Sadie Engelhardt of Ventura, Calif., in 4:40.59, and Rocky Hansen of Arden, N.C. in 4:01.11.
Engelhardt's time was a meeting record (previous 4:44.02 by Ryen Frazier in 2015), but Hansen said that he didn't care about his time.  He blew by Connor Burns on the backstretch to get the win.
"I know I'm a closer so whenever I get to the last 200, last 150, it's go time," Hansen said.  "I saw the (pace) lights ahead of us and I was like, I don't care.  I'm here to race."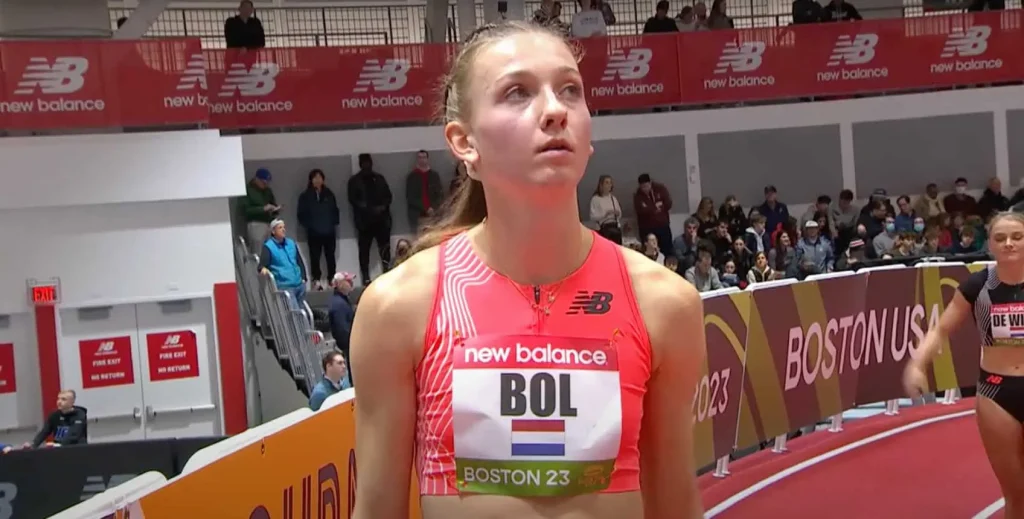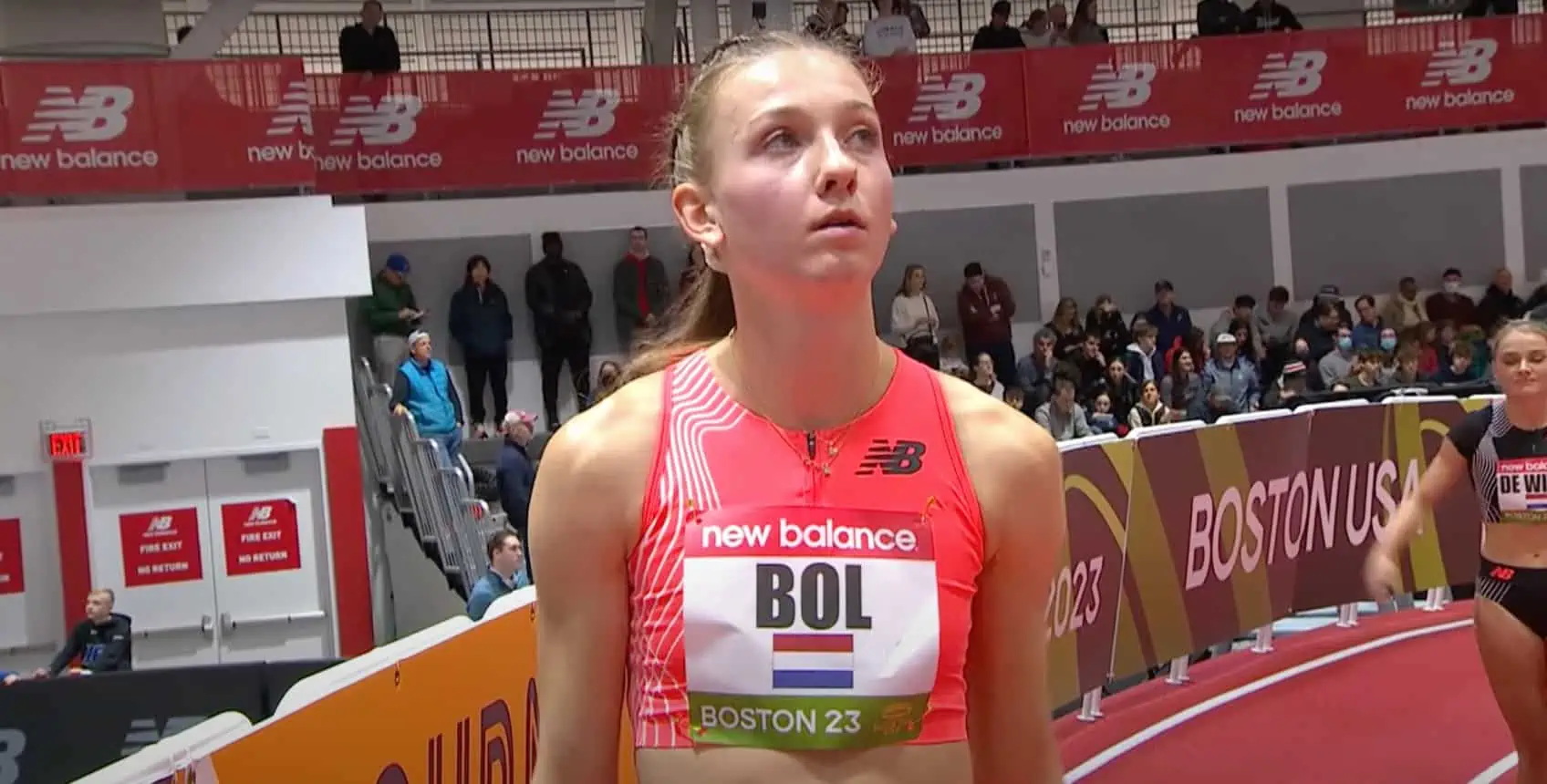 In the sprints Dutchwoman Femke Bol ran a world-best 1:05.63 for 500 meters, and Grant Holloway ran a world-leading 7.38 in the 60m hurdles.
– – – – – – – –
The last two editions of this meeting –one of just two Gold Level meets in the United States on the World Athletics Indoor Tour– were held in Staten Island, N.Y. at Ocean Breeze, but organizers moved the meet back to Boston after the completion of The TRACK last fall.  The meet is likely to remain here indefinitely.
PHOTO: Heather MacLean wins the women's mile at the 2023 New Balance Indoor Grand Prix in Boston over Lucia Stafford (photo by Jane Monti for Race Results Weekly)