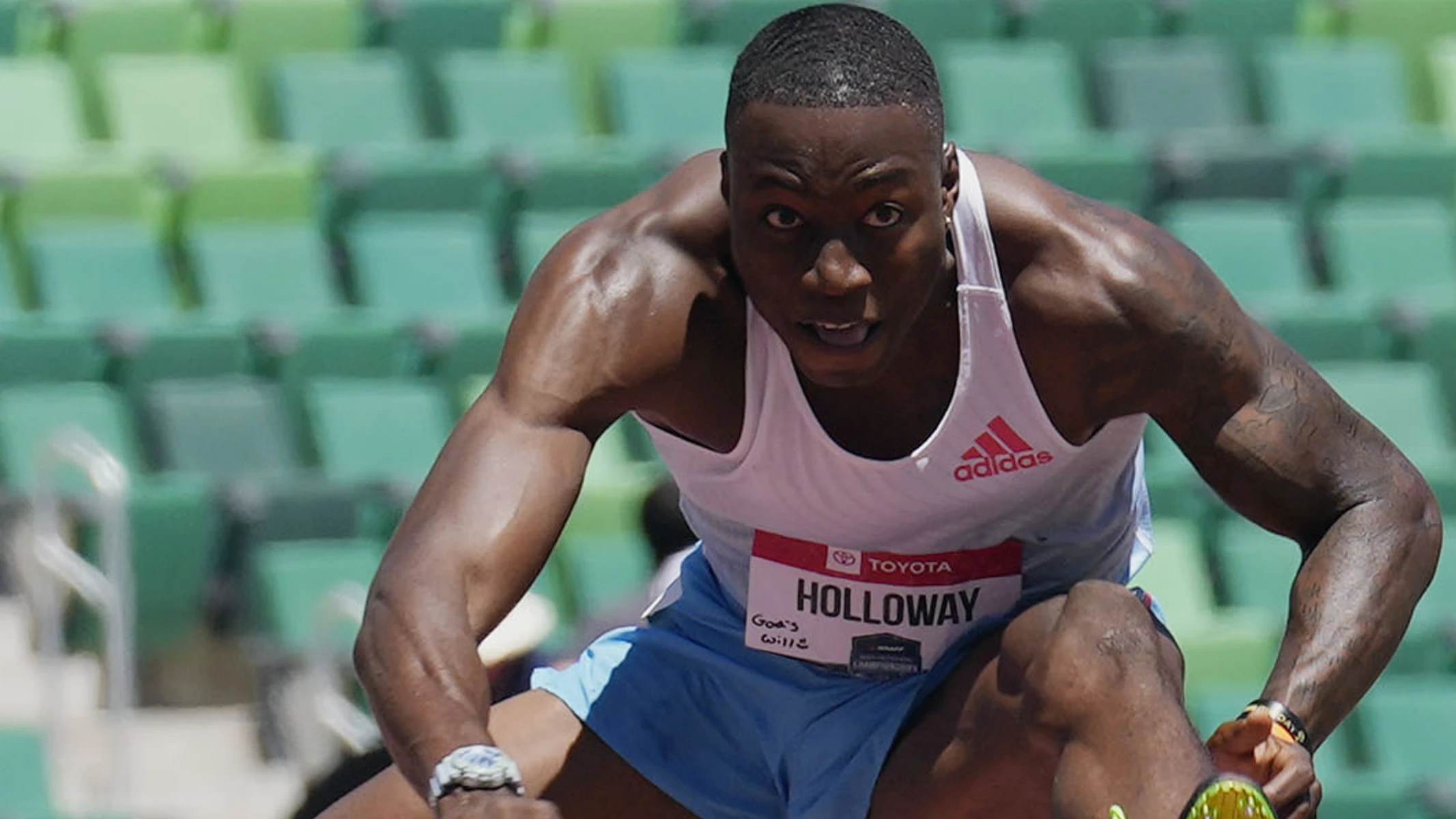 Results from the 2023 New Balance Indoor Grand Prix, which took place at The Track at New Balance in Boston, MA, on Saturday (February 4). The event is part of the 2023 World Athletics Indoor Tour Gold series and several global champions were in action.
Among the winners at the meeting were Americans Noah Lyles and Aleia Hobbs who won the men's and women's respective 60m titles, while Femke Bol set a new world best for the women's 500m and Grant Holloway and Ajee Wilson continue their win streak.
READ MORE: [Video] Femke Bol sets 500m world best at New Balance Indoor Grand Prix
Check the complete results below to see where your favorite athlete finished this weekend.
– Results – 2023 New Balance Indoor Grand Prix
World Athletics Indoor Tour – A
Men's 400m indoor
Final
POS. ATHLETE COUNTRY MARK
1 Noah WILLIAMS USA 45.88
2 Jereem RICHARDS TTO 45.88
3 Vernon NORWOOD USA 45.92
4 Alex HAYDOCK-WILSON GBR 46.29
5 Javon FRANCIS JAM 47.61
World Athletics Indoor Tour – A
Men's Mile indoor
Final
POS. ATHLETE COUNTRY MARK
1 Neil GOURLEY GBR 3:52.84
2 Samuel TANNER NZL 3:52.85
3 Samuel PRAKEL USA 3:53.58
4 Andrew COSCORAN IRL 3:53.64
5 John GREGOREK USA 3:53.99
6 Luke MCCANN IRL 3:54.91
7 Jochem VERMEULEN BEL 3:59.32
8 Charlie DA'VALL GRICE GBR 4:00.31
9 Cruz CULPEPPER USA 4:02.08
10 Hobbs KESSLER USA 4:05.01
11 Josh HOEY USA 4:05.58
Erik SOWINSKI USA DNF
Joshua THOMPSON USA DNF
Isaac NADER POR DNF
World Athletics Indoor Tour – A
Men's 60mH indoor
Final
POS. ATHLETE COUNTRY MARK
1 Grant HOLLOWAY USA 7.38
2 Daniel ROBERTS USA 7.46
3 Freddie CRITTENDEN USA 7.55
4 Robert DUNNING USA 7.61
5 Trey CUNNINGHAM USA 7.67
6 Jaylan MCCONICO USA 7.78
7 Josh BRAVERMAN USA 7.85
Louis ROLLINS USA DQ
Men's 60mH indoor
Heat 1
POS. ATHLETE COUNTRY MARK
1 Grant HOLLOWAY USA 7.39
2 Freddie CRITTENDEN USA 7.59
3 Robert DUNNING USA 7.6
4 Josh BRAVERMAN USA 7.74
5 Louis ROLLINS USA 7.74
Men's 60mH indoor
Heat 2
POS. ATHLETE COUNTRY MARK
1 Daniel ROBERTS USA 7.52
2 Trey CUNNINGHAM USA 7.62
3 Jaylan MCCONICO USA 7.77
4 Damion THOMAS JAM 7.82
5 Joshua ZELLER GBR 8
World Athletics Indoor Tour – A
Men's High Jump indoor
Final
POS. ATHLETE COUNTRY MARK
1 Tejaswin SHANKAR IND 2.26
2 Donald THOMAS BAH 2.23
3 Darryl SULLIVAN JR. USA 2.19
Darius CARBIN USA NM
World Athletics Indoor Tour – A
Women's 60m indoor
Final
POS. ATHLETE COUNTRY MARK
1 Aleia HOBBS USA 7.02
2 Mikiah BRISCO USA 7.1
3 Celera BARNES USA 7.21
4 Kayla WHITE USA 7.22
5 Candace HILL USA 7.23
6 Kiara PARKER USA 7.24
7 Melissa JEFFERSON USA 7.26
8 Anthonique STRACHAN BAH 7.4
Women's 60m indoor
Heat 1
POS. ATHLETE COUNTRY MARK
1 Aleia HOBBS USA 7.08
2 Celera BARNES USA 7.21
3 Kiara PARKER USA 7.22
4 Candace HILL USA 7.25
5 Sydney MCLAUGHLIN USA 7.33
6 Javianne OLIVER USA 7.42
Women's 60m indoor
Heat 2
POS. ATHLETE COUNTRY MARK
1 Mikiah BRISCO USA 7.15
2 Kayla WHITE USA 7.21
3 Melissa JEFFERSON USA 7.25
4 Anthonique STRACHAN BAH 7.32
5 Shericka JACKSON JAM 7.34
6 Cambrea STURGIS USA 7.37
7 Kendra HARRISON USA 7.39
World Athletics Indoor Tour – A
Women's 800m indoor
Final
POS. ATHLETE COUNTRY MARK
1 Ajee WILSON USA 2:00.45
2 Kaela EDWARDS USA 2:01.09
3 Isabelle BOFFEY GBR 2:01.42
4 Ellie BAKER GBR 2:03.19
5 Samantha WATSON USA 2:03.65
6 Kristie SCHOFFIELD USA 2:05.24
7 Lynsey SHARP GBR 2:05.60
Gemma FINCH GBR DNF
World Athletics Indoor Tour – A
Women's 3000m indoor
Final
POS. ATHLETE COUNTRY MARK
1 Laura MUIR GBR 8:40.34
2 Melissa COURTNEY-BRYANT GBR 8:41.09
3 Katie SNOWDEN GBR 8:47.41
4 Hannah NUTTALL GBR 8:47.72
5 Alicja KONIECZEK POL 8:51.08
6 Julie-Anne STAEHLI CAN 8:51.96
7 Lea MEYER GER 8:52.48
8 Marta PÉREZ ESP 8:52.63
9 Adelle TRACEY JAM 8:52.96
10 Roisin FLANAGAN IRL 8:53.50
11 Jennifer NESBITT GBR 9:09.83
12 Izzy FRY GBR 9:12.82
13 Millie PALADINO USA 9:17.62
14 Katrina COOGAN USA 9:35.65
Ciara MAGEEAN IRL DNF
Holly ARCHER GBR DNF
World Athletics Indoor Tour – A
Women's Pole Vault indoor
Final
POS. ATHLETE COUNTRY MARK
1 Bridget WILLIAMS USA 4.77
2 Gabriela LEON USA 4.55
3 Aikaterini STEFANIDI GRE 4.55
4 Katie MOON USA 4.45
5 Emily GROVE USA 4.45
6 Kristen BROWN USA 4.3
Indoor Meeting – A
Men's 60m indoor
Final
POS. ATHLETE COUNTRY MARK
1 Noah LYLES USA 6.51
2 Trayvon BROMELL USA 6.51
3 Benjamin AZAMATI GHA 6.62
4 Miles LEWIS PUR 6.62
5 Kendal WILLIAMS USA 6.64
6 Demek KEMP USA 6.67
7 Michael CAMPBELL JAM 6.79
Terrance LAIRD USA DNS
Men's 60m indoor
Heat 1
POS. ATHLETE COUNTRY MARK
1 Noah LYLES USA 6.56
2 Kendal WILLIAMS USA 6.68
3 Miles LEWIS PUR 6.69
4 Demek KEMP USA 6.71
Men's 60m indoor
Heat 2
POS. ATHLETE COUNTRY MARK
1 Trayvon BROMELL USA 6.61
2 Benjamin AZAMATI GHA 6.65
3 Terrance LAIRD USA 6.69
4 Michael CAMPBELL JAM 6.73
Josephus LYLES USA DQ
Indoor Meeting – A
Men's 800m indoor
Final
POS. ATHLETE COUNTRY MARK
1 Mariano GARCÍA ESP 1:45.26
2 Isaiah JEWETT USA 1:45.75
3 Mark ENGLISH IRL 1:46.57
4 Bryce HOPPEL USA 1:46.58
5 Daniel ROWDEN GBR 1:46.75
6 Kyle LANGFORD GBR 1:47.73
7 Drew PIAZZA USA 1:51.56
8 Hiroki MINAMOTO JPN 1:52.94
Erik SOWINSKI USA DNF
Indoor Meeting – A
Men's 3000m indoor
Final
POS. ATHLETE COUNTRY MARK
1 William KINCAID USA 7:40.71
2 Christian NOBLE USA 7:42.55
3 James WEST GBR 7:42.89
4 Morgan BEADLESCOMB USA 7:42.90
5 Benjamin FLANAGAN CAN 7:43.49
6 Brian FAY IRL 7:43.85
7 Darragh MCELHINNEY IRL 7:45.79
8 Thomas KEEN GBR 7:48.99
9 Mason FERLIC USA 7:49.62
10 Maximilian THORWIRTH GER 7:50.92
11 Daniel ARCE ESP 7:54.39
12 Osian PERRIN GBR 7:55.74
Eric AVILA USA DNF
Addisu YIHUNE ETH DNF
Ben ALLEN USA DNF
Indoor Meeting – A
Women's 300m indoor
Final
POS. ATHLETE COUNTRY MARK
1 Gabrielle THOMAS USA 36.31
2 Anna KIEŁBASIŃSKA POL 36.41
3 Lynna IRBY USA 36.62
4 Jenna PRANDINI USA 38.16
Indoor Meeting – A
Women's 500m indoor
Final
POS. ATHLETE COUNTRY MARK
1 Femke BOL NED 1:05.63
2 Leah ANDERSON JAM 1:08.34
3 Janieve RUSSELL JAM 1:09.18
4 Lisanne DE WITTE NED 1:09.87
Indoor Meeting – A
Women's Mile indoor
Final
POS. ATHLETE COUNTRY MARK
1 Heather MACLEAN USA 4:23.42
2 Lucia STAFFORD CAN 4:23.52
3 Esther GUERRERO ESP 4:24.92
4 Emily MACKAY USA 4:26.09
5 Danielle JONES USA 4:26.75
6 Jemma REEKIE GBR 4:28.49
7 Emma COBURN USA 4:28.84
8 Nozomi TANAKA JPN 4:28.94
9 Helen SCHLACHTENHAUFEN USA 4:29.50
10 Taryn RAWLINGS USA 4:31.33
11 Vera HOFFMANN LUX 4:32.05
12 Allie WILSON USA 4:33.93
13 Georgie HARTIGAN IRL 4:43.69
Cory Ann MCGEE USA DNF
Indoor Meeting – A
Women's 60m Hurdles indoor
Final
POS. ATHLETE COUNTRY MARK
1 Devynne CHARLTON BAH 7.87
2 Sharika NELVIS USA 7.93
3 Celeste MUCCI AUS 7.95
4 Danielle WILLIAMS JAM 7.97
5 Taliyah BROOKS USA 8.08
6 Michelle HARRISON CAN 8.1
7 Cindy SEMBER GBR 8.19
8 Lolo JONES USA 8.55
U20 Events – F
Men's Mile indoor
Final
POS. ATHLETE COUNTRY MARK
1 Rocky HANSEN USA 4:01.11
2 Connor BURNS USA 4:03.08
3 Simeon BIRNBAUM USA 4:05.29
4 Aaron SAHLMAN USA 4:06.69
5 Kole MATHISON USA 4:07.68
6 Devan KIPYEGO USA 4:08.05
7 Corey CAMPBELL GBR 4:08.16
8 Isaac ROTHWELL GBR 4:14.53
9 Sean CRONIN IRL 4:15.86
10 Caolan MCFADDEN IRL 4:25.84
Kristian GREEN GBR DNF
U20 Events – F
Women's Mile indoor
Final
POS. ATHLETE COUNTRY MARK
1 Sadie ENGELHARDT USA 4:40.59
2 Tatum DAVID USA 4:40.86
3 Ellie SHEA USA 4:42.08
4 Isabel CONDE FRANKENBERG USA 4:50.12
5 Annie MANN GBR 4:53.85
6 Iris DOWNES GBR 4:56.59
7 Amelia EVERETT USA 5:01.65
8 Mary CLODAGH IRL 5:04.01
9 Jennifer O'LEARY IRL 5:10.87
10 Lia PUGSLEY USA 5:14.33
11 Lily JIN USA 5:17.52
Men's 1500m indoor
Final
POS. ATHLETE COUNTRY MARK
Andrew COSCORAN IRL 3:37.95
Neil GOURLEY GBR 3:38.06
Luke MCCANN IRL 3:38.28
Samuel PRAKEL USA 3:38.32
John GREGOREK USA 3:38.57
Samuel TANNER NZL 3:37.87
Jochem VERMEULEN BEL 3:41.05
Charlie DA'VALL GRICE GBR 3:43.01
Cruz CULPEPPER USA 3:44.18
Hobbs KESSLER USA 3:47.77
Josh HOEY USA 3:48.35
Women's 1500m indoor
Final
POS. ATHLETE COUNTRY MARK
Heather MACLEAN USA 4:06.07
Lucia STAFFORD CAN 4:06.09
Esther GUERRERO ESP 4:06.70
Danielle JONES USA 4:07.47
Emily MACKAY USA 4:08.73
Jemma REEKIE GBR 4:08.79
Nozomi TANAKA JPN 4:09.90
Emma COBURN USA 4:10.39
Taryn RAWLINGS USA 4:11.32
Helen SCHLACHTENHAUFEN USA 4:12.44
Vera HOFFMANN LUX 4:12.96
Allie WILSON USA 4:14.90
Georgie HARTIGAN IRL 4:22.63
Men's 1500m indoor
Final
POS. ATHLETE COUNTRY MARK
Rocky HANSEN USA 3:45.42
Connor BURNS USA 3:45.51
Simeon BIRNBAUM USA 3:47.49
Aaron SAHLMAN USA 3:50.31
Devan KIPYEGO USA 3:50.44
Corey CAMPBELL GBR 3:51.39
Kole MATHISON USA 3:51.45
Isaac ROTHWELL GBR 3:53.98
Sean CRONIN IRL 3:57.86
Caolan MCFADDEN IRL 4:07.08
Split times U20 Events – F
Women's 1500m indoor
Final
POS. ATHLETE COUNTRY MARK
Tatum DAVID USA 4:23.34
Sadie ENGELHARDT USA 4:23.63
Ellie SHEA USA 4:23.70
Isabel CONDE FRANKENBERG USA 4:31.19
Annie MANN GBR 4:34.01
Iris DOWNES GBR 4:37.02
Amelia EVERETT USA 4:40.49
Mary CLODAGH IRL 4:44.83
Jennifer O'LEARY IRL 4:49.91
Lia PUGSLEY USA 4:50.50
Lily JIN USA 4:54.14