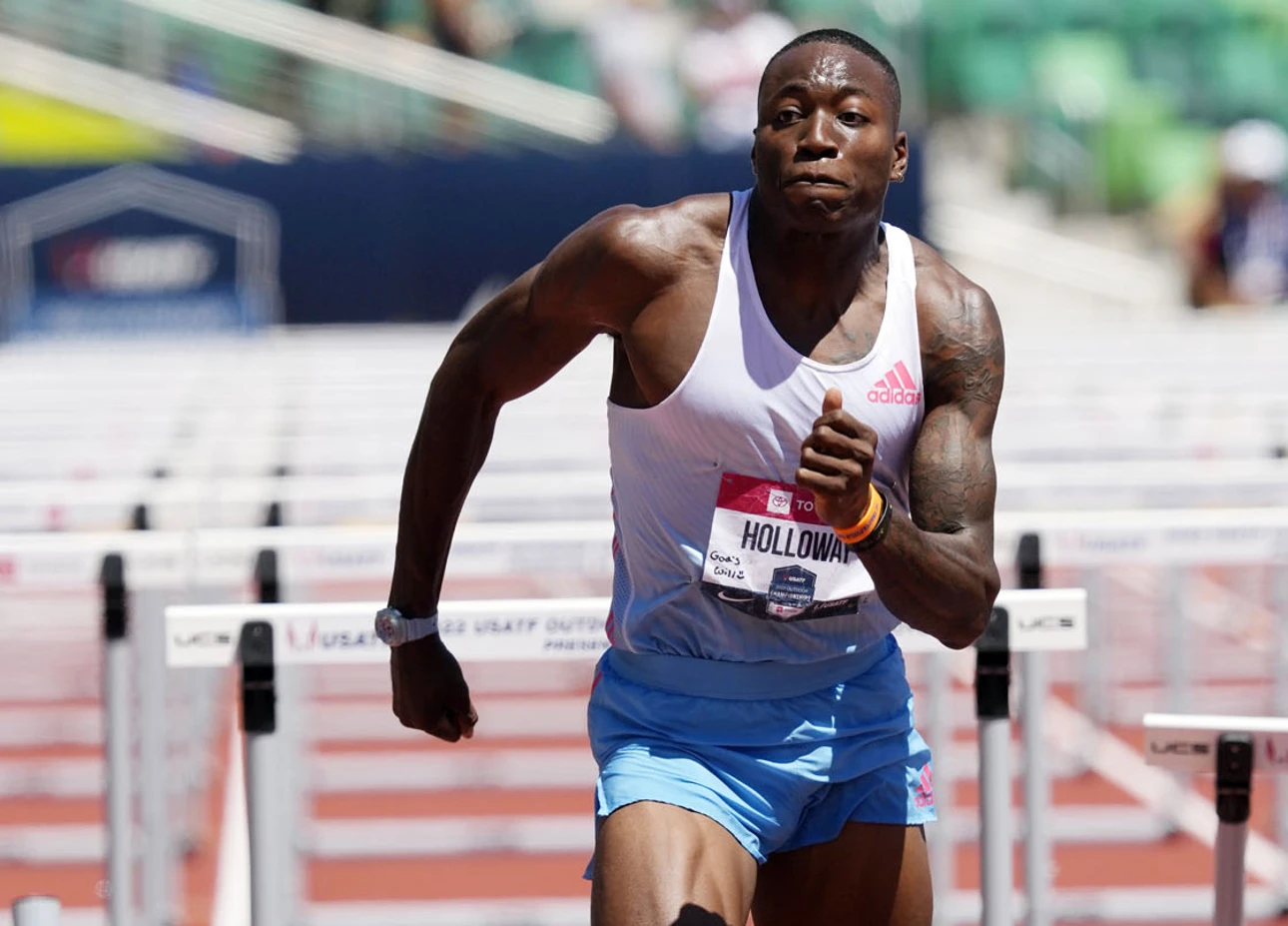 Results from the 2023 Birmingham World Indoor Tour Final – a 2023 World Athletics Indoor Tour Gold series meeting at the Utilita Arena Birmingham on Saturday, Feb. 25. Among the highlighted performers on the day were Grant Holloway of the USA, along with Laura Muir, Dina Asher-Smith, Neil Gourley and Keely Hodgkinson of Great Britian.
Holloway won the men's 60m hurdles title after the world record holder posted a meet record time of 7.35 seconds to beat his countryman Daniel Roberts (7.47), while Asher-Smith clocked 7.05 secs to win the women's 60m dash. She ran a British record of 7.03 secs in the heats.
Keely Hodgkinson, the world and Olympic silver medalist continued her impressive form this season as the British star won the women's 800m with an impressive performance of 1:57.18 to set a national record and closed out the event in style.
Elsewhere, Ethiopian world champion Gudaf Tsegay dominated the women's 3000m after running a meeting record and world leading time of 8:16.69, while Briton Laura Muir took the women's 1000m in 2:34.53 with Neil Gourley from Great Britain set a national record with a time of 3:32.48 to take the top spot, and Adel Mechaal from Spain finishing second with a time of 3:33.28 (also a national record).
2023 Birmingham World Indoor Tour Final Results
World Athletics Indoor Tour – A
Men's 400m indoor
Final
PLACE NAME NAT. MARK
1 Jereem RICHARDS TTO 45.74
2 Vernon NORWOOD USA 45.92
3 Jack RAFTERY IRL 46.66
4 Ben HIGGINS GBR 46.66
5 Gustav Lundholm NIELSEN DEN 46.87
6 Samuel REARDON GBR 47.02
World Athletics Indoor Tour – A
Men's 1500m indoor
Final
PLACE NAME NAT. MARK
1 Neil GOURLEY GBR 3:32.48 (NR)
2 Adel MECHAAL ESP 3:33.28 (NR)
3 Andrew COSCORAN IRL 3:33.49
4 Luke MCCANN IRL 3:34.76
5 Josh KERR GBR 3:34.93
6 Ossama MESLEK ITA 3:37.50
7 Nicholas GRIGGS IRL 3:39.94
8 Piers COPELAND GBR 3:40.64
Erik SOWINSKI USA DNF
World Athletics Indoor Tour – A
Men's 60mH indoor
Final
PLACE NAME NAT. MARK
1 Grant HOLLOWAY USA 7.35 (MR)
2 Daniel ROBERTS USA 7.47
3 Roger IRIBARNE CUB 7.58
4 Michael DICKSON USA 7.6
5 Freddie CRITTENDEN USA 7.61
6 David KING GBR 7.7
7 Damian CZYKIER POL 7.8
8 Andrew POZZI GBR 7.8
World Athletics Indoor Tour – A
Men's High Jump indoor
Final
PLACE NAME NAT. MARK
1 Hamish KERR NZL 2.28
2 Erik PORTILLO MEX 2.28
3 Edgar RIVERA MEX 2.25
4 Tobias POTYE GER 2.25
5 Marco FASSINOTTI ITA 2.22
5 Norbert KOBIELSKI POL 2.22
7 Thomas CARMOY BEL 2.18
8 William GRIMSEY GBR 2.14
World Athletics Indoor Tour – A
Men's Long Jump indoor
Final
PLACE NAME NAT. MARK
1 Marquis DENDY USA 8.28
2 Tajay GAYLE JAM 8.13
3 William WILLIAMS USA 8.03
4 Erwan KONATE FRA 7.82
5 Reynold BANIGO GBR 7.81
6 Thobias MONTLER SWE 7.63
7 Jack ROACH GBR 7.6
8 Marko ČEKO CRO 7.41
World Athletics Indoor Tour – A
Women's 60m indoor
Final
PLACE NAME NAT. MARK
1 Dina ASHER-SMITH GBR 7.05 [British No. 1]
2 Daryll NEITA GBR 7.13 [British champion 2023]
3 Destiny SMITH-BARNETT USA 7.15
4 Shericka JACKSON JAM 7.18 [world 200m champion]
5 Natasha MORRISON JAM 7.24
6 Anthonique STRACHAN BAH 7.25
7 Gina LÜCKENKEMPER GER 7.28
8 Asha PHILIP GBR 7.3
Heat 1
PLACE NAME NAT. MARK
1 Daryll NEITA GBR 7.14
2 Shericka JACKSON JAM 7.23
3 Anthonique STRACHAN BAH 7.27
4 Olivia FOTOPOULOU CYP 7.36
5 Arialis MARTINEZ POR 7.37
6 Diani WALKER GBR 7.47
7 Cassie-Ann PEMBERTON GBR 7.47
Heat 2
PLACE NAME NAT. MARK
1 Dina ASHER-SMITH GBR 7.03 (NR in the heats)
2 Destiny SMITH-BARNETT USA 7.19
3 Gina LÜCKENKEMPER GER 7.27
4 Asha PHILIP GBR 7.28
5 Natasha MORRISON JAM 7.29
6 Bianca WILLIAMS GBR 7.37
7 Alisha REES GBR 7.41
8 Gloria HOOPER ITA 7.44
World Athletics Indoor Tour – A
Women's 800m indoor
Final
PLACE NAME NAT. MARK
1 Keely HODGKINSON GBR 1:57.18 (NR) [world and Olympic silver medalist]
2 Catriona BISSET AUS 1:59.83
3 Isabelle BOFFEY GBR 2:00.25
4 Anita HORVAT SLO 2:00.62
5 Ellie BAKER GBR 2:00.86
6 Allie WILSON USA 2:01.13
7 Noélie YARIGO BEN 2:01.18
Aneta LEMIESZ POL DNF
World Athletics Indoor Tour – A
Women's 3000m indoor
Final
PLACE NAME NAT. MARK
1 Gudaf TSEGAY ETH 8:16.69 (MR)
2 Mizan ALEM ETH 8:31.20
3 Konstanze KLOSTERHALFEN GER 8:35.14
4 Teresiah Muthoni GATERI KEN 8:36.64
5 Margaret AKIDOR KEN 8:40.24
6 Martyna GALANT POL 8:43.08
7 Alice FINOT FRA 8:44.47
8 Klara LUKAN SLO 8:44.80 NR
9 Marta PEN FREITAS POR 8:47.07
10 Eloise WALKER GBR 9:02.80
Birke HAYLOM ETH DNF
Nadia POWER IRL DNF
World Athletics Indoor Tour – A
Women's Pole Vault indoor
Final
PLACE NAME NAT. MARK
1 Alysha NEWMAN CAN 4.78m
2 Tina ŠUTEJ SLO 4.71m
3 Gabriela LEON USA 4.61
4 Roberta BRUNI ITA 4.61
5 Aikaterini STEFANIDI GRE 4.51
6 Bridget WILLIAMS USA 4.51
7 Wilma MURTO FIN 4.51
8 Sophie COOK GBR 4.41
Jade IVE GBR NM
Indoor Meeting – A
Men's 60m indoor
Final
PLACE NAME NAT. MARK
1 Charles DOBSON GBR 6.64
2 Adam GEMILI GBR 6.68
3 Sam GORDON GBR 6.7
4 Adam THOMAS GBR 6.7
5 Jona EFOLOKO GBR 6.71
Jeremiah AZU GBR DQ
Ojie EDOBURUN GBR DQ
Richard AKINYEBO GBR DQ
Indoor Meeting – A
Women's 1000m indoor
Final
PLACE NAME NAT. MARK
1 Laura MUIR GBR 2:34.53
2 Claudia Mihaela BOBOCEA ROU 2:35.35 (NR)
3 Sofia ENNAOUI POL 2:35.69
4 Elena BELLÒ ITA 2:37.09
5 Katie SNOWDEN GBR 2:37.46
6 Maureen KOSTER NED 2:37.85
7 Kristie SCHOFFIELD USA 2:39.31
8 Petja KLOJČNIK SLO 2:40.43
Jenny SELMAN GBR DNF