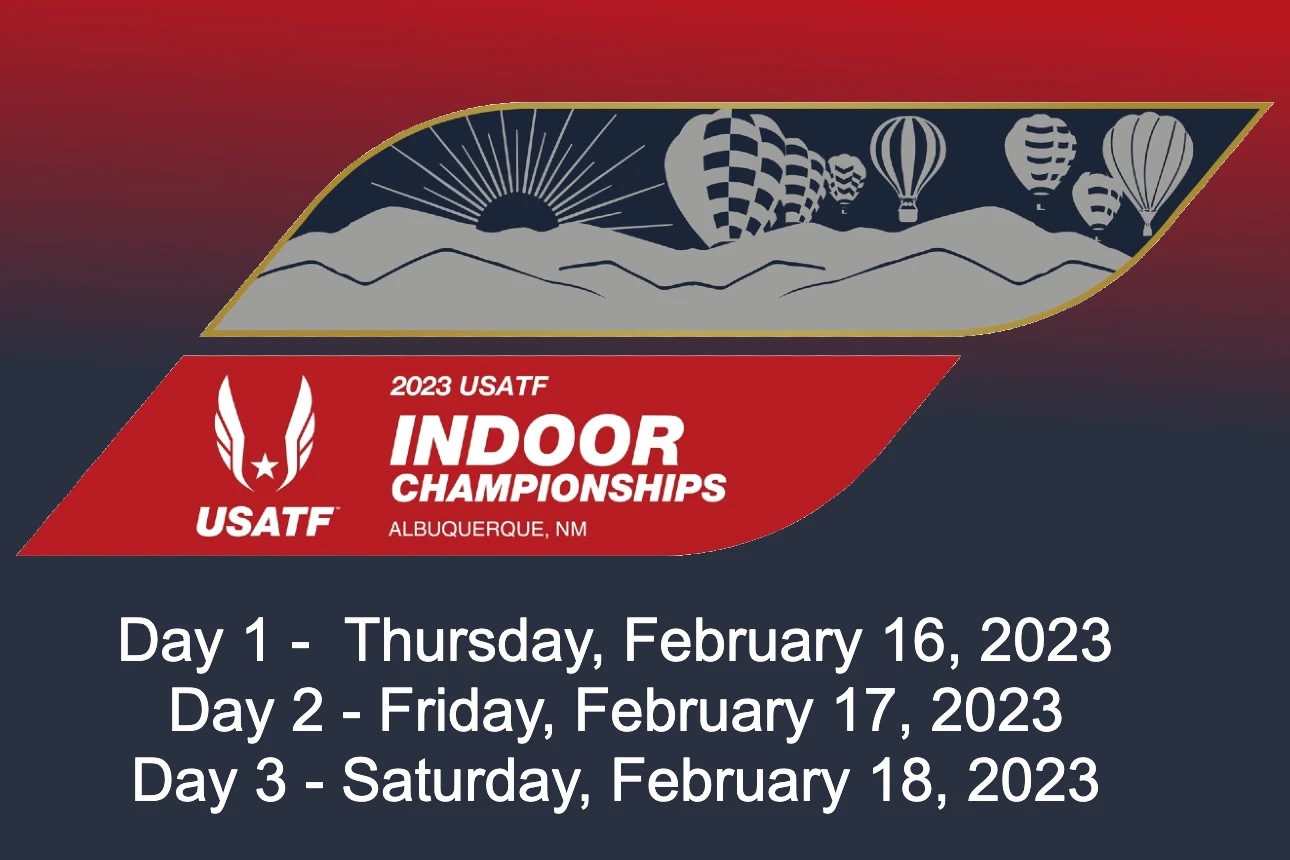 The 2023 USATF Indoor Championships will take place at the Albuquerque Convention Center from Thursday, February 16, through Saturday, February 18, and you can watch live streaming coverage over the three days on USATF.TV. Follow Live Results Here
Where Can You Watch The 2023 USATF Indoor Championships Coverage?
Fans in the United States will have several dedicated feeds for this year's championships, with the organizers revealing that you can: WATCH The Main Program Feed of LIVE WEBCAST HERE!
WATCH POLE VAULT FEED | WATCH LONG JUMP FEED | WATCH HIGH JUMP FEED | WATCH THROWS FEED | WATCH MEN'S TRIPLE JUMP FEED | WATCH WOMEN'S TRIPLE JUMP FEED
The USATF Indoor Championships in New Mexico will see the meet returning to Albuquerque for the first time since 2020 and the ninth time overall. The men's and women's multi-events are dedicated to the first day of action. Read More: Lamecha Girma runs stunning 7:23.81, breaks world indoor 3000m WR
Live broadcast of the competition on Thursday's opening day will start with the women's Pentathlon at 11:00 AM (Mountain Standard Time) or 1:00 PM ET, while the men's Heptathlon will get going around 30 minutes after the first event in the women's multi-event contest.
Check out the complete schedule and event start times for the three days!
Times listed below for the Championships are Mountain Standard Time.

Last updated: 2/14/2023 at 5:50 p.m. MST
Day 1 –  Thursday, February 16, 2023
| | | | |
| --- | --- | --- | --- |
| Start | Gender | Event | Round |
| 11:00 AM | W | 60m Hurdles | Pentathlon |
| 11:30 AM | M | 60m | Heptathlon |
| 12:00 PM | W | High Jump | Pentathlon |
| 12:15 PM | M | Long Jump | Heptathlon |
| 1:30 PM | M | 3,000m Race Walk | Final |
| 1:30 PM | M | Shot Put | Heptathlon |
| 2:00 PM | W | 3,000m Race Walk | Final |
| 2:30 PM | W | Shot Put | Pentathlon |
| 3:00 PM | M  | High Jump | Heptathlon |
| 3:45 PM | W | Long Jump | Pentathlon |
| 5:00 PM | W | 800m – Section "B" | Pentathlon |
| 5:08 PM | W | 800m – Section "A" | Pentathlon |

Day 2 – Friday, February 17, 2023
Start
Gender
Event
Round
10:30 AM
M
60m Hurdles
Heptathlon
11:30 AM
M
Pole Vault
Heptathlon
12:00 PM
W
60m Hurdles
1st Round
12:26 PM
M
60m Hurdles
1st Round
12:30 PM
W
Weight Throw
Final
12:40 PM
W
60m
1st Round
1:00 PM
M
60m
1st Round
1:22 PM
W
60m
Masters Exhibition
1:29 PM
M
60m
Masters Exhibition
1:40 PM
M
Triple Jump
Final
1:45 PM
W
Long Jump
Final
1:50 PM
National Anthem
2:00 PM
W
3,000m
Final
2:16 PM
M
1,000m
Heptathlon
2:25 PM
W
High Jump
Final
2:28 PM
W
800m
1st Round
2:40 PM
M
Weight Throw
Final
2:51 PM
M
800m
1st Round
3:21 PM
W
400m
1st Round
3:37 PM
M
400m
1st Round
4:00 PM
M
3,000m
Final

Day 3 – Saturday, February 18, 2023
Start
Gender
Event
Round
11:00 AM
M
Pole Vault
Final
11:00 AM
M
High Jump
Final
1:12 PM
W
60m Hurdles
Semi Finals
1:28 PM
M
60m Hurdles
Semi Finals
1:35 PM
W
Shot Put
Final
1:44 PM
W
60m
Semi Finals
1:45 PM
W
Pole Vault
Final
1:54 PM
National Anthem
2:03 PM
M
60m
Semi Finals
2:05 PM
W
Triple Jump
Final
2:10 PM
M
Long Jump
Final
2:19 PM
W
400m
Final
2:28 PM
W
800m
Final
2:38 PM
M
800m
Final
2:49 PM
M
400m
Final
2:55 PM
M
Shot Put
Final
2:58 PM
W
1,500m
Final
3:10 PM
M
1,500m
Final
3:22 PM
W
60m Hurdles
Final
3:32 PM
M
60m Hurdles
Final
3:42 PM
W
60m
Final
3:52 PM
M
60m
Final