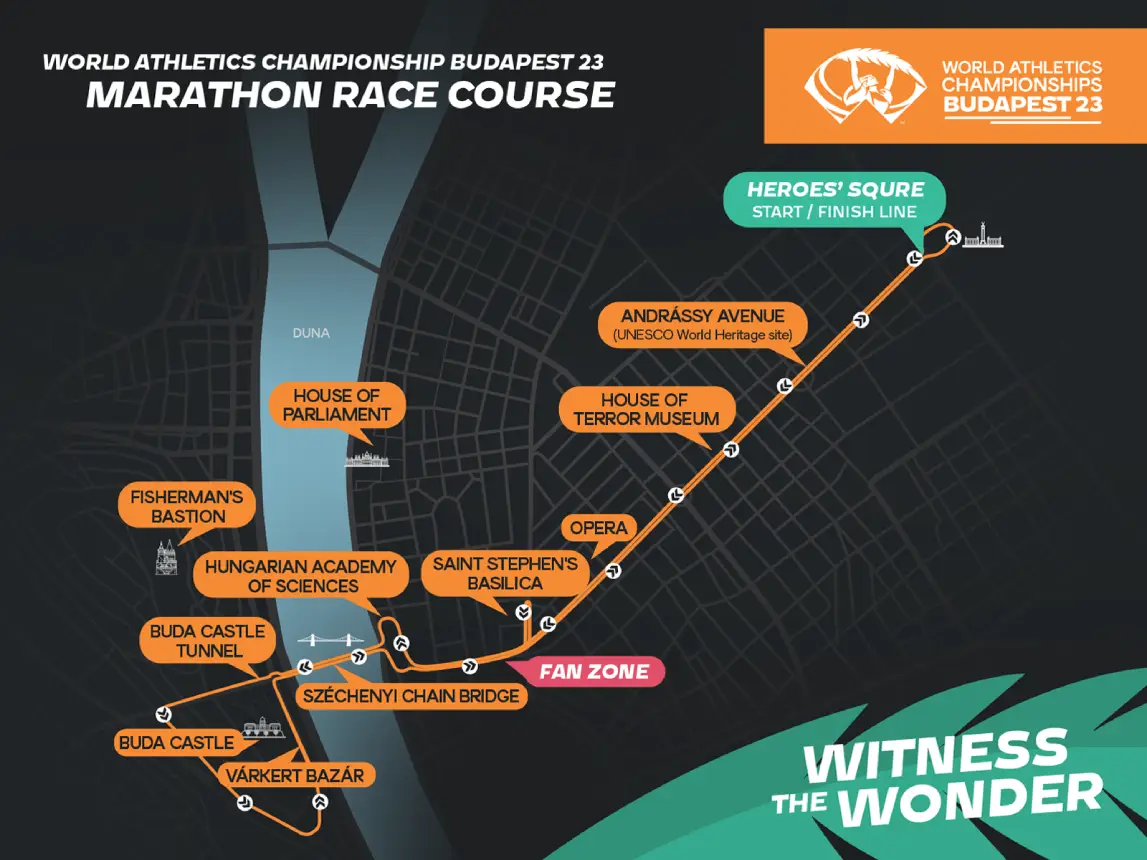 Athletes in the marathon and race walk events at the World Athletics Championships Budapest 23 will compete in the heart of Budapest, as the routes have been revealed.
The marathon runners will complete the classic distance on a 10km course, running through the most beautiful, UNESCO World Heritage parts of Budapest. – Read more: World Athletics Championships Budapest 23 timetable released
On the closing weekend of the World Athletics Championships Budapest 23, the world's best women's marathon athletes will take to the streets of Budapest on Saturday 26 August, followed a day later by the men's race.
The race walking finals will follow a formula that has worked well in the last few world championships races: the men's and women's 20km races will be on a 1km circuit, while the men's and women's 35km races will be on a 2km circuit.
The men's 20km walk, starting at 8:50am on 19 August, will be the first event of the World Athletics Championships Budapest 23.
The women's 20km walk will start one day later, at 7:15am on 20 August. The women and men will tackle the 35km event at the same time on Thursday 24 August at 7am.
Like in the marathon, the start and finish will again be in Heroes' Square, while the course will be on Andrássy Avenue.
"We have found a really good route for marathoners. From the beginning, we considered about 30 possible options," said Éva Petrik, competition director of the 2023 World Championships in Budapest, former Hungarian champion marathoner.
"There were and are many possibilities in this city as to how to draw a route for a marathon.
"In the end, we chose this 10-kilometre course, which will be completed by the world's best in four laps in August."
Petrik added: "It's a well-run course, where the best in the world will be able to deliver their top performance. Its world record potential is slim, not because it's not a fast course.
"But because the Berlin course, where the recent world records were set, is so good. It was also an important aspect to show as many beautiful parts of Budapest as possible," said the director."