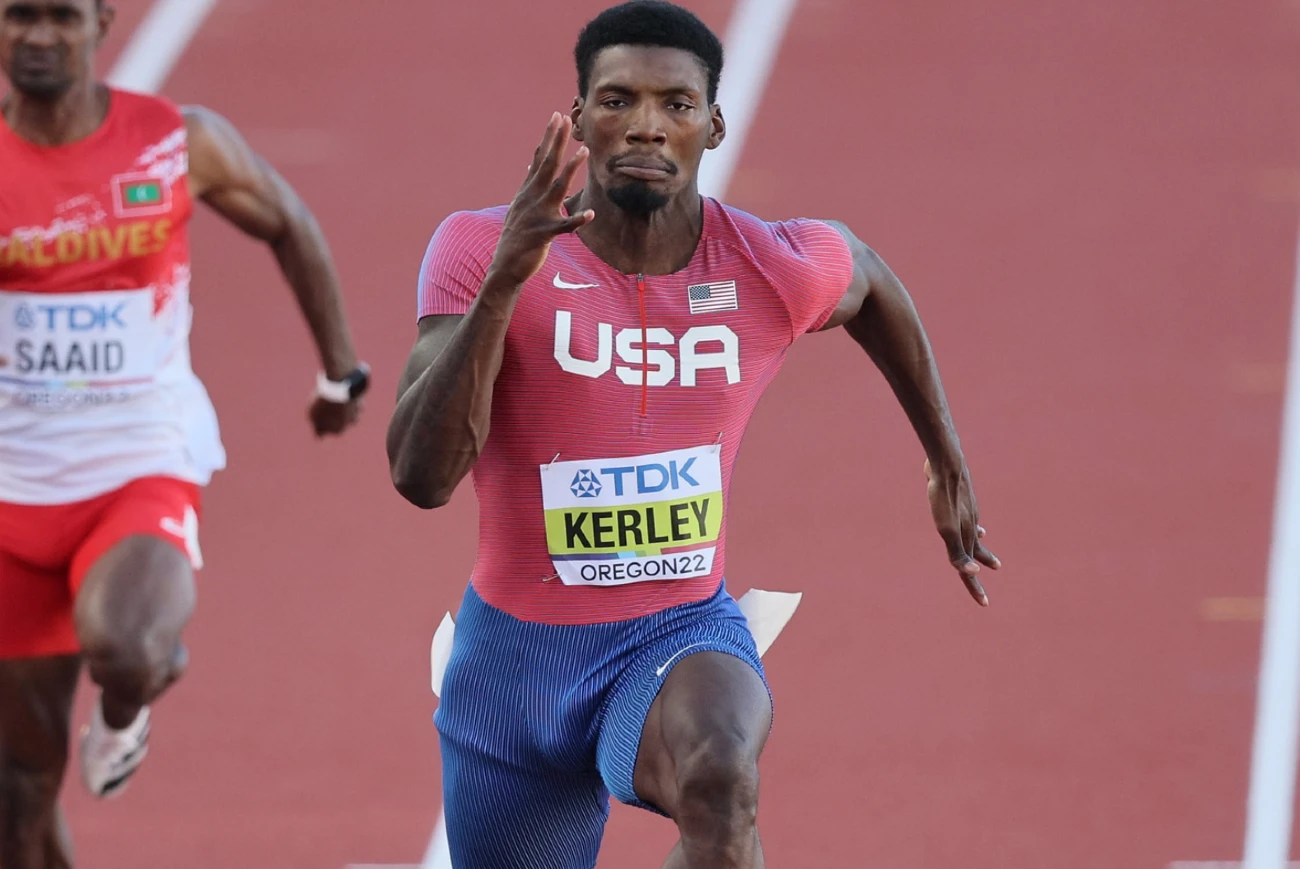 World champion sprinter Fred Kerley wins men's 200m at 2023 Maurie Plant Meet with a time of 20.32 seconds
Australian sprinter Rohan Browning takes second in men's 200m and wins men's 100m with a time of 10.26 seconds
Samantha Dale of Australia wins women's long jump with a mark of 6.71m
Other notable performances include James Preston winning the men's 800m, Oliver Hoare winning the mile and Jessica Hull taking first in the women's 1500m
World champion sprinter Fred Kerley made a triumphant start to his season by taking first place in the men's 200 meters with a time of 20.32 seconds at the 2023 Maurie Plant Meet held at Melbourne Lakeside Stadium on Thursday. The meeting was the opening event in the 2023 World Athletics Continental Tour Gold outdoor series.
Kerley, who captured the 100m title at the World Athletics Championships 2022 in Oregon last summer before hurting his left hamstring in the 200m semi-final, was keen to break the 20-second barrier in his season opener today, but the American had to settle for just the win with a respectable time of 20.32 seconds, running against a slight -0.9 m/s headwind and celebrating early. – Read more: When it the 2023 ACC Indoor Championships and how to watch?
Australian sprinter Rohan Browning, who is widely noted as the country's premier sprinter, finished second with a distant time of 20.71 seconds after opting to move up in distance for this occasion to race against Kerley. National 200m champion Aidan Murphy of Australia rounded off the top three with a time of 20.76 seconds.
Browning, though, came out on top in the men's 100m, posting a time of 10.26 seconds and edging out Edward Osei-Nketia of New Zealand who ran 10.27 seconds. Tiaan Whelpton of New Zealand, the world leader, was pushed back to third with a time of 10.39 seconds.
In the women's long jump, Samantha Dale of Australia came close to her personal best when she won the event with a mark of 6.71m.
USA Olympic finalist Tara Davis-Woodhall finished second with a leap of 6.69m, followed by fellow Tokyo Olympic finalist Brooke Buschkuehl of Australia, who took third place with a jump of 6.59m.
The meet also saw some impressive performances in other events. New Zealand's James Preston won the men's 800m with a time of 1:45.85, while compatriot Connor Bell won the men's discus throw with a throw of 66.23m.
In the men's mile, Australia's Oliver Hoare came out on top with a time of 3:52.24, followed by Samuel Tanner of New Zealand with a time of 3:53.83.
In the women's events, Naa Anang of Australia won the 100m with a time of 11.20 seconds, followed by fellow Australians Ella Connolly and Bree Masters with times of 11.30 and 11.34 seconds, respectively.
Connolly also took first place in the women's 200m with a time of 23.28 seconds, just ahead of Torrie Lewis of Australia, who finished second with a time of 23.31 seconds.
In the women's 1500m, Jessica Hull, a member of Australia's mixed Cross Country relay World Championships 2023 bronze medalist team earlier this month, emerged victorious with a time of 4:07.11. She was followed across the finish line by compatriots Abbey Caldwell (4:07.32) and Georgia Griffith (4:10.06).
Heather MacLean of the USA finished fourth with a time of 4:10.63, while Emma Coburn of the USA, the 2017 3000m steeplechase world champion, finished fifth with a time of 4:10.96.
Complete results click here