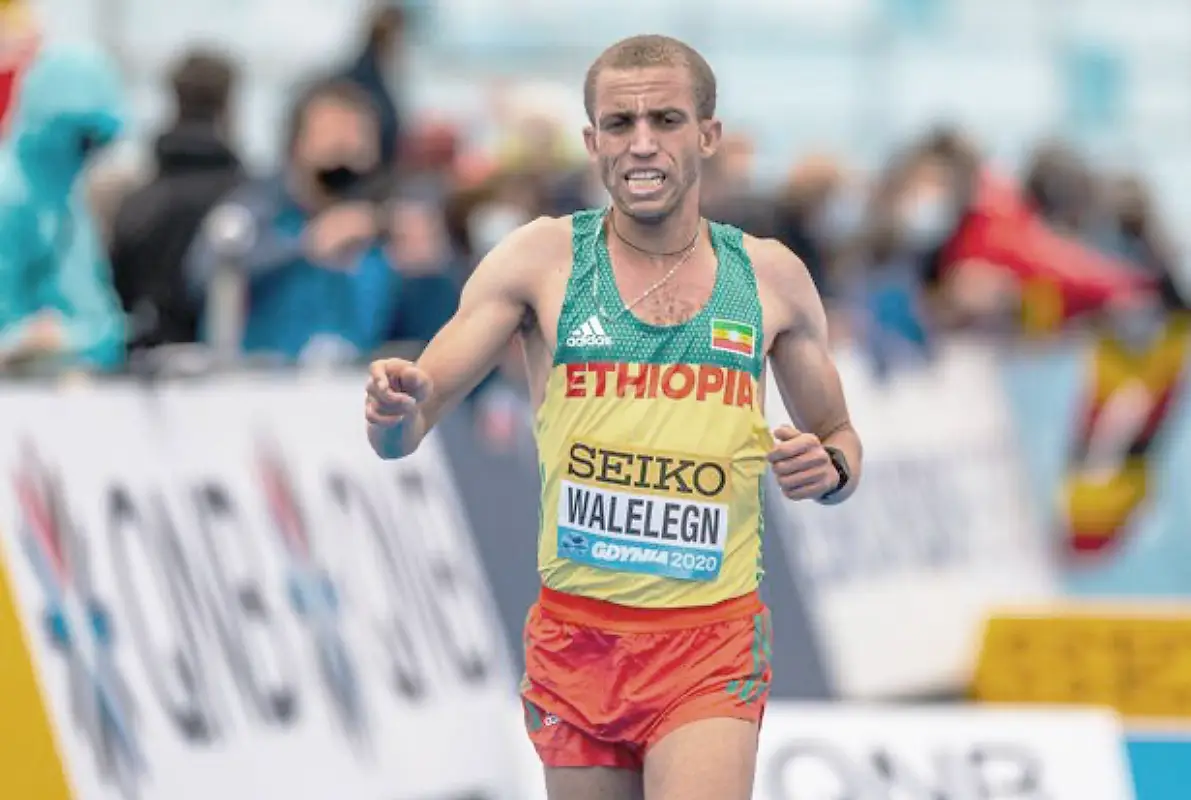 SOUTH KOREA (March 19, 2023) — Ethiopian runner Amdework Walelegn Tadese won the men's race at the 58th edition of the Seoul International Marathon, a World Athletics Platinum Label Road Race, on Sunday, March 19. Tadese ran a personal best of 2:05:27 and took home the first prize of USD $80,000.
Ethiopian Sweeping Performances In Seoul International Marathon
Tadese, the 2020 world half marathon bronze medalist, dominated the contest and won comfortably as Ethiopian runners swept the podium and collected the top five places. This was the second triumph for Tadese in the Korea capital, following his winning performance at the JTBC Seoul Marathon four months ago, where he finished with a solid time of 2:06:59.
Shifera Tamru Aredo, a two-time winner in both Seoul (2019) and Daegu (2022), finished second on Sunday with a time of 2:05:41, and he was followed home by Haftu Teklu Asefa, who completed his second-ever marathon with a time of 2:05:53. Fellow Ethiopians Olika Adugna Bikila (2:06:29) and Ashenafi Moges Weldegiorgi (2:06:59) rounded out the top five. – Read more: Updated: United Airlines NYC Half Marathon 2023 Results
Thirteen runners finished inside two hours and eleven minutes, but the course record of 2:04:43, set by Mosinet Geremew of Ethiopia in 2022, remained unbroken, as did the women's mark of 2:18:04, set by Joan Chelimo Melly of Romania last year.
Justus Kipkogei Kangogo of Taiwan and Kenya's Barselius Kipyego served as pacers, and as expected, did not finish the race.
In the women's competition, only domestic athletes participated, with Jeong Daeun finishing as the top female athlete with a time of 2:28:32.
The 2023 Seoul International Marathon Top Finishers
Amdework Walelegn Tadese (Ethiopia) – 2:05:27 PB
Shifera Tamru Aredo (Ethiopia) – 2:05:41
Haftu Teklu Asefa (Ethiopia) – 2:05:53
Olika Adugna Bikila (Ethiopia) – 2:06:29
Ashenafi Moges Weldegiorgi (Ethiopia) – 2:06:59
Hicham Laqouahi (Morocco) – 2:07:02
Edwin Kiprop Kiptoo (Kenya) – 2:08:56
Dong Guijian (China) – 2:09:29
Peng Jianhua (China) – 2:09:59
Leonard Langat (Kenya) – 2:10:11
Park Minho (South Korea) – 2:10:13
Isaac Kimutai Kiplagat (Kenya) – 2:10:25
Olonbayar Jamsran (Mongolia) – 2:10:43
Silas Muturi Gichovi (Kenya) – 2:11:02
Byambajav Tseveenravdan (Mongolia) – 2:11:05
Ren Qingdongzhibu (China) – 2:11:12
Felix Kipchirchir Kandie (Kenya) – 2:11:57
Gantulga Dambadarjaa (Mongolia) – 2:13:04
Jonathan Kipleting Korir (Kenya) – 2:14:38
Shim Jungsub (South Korea) – 2:15:01
Kim Hongrok (South Korea) – 2:15:27
PHOTO: Amedework Walelegn of Ethiopia in action during a cross country race. Photo by SOPA Images Limited