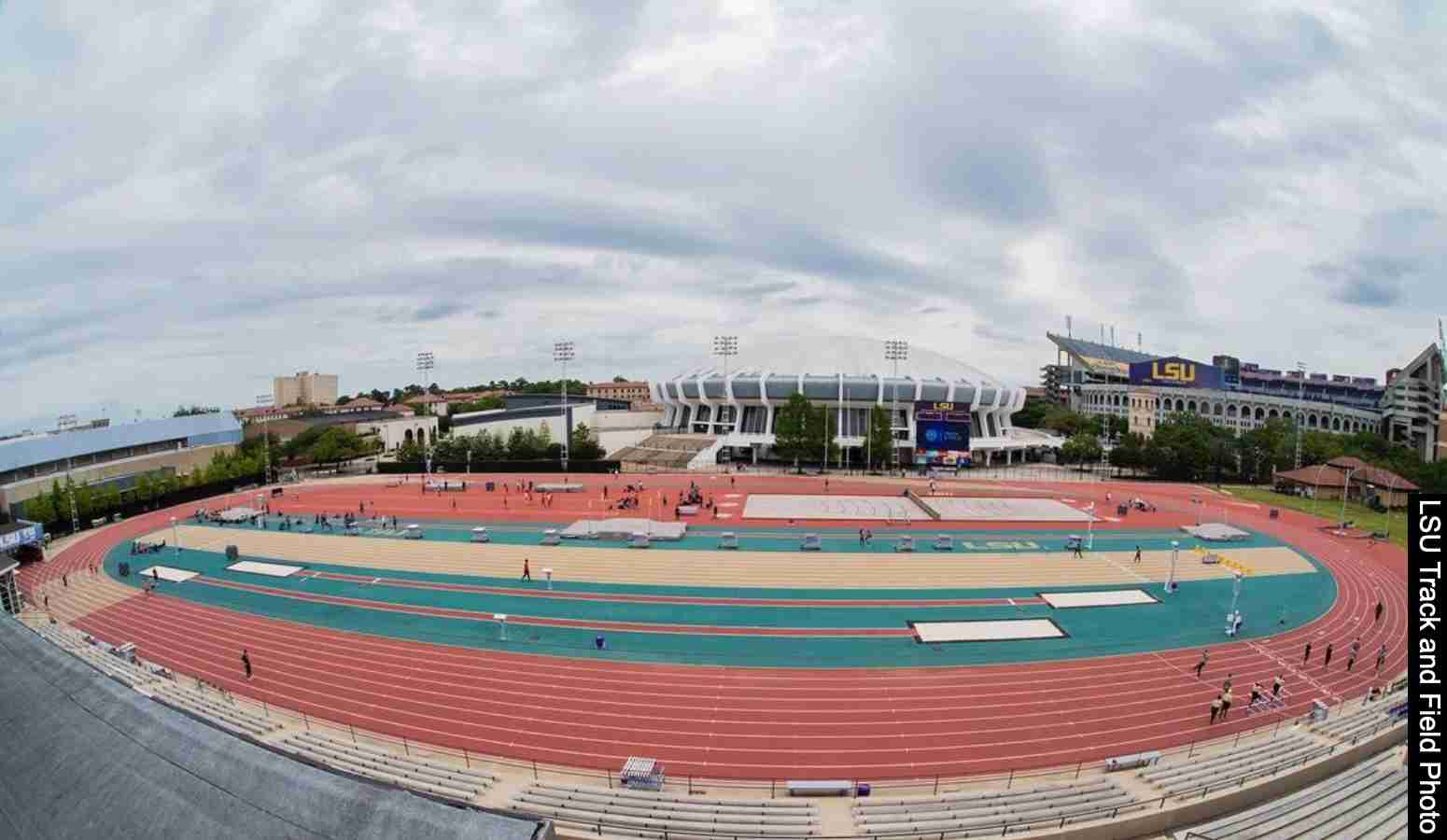 BATON ROUGE, LA (March 21) – The LSU Tigers are set to host their first home meet of the outdoor season with the Battle on the Bayou, taking place at the Bernie Moore Track Stadium on Saturday, March 25. The schedule, which is expected to feature several elite athletes, promises to keep fans on the edge of their seats, with a full day of competition starting at 9:30 a.m. CT. Live results and updates available via the Delta Timing Group Inc
The meet will kick off with the women's Hammer Throw, followed by the men's competition at 10:45 a.m. The Long Jump and Discus Throw events for both women and men will begin at 1:45 p.m., while the first track events, the women's 4 x 100 relay races, are set to start at 2:00 p.m. The men's 4x100m will follow shortly after at 2:05 p.m.
Athletes will compete in a range of events, from the 1500m race to the sprint hurdles, 400m, and 100m, among others. With so much action on the schedule, fans are in for a thrilling day of athletics with the likes of Brianna Lyston, and Alia Armstrong set to feature.
Several LSU athletes traveled to Florida last week to compete at the 2023 Hurricane Invitational after a solid showing at the NCAA Indoor Championships earlier this month. The Tigers will be looking to build on those early-season performances and put on a show for their home crowd in Baton Rouge.
Fans can stay up-to-date with live results and updates provided by the Delta Timing Group Inc. Get ready for a day of what should be a high-octane competition and unforgettable moments at the Battle on the Bayou.
Battle on the Bayou Tentative Time Schedule
Field Events Schedule
Time Event
9:30 AM Women's Hammer (West Cage)
10:45 AM Men's Hammer (West Cage)
12:15 PM Men's Discus (West Cage)
12:30 PM Women's Shot Put
1:00 PM Men's Pole Vault
1:30 PM Men's High Jump
1:45 PM Women's Long Jump
1:45 PM Women's Discus (West Cage)
1:45 PM Men's Long Jump
2:00 PM Men's Shot Put
3:00 PM Women's Pole Vault
3:30 PM Men's Javelin (West Runway)
3:45 PM Women's Triple Jump
3:45 PM Men's Triple Jump
3:45 PM Women's High Jump
3:45 PM Women's Javelin (East Runway)
Running Events Schedule
Time Event
2:00 PM Women's 4 x 100 Relay
2:05 PM Men's 4 x 100 Relay
2:10 PM Women's 1500 Meters
2:20 PM Men's 1500 Meters
2:30 PM Women's 100 Hurdles
2:40 PM Men's 110 Hurdles
2:50 PM Women's 400 Meters
2:55 PM Men's 400 Meters
3:05 PM Women's 100 Meters
3:15 PM Men's 100 Meters
3:30 PM Women's 800 Meters
3:35 PM Men's 800 Meters
3:45 PM Women's 400 Hurdles
3:50 PM Men's 400 Hurdles
3:55 PM Women's 200 Meters
4:05 PM Men's 200 Meters
4:20 PM Women's 3000 Meters
4:35 PM Men's 3000 Meters
4:50 PM Women's 4 x 400 Relay
4:55 PM Men's 4 x 400 Relay