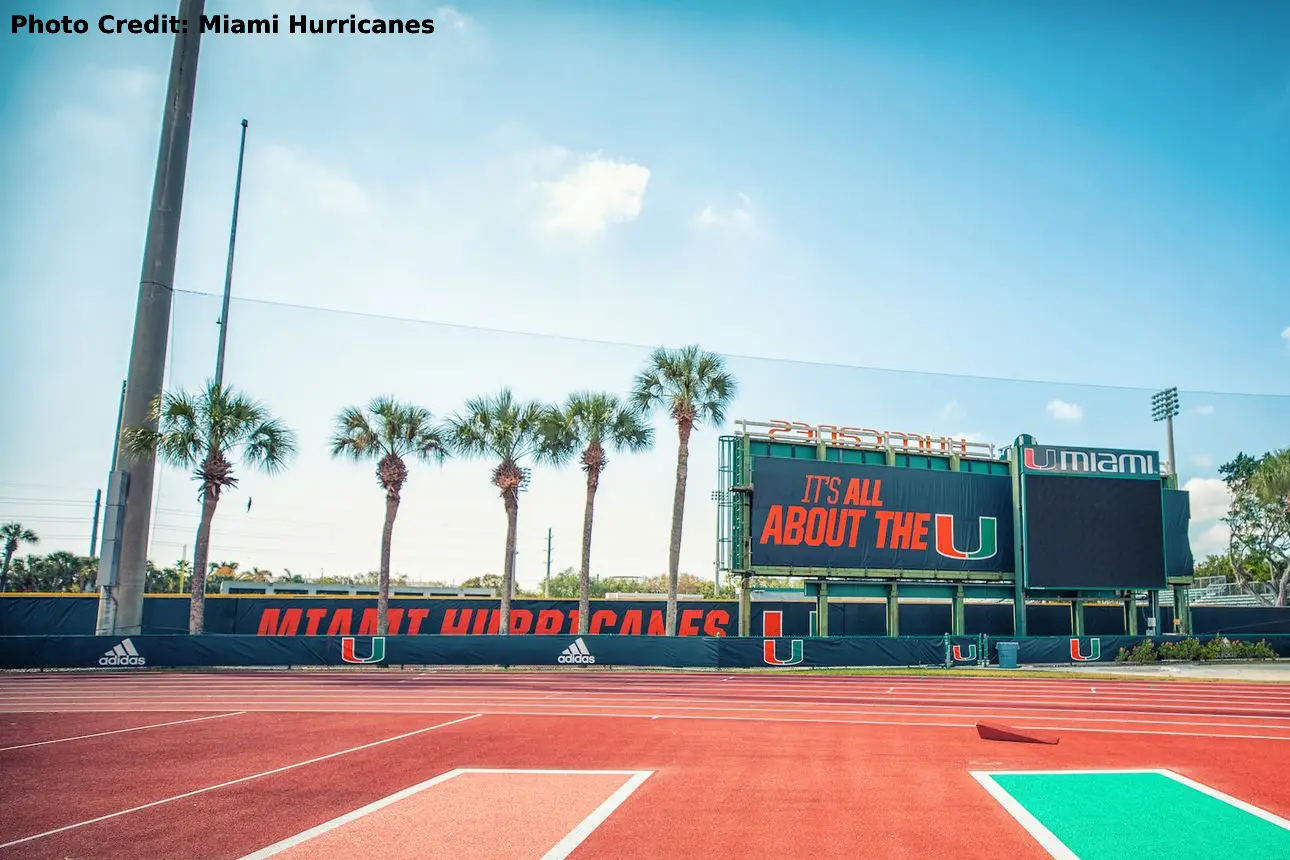 MIAMI, FL — The Hurricane Collegiate Invitational will get underway on Saturday, 25 March, and live streaming coverage will be available on the ACC Network Extra. Athletes from schools such as Florida Atlantic, Penn, Dartmouth, Penn State, Harvard, St. John's, and FIU, as well as a few professionals, will be participating in this event.
The schedule includes a wide range of events, starting with field events such as the Men's Pole Vault, Men's Hammer Throw, Women's Hammer Throw, Men's High Jump, and Women's High Jump, among others.
The track events include Women's and Men's 1500m, 100m Hurdles, 110m Hurdles, 400m, 800m, 400m Hurdles, 200m, and 3000m. The final events of the day will be the 4x400m relays.
For those who cannot attend the event in person, live streaming coverage will be available on ACCNX (LIVE STREAM), starting at 2:00 p.m. EST. Fans can also follow live results and updates (LIVE RESULTS).
Hurricane Collegiate Invitational
Cobb Stadium | Coral Gables, FL
Saturday, March 25th (Local Time – EDT)
Field Events:
10:00 AM – Men's Pole Vault – Final
10:00 AM – Men's Hammer Throw – Final
10:00 AM – Women's Hammer Throw – Final
10:00 AM – Men's High Jump – Final
10:00 AM – Women's High Jump – Final
12:00 PM – Men's Javelin Throw – Final
12:00 PM – Women's Javelin Throw – Final
12:00 PM – Men's Shot Put – Final
12:00 PM – Women's Shot Put – Final
12:30 PM – Men's Long Jump – Final
12:30 PM – Women's Long Jump – Final
Track Events:
1:05 PM – Women's 4×100 – Final
1:09 PM – Men's 4×100 – Final
1:13 PM – Women's 1500m – Final
1:20 PM – Men's 1500m – Final
1:35 PM – Women's 100m Hurdles – Final
1:50 PM – Men's 110m Hurdles – Final
2:00 PM – Men's Discus Throw – Final
2:00 PM – Women's Discus Throw – Final
2:00 PM – Women's 400m – Final
2:15 PM – Men's 400m – Final
2:30 PM – Women's 100m – Final
2:40 PM – Men's 100m – Final
2:50 PM – Women's 800m – Final
3:00 PM – Men's 800m – Final
3:15 PM – Women's 400m Hurdles – Final
3:25 PM – Men's 400m Hurdles – Final
3:30 PM – Men's Triple Jump – Final
3:30 PM – Women's Triple Jump – Final
3:35 PM – Women's 200m – Final
3:50 PM – Men's 200m – Final
4:20 PM – Women's 3000m – Final
4:40 PM – Men's 3000m – Final
4:55 PM – Women's 4×400 – Final
5:05 PM – Men's 4×400 – Final