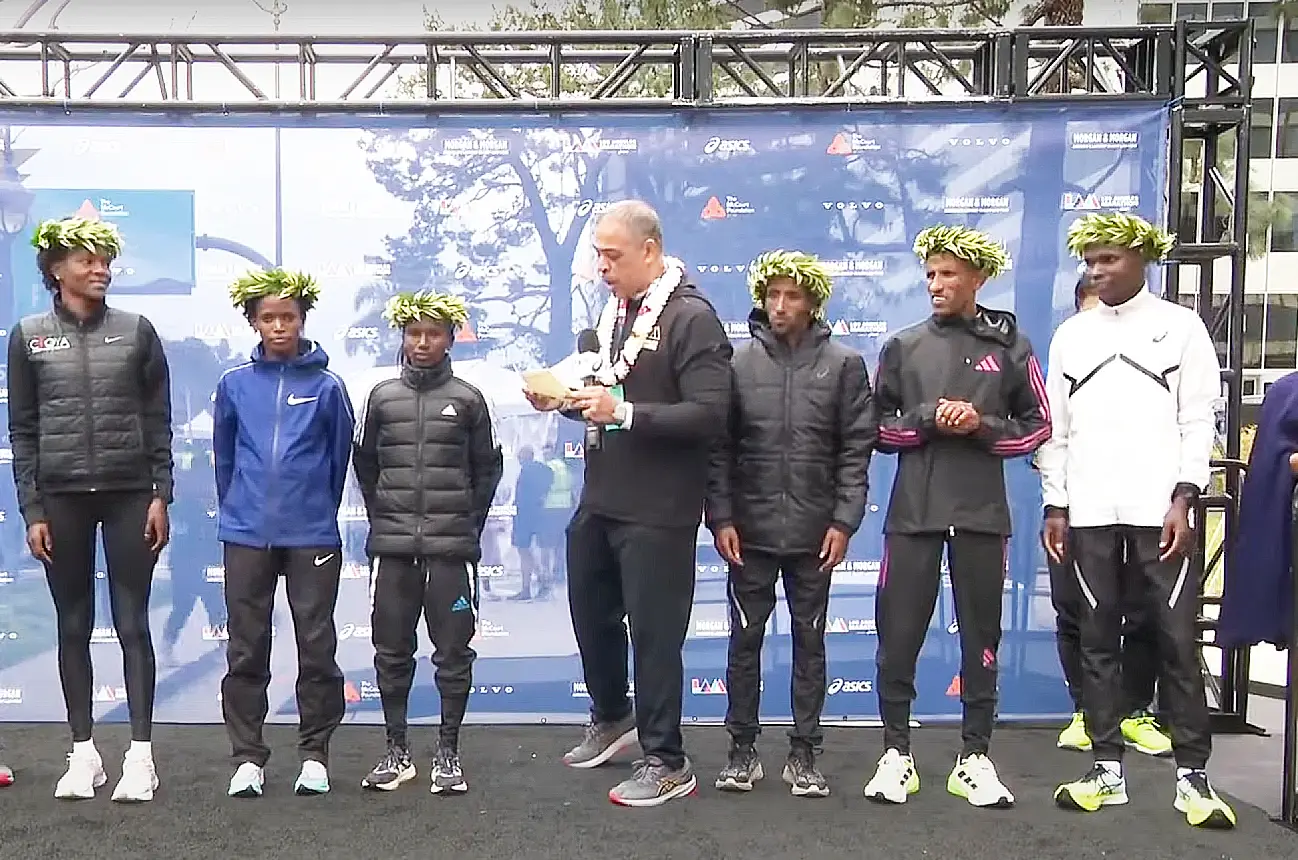 LOS ANGELES —— Jemal Yimer of Ethiopia and Stacy Ndiwa of Kenya were the winners of the Los Angeles Marathon 2023 on Sunday. Yimer completed the 26.2-mile course on the men's side in 2:13.15, while Ndiwa crossed the finish line in 2:31:00.24 to the top spot in the women's contest.
This year's event saw a smaller all-women's elite race with a head start, followed by the open race. Ndiwa held off Yimer to claim the USD $10,000 gender battle bonus, in addition to her USD $6,000 prize money.
The race began at Dodger Stadium and concluded near Avenue of the Stars in Century City. The event saw 12,767 participants, including 18 elites and 12,749 in the open race, making it the largest participation since 2019.
Meanwhile, Yemane Tsegay of Ethiopia finished second in the men's division with a time of 2:14:06.95, while Barnaba Kipkoech of Kenya secured third place in 2:14:27.36.
Hosava Kretzmann was the top American men's finisher in the race, coming in sixth in his first marathon at 2:19:55.77. Read more: 2023 Seoul International Marathon Results
In the women's category, Ndiwa pulled away from her countrywoman Martha Akeno at around the 18 mile marker to clinch the top spot with Akeno finishing second with a time of 2:34:25.68. Grace Kahura of Kenya was third in 2:38:15.67.
Meanwhile, the top U.S. finisher was Ashley Paulson, who came in fourth after posting a time of 2:48:47.00.
The Los Angeles Marathon, presented by ASICS, was founded in 1986 and has seen numerous event records on various courses. The current event records are held by Markos Geneti of Ethiopia for the men's division with a time of 2:06:35 in 2011.
Askale Merachi of Ethiopia for the women's side with a time of 2:24:13 in 2019. The event has been a popular marathon for runners worldwide, with its scenic course through the city streets of Los Angeles.
The race was held on a cloudy day with temperatures near 60 degrees Fahrenheit (15 Celsius), providing ideal conditions for the runners to compete.
Los Angeles Marathon 2023 results
ELITE ALL-WOMEN RESULT:
Stacy Ndiwa (Kenya) – 2:31:02 (wins gender battle bonus prize money)
Martha Akeno (Kenya) – 2:34:31
Grace Kahura (Kenya) – 2:38:20
Ashley Paulson (United States) – 2:48:49
Katie Layman (United States) – 2:49:41
Margaux Curcuru (United States) – 2:53:05
Alexi Pappas (Greece) – 3:55:17
ELITE MEN:
Jemal Yimer (Ethiopia) – 2:13:15
Yemane Tsegay (Ethiopia) – 2:14:09
Barnaba Kipkoech (Kenya) – 2:14:29
Thomas Rono (Kenya) – 2:14:50
Emanuel Oliaulo Ngatuny (Kenya) – 2:16:54
Hosava Kretzmann (United States) – 2:19:58
Ronan O'Shea (United States) – 2:24:54