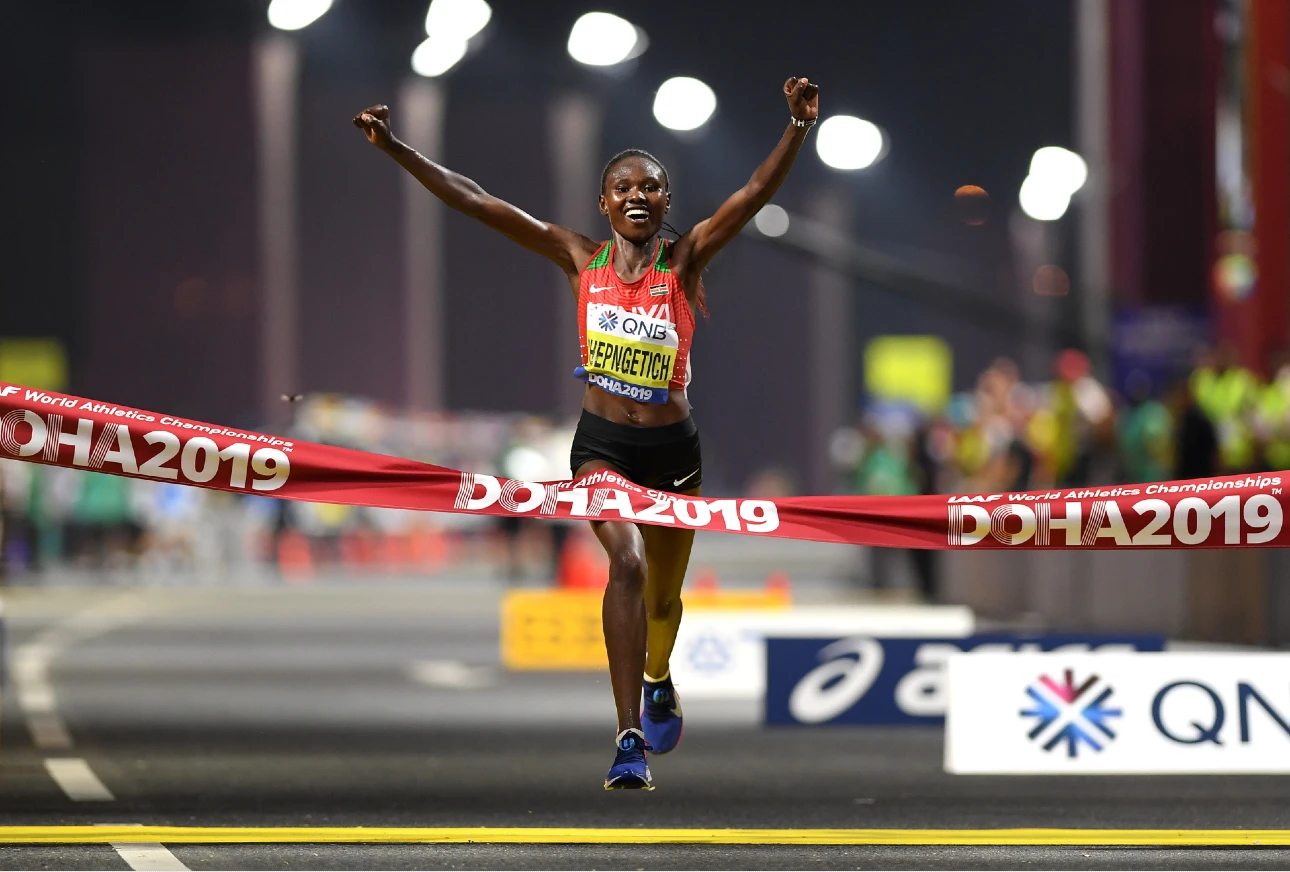 JAPAN (March 13) – Ruth Chepngetich, the 2019 World Athletics Marathon champion from Kenya, dominated the Nagoya Women's Marathon on Sunday, March 12, clinching the title in a time of 2:18:08. – Read more: Results: Dorcas Tuitoek and Isaac Kipkemboi win RomaOstia Half Marathon 2023
The World Athletics Platinum Label Road Race was held under warmer-than-usual conditions, but Chepngetich maintained her lead from the start and finished almost four minutes ahead of her nearest competitor.
Ayuko Suzuki and Honamo Maeda of Japan fought hard for second place, setting personal bests in the process. Suzuki eventually secured the runner-up spot with a time of 2:21:52, while Maeda finished third in 2:22:32. Zhang Deshun from China, who had paced the Japanese runners through 30km, settled for fourth place, also setting a personal best time of 2:24:05.
The top eight women in the race met the qualifying standard for the 2024 Paris Olympic Games. The other four qualifiers were Mao Uesugi (2:24:16), Yuka Suzuki (2:25:46), Mirai Waku (2:25:58 PB), and Li Zhixuan (2:26:28).
Sarah Pagano finished 17th, achieving a personal best time of 2:32:05, making her the top American finisher.
Women Marathon – Nagoya Women's Marathon 2023 results
Ruth Chepngetich KEN 2:18:08 SB
Ayuko Suzuki JPN 2:21:52 PB
Honami Maeda JPN 2:22:32 PB
Zhang Deshun CHN 2:24:05 PB
Mao Uesugi JPN 2:24:16 SB
Yuka Suzuki JPN 2:25:46 SB
Mirai Waku JPN 2:25:58 PB
Li Zhixuan CHN 2:26:28 SB
Honoka Tanaike JPN 2:27:30 PB
Isobel Batt-Doyle AUS 2:27:54 PB
Sakiho Tsutsui JPN 2:28:45 PB
Mao Kiyota JPN 2:29:20 SB
Mizuki Tanimoto JPN 2:29:56 SB
Chiharu Suzuki JPN 2:30:23
Yuri Mitsune JPN 2:31:26 PB
Mayu Nishikawa JPN 2:31:44 SB
Sarah Pagano USA 2:32:05 PB
Eloise Wellings AUS 2:32:09 SB
Zhang Xinyan CHN 2:32:19 SB
Kaena Takeyama JPN 2:32:20
Mayu Hirata JPN 2:32:48 PB
Nana Sato JPN 2:33:15 SB
Ayano Ikemitsu JPN 2:33:29 SB
Sarah Klein AUS 2:33:51 SB
Ryo Koido JPN 2:33:52 PB
Anna Matsuda JPN 2:35:09
Saya Nishitani JPN 2:35:26 PB
Choi Jeong-Hyun KOR 2:36:13 SB
Ayumi Morita JPN 2:36:59 PB
Natsuki Sekiya JPN 2:37:55 PB