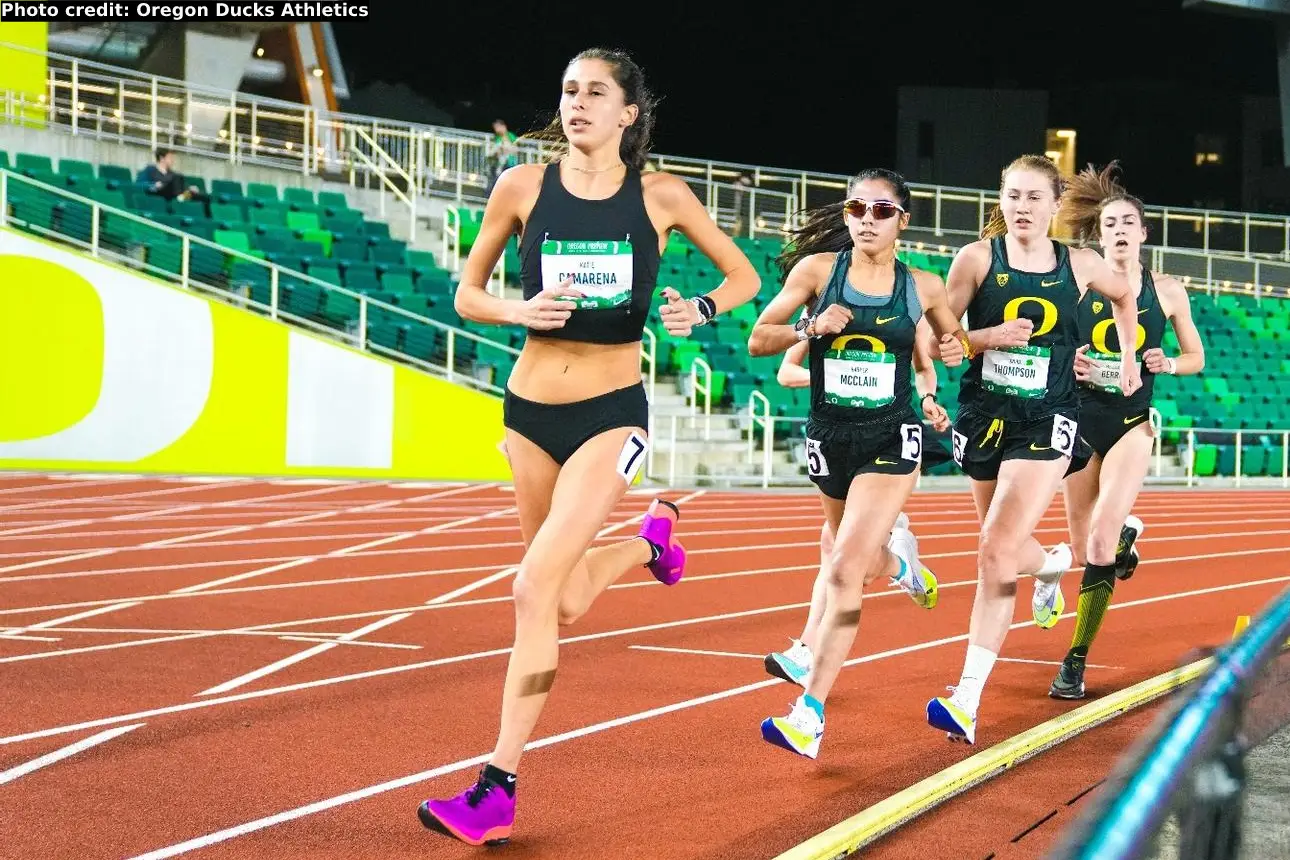 EUGENE, Ore. – Harper McClain won the women's 10,000 meters on the opening night of the 2023 Oregon Preview at Hayward Field on Friday night, March 18. McClain, running the first 10K of her collegiate career, recorded a time of 33:44.62 while leading a trio of Oregon runners who finished under 34 minutes. Maddy Elmore and Anika Thompson finished third and fourth, respectively.
Where to Watch Day 2 Live Streaming?
Watch | Live Results | How to watch the 2023 Oregon Preview? | Read more: Portland State runners secure two victories at 2023 Oregon Preview
McClain finished ahead of Katie Camarena, running unattached, 33:45.45. Elmore clocked 33:51.49 for third. Meanwhile, Thompson's performance saw her improving her previous 10K time by over a minute, with her previous best of 34:57.60 recording last year's OSU High Performance. Another Oregon runner, Melissa Berry finished just above 34 minutes with a time of 34:04.92 in Friday's race.
In the men's 10,000 meters, Mohammed Jouhari from Boise State charged into the lead with about 450m left in the race and then maintained his advantage on the last lap en route to posting a time of 28:51.72 to take first place.
Oregon freshman Josh Edwards, who was competing unattached and finished second with a time of 29:52.99, followed by Abdinasir Hussein in third place with a time of 28:57.08. The top 10 finishers all went under 30 minutes on the evening.
The NCAA West qualifying standard for the men's 10,000 meters is 29:02.56. Hussein's time is inside last year's regional qualifier in his first race of the season.
The Oregon Preview continues on day two, beginning at 11 a.m. (PT) with the men's javelin, featuring reigning Pac-12 champion Ty Hampton. The track events will begin at 1:45 p.m. with the 2,000-meter steeplechase, and the event will conclude around 7 p.m. after the 4×400-meter relays.
2023 Oregon Preview 10,000m Results
Women 10000 Meter Run:
Harper McClain, Oregon, 33:44.62
Katie Camarena, Unattached, 33:45.45
Maddy Elmore, Oregon, 33:51.49
Anika Thompson, Oregon, 33:51.70
Melissa Berry, Oregon, 34:04.92
Malia Pivec, Oregon, 35:03.30
Izzy Thornton-Bott, Oregon, 35:03.30 — Emilie Girard, Oregon, DNF
Men 10000 Meter Run:
Mohammed Jouhari, Boise State, 28:51.72
Josh Edwards, Unattached, 28:52.99
Abdinasir Hussein, Oregon, 28:57.08
Teddy Buckley, Unattached, 29:18.52
Caleb Brown, Oregon, 29:26.20
George Karamitsos, Western Washington, 29:40.69
Andrew Oslin, Western Washington, 29:45.88
Kevin McDermott, Western Washington, 29:48.23
Jeret Gillingham, Western Washington, 29:54.66
Quincy Norman, Oregon, 29:56.42
Micah Murphy, Unattached, 30:26.39
Nick McMillen, Oregon Tech, 31:04.39
Jonas Hartline, Oregon Tech, 31:05.98
Cade Kooch, Multnomah, 32:17.92