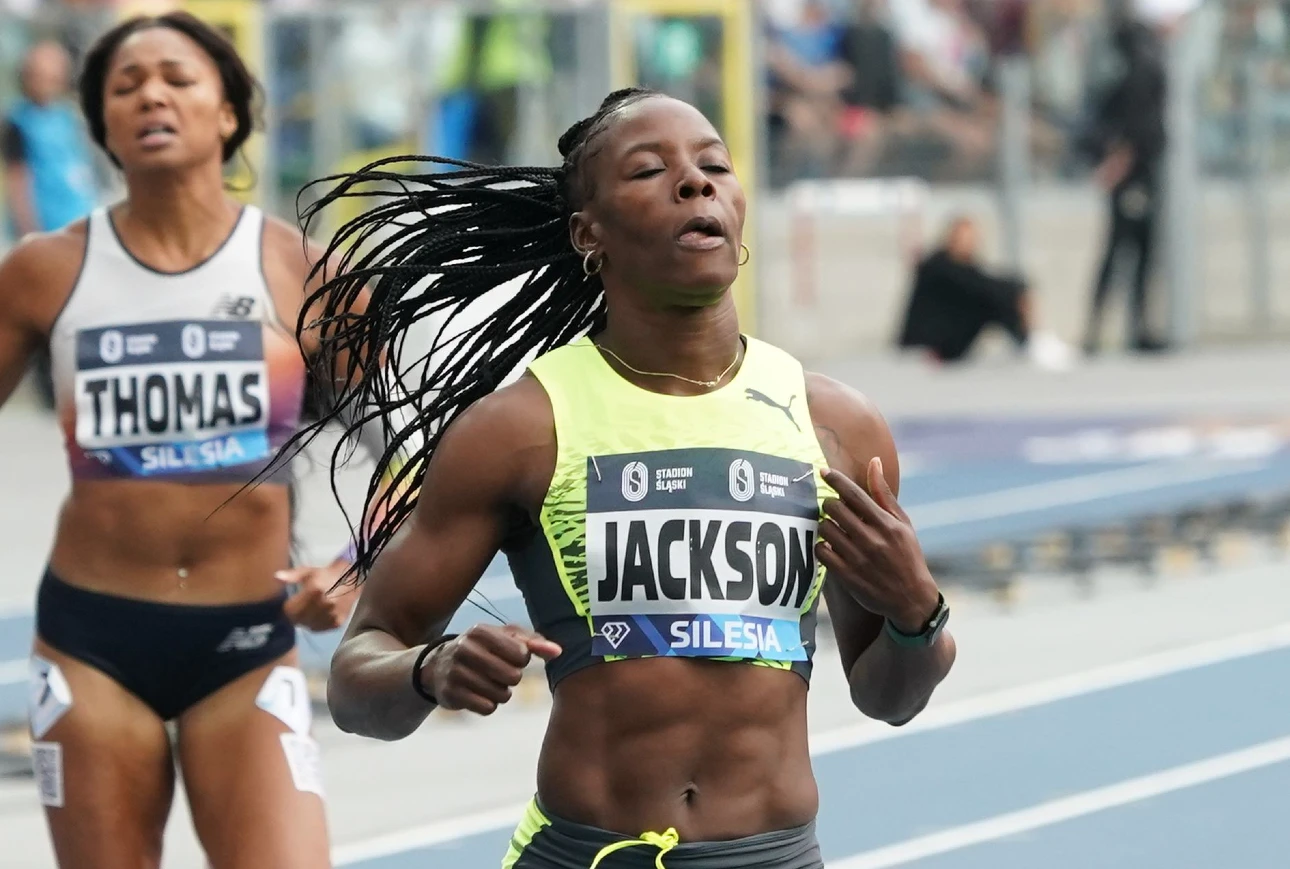 Kingston, Jamaica (March 25) – The National Stadium in Kingston is set to host the 2023 Velocity Fest 12 – World Athletics Continental Tour Challenger, featuring a lineup of world-class athletes. The event, scheduled for Saturday, March 25, will showcase the talents of Olympic medalists and champions, including Shericka Jackson, Briana Williams, Yohan Blake, Shanieka Ricketts, Stephenie Ann McPherson, Janieve Russell, Zharnel Hughes, and Sada Williams.
Shericka Jackson Leads the Charge in Women's 400m
World 200m champion Shericka Jackson, the No. 2 performer in the half-lap on the all-time list, will take to the track for the third time in the 400m this season, with the aim of improving her recent performances of 53.11 secs and 52.05 secs. Jackson has won bronze medals in the 400m at the world championships and the Olympics. Her personal best in the event is 49.47 seconds, set in Doha in 2019.
The 28-year-old Jamaican sprinter who recently stated that she is targeting even faster times will face tough competition from Stacey-Ann Williams, Tovea Jenkins, and three 400m hurdles specialists, Janieve Russell, Ronda Whyte, and Rushell Clayton. – Read more: World champion Shericka Jackson wins 400m at GC Foster Classic 2023
Briana Williams Returns to the Track in Women's 200m
After withdrawing from the 2023 John Wolmer Track Meet, Olympic 4x100m relay gold medalist Briana Williams is set to race in the women's 200m.
The 21-year-old who is targeting a place on the national team in both the 100m and 200m at the World Championships this summer, is expected to be strongly challenged by World 400m bronze medalist and Commonwealth Games champion Sada Williams of Barbados.
The event will also include Jamaicans Kemba Nelson, Stephenie Ann McPherson, Tina Clayton, the two-time World u20 100m champion, as well as Natasha Morrison, Remona Burchell, and Shashalee Forbes.
Yohan Blake Goes Long in Men's 200m
Former world 100m champion and the second-fastest man all-time in the 200m, Yohan Blake will step up in distance to the men's half-lap race this weekend as he also continues his championship preparations for what is shaping up to be a very busy season.
Blake, who has featured in three 60m races so far this season, face strong competition from local rivals Tyquendo Tracey, Demish Gaye, and Antonio Watson, and as well as Canadian world 4x100m relay gold medal winner Brendon Rodney, who has also been in solid form this early season.
Zharnel Hughes and Sprint Hurdlers Battle for Men's 100m Title
European 200m champion Zharnel Hughes will lead the men's 100m field, coming off an impressive 20.25-second performance at the 2023 John Wolmer Track Meet. Hughes, who is making his first appearance in the discipline this season, will face stiff competition from sprint hurdlers Ronald Levy, Ramone Barnswell, and Orlando Bennett, plus specialized sprinters Julian Forte, and Sachin Dennis.
In the meantime, two-time world triple silver medalist Shanieka Ricketts will compete in her specialty, the women's triple jump, and face Tissanna Hickling, the Pan American Games and NACAC Championships long jump bronze medalist.
The men's Discus Throw event will feature 2019 world silver medalist Fedrick Dacres, World U20 champion Kai Chang, Chad Wright, and Glenford Watson.
NOTE: How to watch the 2023 Velocity Fest 12?
The 2023 Velocity Fest 12 will be live-streamed on Saturday via the TrackAlerts and SportingAlert.com YouTube channels. Admission into the National Stadium on Saturday isn JD $1,500 Grand Stand. The three-hour event will run from 5pm to 8pm, local time / 6pm-9pm EST