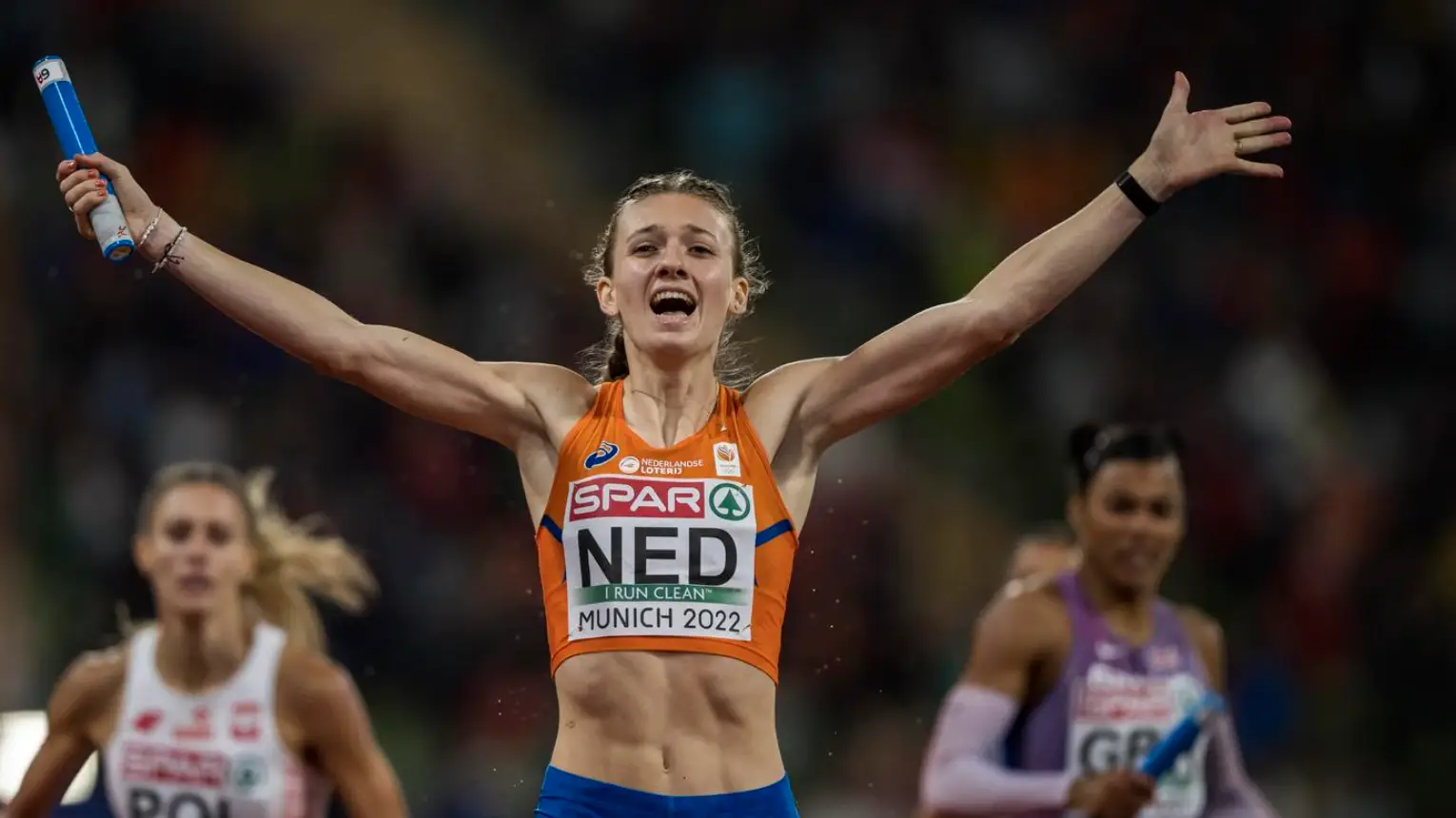 Netherlands' Femke Bol led her team to a dominant victory in the women's 4x400m relay race at the 2023 European Athletics Indoor Championships in Istanbul, winning two gold medals in the process. The final relay splits for the race took place over the weekend.
Bol, the World and Olympic 400m hurdles medalist, delivered a blistering anchor leg, clocking the fastest split of the day at 49.58 seconds, securing a new championship record of 3:25.66. – Read more: Femke Bol smashes World Indoor 400m record
Her training parner Lieke Klaver was also in top form form as she ran the second-fastest time overall with 50.67 seconds, while Eveline Saalberg and Cathelijn Peeters also put out solid performances to set up Bol's heroics.
Italy finished second with a national record time of 3:28.61, thanks in part to Ayomide Folorunso's fastest split of the day (51.69 seconds). Poland took the bronze medal with a season-best time of 3:29.31, led by Anna Kiełbasińska's fastest split of 51.39 seconds.
Notable performances also came from the Czech Republic's Lada Vondrová (51.25 seconds) and Ireland's Sharlene Mawdsley (51.15 seconds), who posted the fastest splits for their respective teams.
The Great Britain & Northern Ireland team finished in sixth place with a season-best time of 3:32.65, boosted by a strong third leg from Carys McAulay (51.98 seconds).
2023 European Athletics Indoor Championships – Women's 4x400m Relay Splits
Rank
Team
Name
Leg Time
Result
1
NED (Netherlands)
KLAVER Lieke
50.67 (1)
3:25.66 CR
SAALBERG Eveline
52.27 (5)
PEETERS Cathelijn
53.14 (3)
BOL Femke
49.58 (1)
2
ITA (Italy)
POLINARI Anna
52.07 (1)
3:28.61 NR
FOLORUNSO Ayomide
51.69 (2)
MANGIONE Alice
52.62 (3)
MARCHIANDO Eleonora
52.23 (3)
3
POL (Poland)
KIEŁBASIŃSKA Anna
51.39 (2)
3:29.31 SB
PAŁYS Anna
52.74 (4)
POPOWICZ-DRAPAŁA Marika
51.76 (3)
WRONA-KUTRZEPA Alicja
53.42 (4)
4
CZE (Czech Republic)
VONDROVÁ Lada
51.25 (2)
3:31.26 SB
PETRŽILKOVÁ Tereza
53.13 (4)
PÍRKOVÁ Marcela
53.27 (6)
BENDOVÁ Nikola
53.61 (5)
5
IRL (Ireland)
MAWDSLEY Sharlene
51.15 (1)
3:32.61 SB
HEALY Phil
53.37 (5)
BECKER Sophie
53.70 (5)
MANNING Cliodhna
54.39 (6)
6
GBR (Great Britain & NI)
KENDALL Nicole
52.84 (2)
3:32.65 SB
ABICHI Mary
53.54 (6)
MCAULAY Carys
51.98 (4)
KELLY Hannah
54.29 (6)