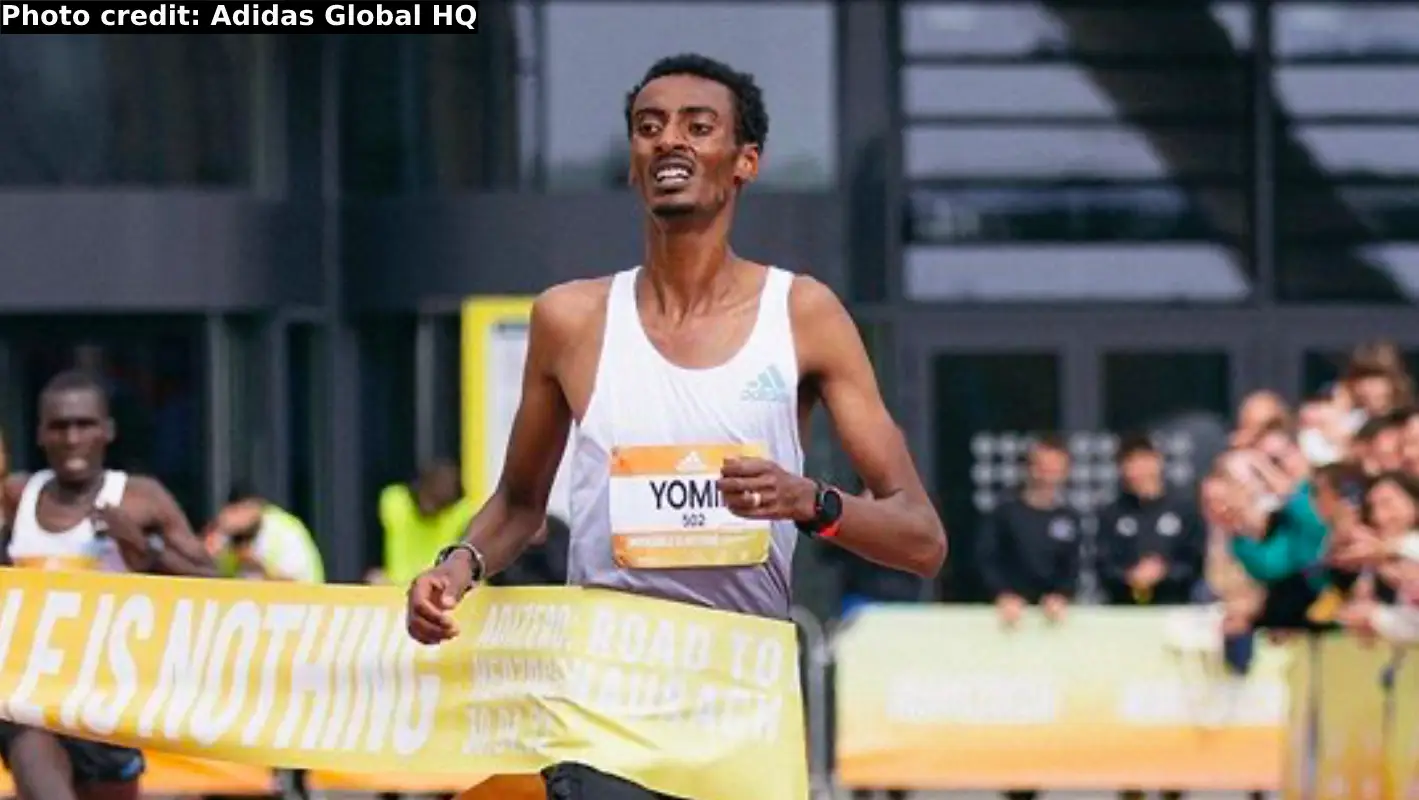 LILLE, France (March 21) — Ethiopian runner Yomif Kejelcha came within one second of breaking the world 5km record at the Semi Marathon de Lille on Sunday. Kejelcha clocked 12:50, setting a national record and personal best for the victory. The following are the top results from the race.
Kejelcha, a two-time world indoor champion in the 3000m, inched closer to Berihu Aregawi's world record of 12:49 in Barcelona in 2021 when improving on his previous lifetime best of 12:53 in Herzogenaurach last year. Read more: 2022 Valencia Half Marathon Trinidad Alfonso Zurich results; Kandie and Klosterhalfen take title
Eight of the top 10 men finishers posted personal bests, with Kenya's Reynold Kipkorir Cheruiyot running 13:04 PB for second place, followed by Telahun Haile of Ethiopia who also clocked a PB of 13:07 to round out the podium.
Tesfaye Kidanu (ETH, 13:14 PB) finished fifth, Sam Atkin (GBR, 13:16 PB) sixth, Justin Kipkoech (KEN, 13:22 PB) seventh, Rogers Kibet (UGA, 13:30 PB) eighth, and Abraham Seme (ETH, 13:41 PB) finished in 10th place, all with personal bests.
The Semi Marathon de Lille showcased several outstanding performances, but Kejelcha's near-record-breaking run was the highlight of the event.
Read more: Tigist Assefa impresses, Eliud Kipchoge lowers own world record at 2022 BMW Berlin Marathon – Video Highlights
Check out the results below:
Semi Marathon de Lille 2023 Results
Men's 5km Road Race
Yomif Kejelcha (ETH) – 12:50
Reynold Kipkorir Cheruiyot (KEN) – 13:04
Telahun Haile Bekele (ETH) – 13:07
Jacob Krop (KEN) – 13:13
Tesfaye Kidanu (ETH) – 13:14
Sam Atkin (GBR) – 13:16
Justin Kipkoech (KEN) – 13:22
Rogers Kibet (UGA) – 13:30
Yasin Haji (ETH) – 13:38
Abrham Sime (ETH) – 13:41
Djilali Bedrani (FRA) – 13:42
Valentin Gondouin (FRA) – 13:43
Antonin Marquant (FRA) – 13:53
Simon Denissel (FRA) – 13:55
Victor Boudin (FRA) – 13:57
Steven Castele (BEL) – 13:58
Quentin Tison (FRA) – 14:00
François Barrer (FRA) – 14:01
Amaniel Habtom (ERI) – 14:01
Pierrick Bernard (FRA) – 14:20
Men's 10km Road Race
Gemechu Dida (ETH) – 27:12:00
Emmanuel Kiprop (KEN) – 27:13:00
Stanley Waithaka Mburu (KEN) – 27:18:00
Kiprono Sitonik (KEN) – 27:20:00
Peter Maru (UGA) – 27:30:00
Edward Zakayo Pingu (KEN) – 28:10:00
Cornelius Kemboi (KEN) – 28:25:00
Ezekiel Mutai (UGA) – 28:26:00
Mark Owon Lomuket (KEN) – 28:27:00
Awet Nftalem Kibrab (ERI) – 28:38:00
Brian Kiptoo (KEN) – 28:41:00
Sander Vercauteren (BEL) – 28:51:00
Ali Guerine (ALG) – 29:02:00
Primož Kobe (SLO) – 29:19:00
Emile Blondel-Hermant (FRA) – 29:21:00
Arthur Gervais (FRA) – 29:23:00
Mohammed Bybat (MAR) – 29:34:00
Alberto Vender (ITA) – 29:34:00
Vladimír Marčík (CZE) – 29:39:00
Romain Vogt (FRA) – 29:41:00
Men's Half Marathon Race
Patrick Mosin (KEN) – 59:31:00
Alfred Barkach (KEN) – 59:32:00
Solomon Kipchoge (KEN) – 59:37:00
Anthony Kimutai (KEN) – 1:00:43
Etienne Daguinos (FRA) – 1:01:39
Abraham Cheroben (BRN) – 1:01:54
Vincent Kipsang Rono (KEN) – 1:02:18
Inyasi Nicodemus Sulley (TAN) – 1:02:21
El Hadi Laameche (ALG) – 1:02:59
Hicham Briki (FRA) – 1:04:21
Menad Lamrani (ALG) – 1:04:34
Abdelaziz Dahi (ALG) – 1:05:34
Nasser Allali (FRA) – 1:05:35
Ronny Kiboss (KEN) – 1:05:50
Julien Rabaca (FRA) – 1:05:50
Camille Duret (FRA) – 1:05:53
Morgan False (FRA) – 1:07:21
Clement Leduc (FRA) – 1:07:39
Dylan Voet (BEL) – 1:07:52
Romain Szurhaj (FRA) – 1:08:26
Women's 5km Road Race
Caroline Nyaga (KEN) – 14:35
Mekides Abebe (ETH) – 14:35
Doris Lengole Cherop (KEN) – 14:40
Brenda Chebet (KEN) – 14:57
Zenah Jemutai Yego (KEN) – 15:09
Peruth Chemutai (UGA) – 15:12
Luiza Gega (ALB) – 15:16
Wede Kefale (ETH) – 15:22
Alexa Lemitre (FRA) – 16:08
Sandra Šrut (CRO) – 16:30
Aurelane Gest (FRA) – 16:33
Méline Rollin (FRA) – 16:33
Laurine Housseaux (FRA) – 16:50
Eugénie Lorain (FRA) – 16:51
Fanny Le Floch (FRA) – 16:58
Mathilde Valadier (FRA) – 17:01
Nele Dequae (BEL) – 17:13
Coralie Driss (FRA) – 17:18
Cécile Wanders (SUI) – 17:19
Sana Hammami (FRA) – 17:21
Women's 10km Road Race
Dorcas Jepchumba Kimeli (KEN) – 30:48:00
Mercyline Cherono (KEN) – 30:50:00
Likina Amebaw (ETH) – 31:54:00
Millicent Kemboi (KEN) – 31:55:00
Naomi Taschimowitz (GBR) – 33:40:00
Julie Voet (BEL) – 33:50:00
Roxane Cleppe (BEL) – 34:12:00
Margaux Bontant (FRA) – 34:34:00
Elodie Van Den Abeele (BEL) – 35:10:00
Sophie Delguste (BEL) – 35:18:00
Armelle Montheard (FRA) – 35:37:00
Camille Leleu (FRA) – 35:41:00
Jenni Schappert (USA) – 35:46:00
Marie Martinez (FRA)- 35:58:00
Armelle d'Esquerre (FRA) – 36:25:00
Lisa Marie Bezzina (MLT) – 36:28:00
Rébecca Lucas (FRA) – 36:45:00
Marion Boukhoubza (FRA) – 38:11:00
Marion Salelles (FRA) – 38:12:00
Amelie Bongrand (FRA) – 38:30:00
Women's Half Marathon Race
Emily Chebet (KEN) – 1:07:52
Addisie Mislenew (ETH) – 1:07:59
Manon Trapp (FRA) – 1:11:26
Marie Perrier (MRI) – 1:12:52
Chloé Herbiet (BEL) – 1:12:59
Salome Brun (FRA) – 1:15:56
Amelie Bihain (BEL) – 1:16:59
Fatima Charkaoui (FRA) – 1:17:21
Geraldine Poupard (FRA) – 1:20:58
Mathilde Draeger (FRA) – 1:23:29
Delphine Thirifays (BEL) – 1:23:52
Justine Magny (FRA) – 1:25:49
Lara Hofman (SRB) – 1:25:53
Julie Granjon (FRA) – 1:26:21
Charlotte Jegot (FRA) – 1:26:32
Marine Gibard (FRA) – 1:26:45