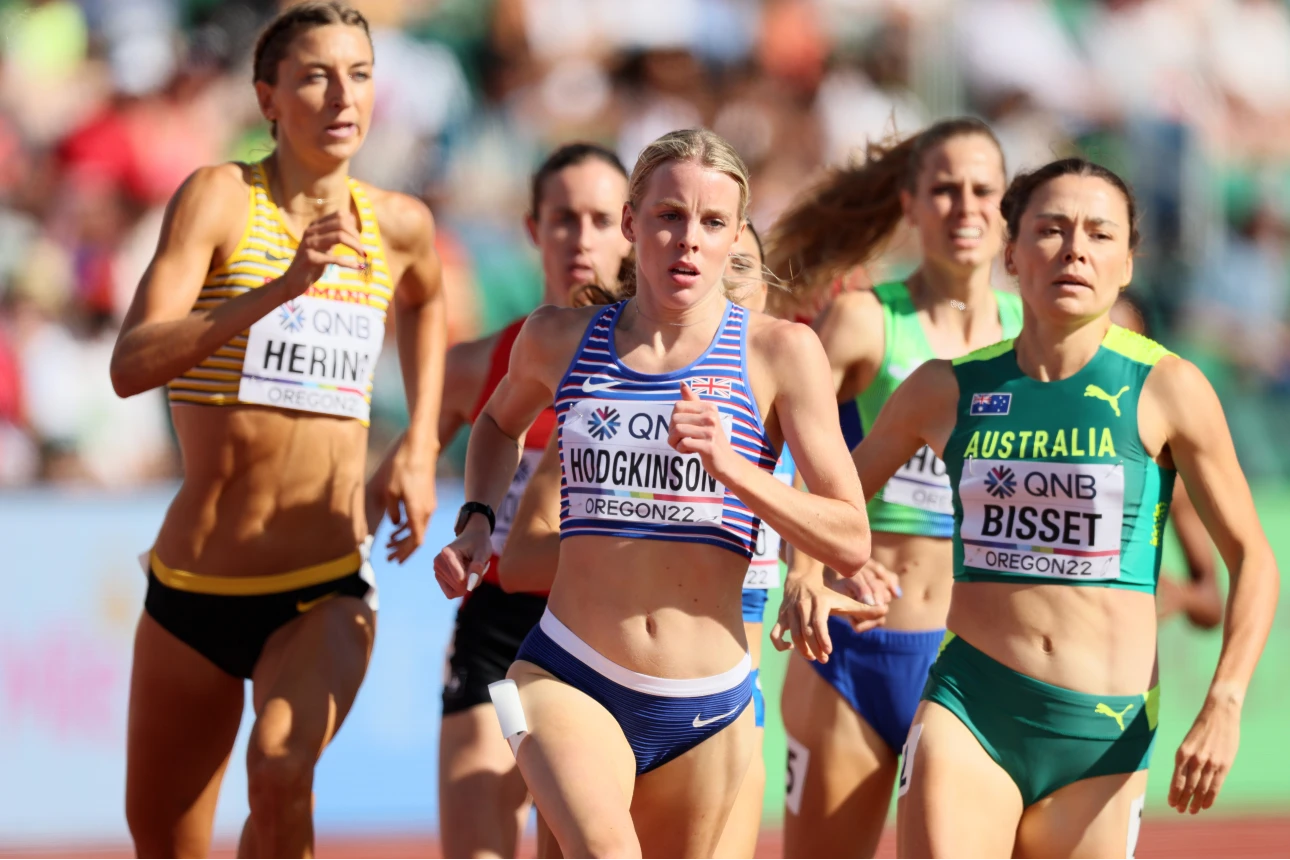 Istanbul, Turkey – Keely Hodgkinson, the reigning European Indoor 800m champion, will look to defend her title at the European Indoor Championships 2023.
The Briton star, who is also the European and world champion, as well as the Olympic and world silver medalist, starts her title defense from the third heat, where she will face four competitors who have yet to break the 2-minute barrier for the event. – Read more: Day 1 Order events: 2023 European Athletics Indoor Championships
Hodgkinson travels to Istanbul in devastating form, having logged three sub-1:58 performances this season, including a new British national record and world leading time of 1:57.18 in Birmingham on February 25th.
The 20-year-old Briton, who has already posted wins in Torun, Lievin and Birmingham, over the 800m each time, and also recording a world indoor 600m best of 1:23.41 to open her season in Manchester, will face-off against Hedda Hynne of Norway, Italian Eloisa Coiro, and Germany's Majtie Kolberg in her heat. She should breeze through the round very comfortable.
Isabelle Boffey and other also start medal hunt
Meanwhile, British champion Isabelle Boffey, who is also a European U23 champion and European Junior champion, will start in heat one, while Slovenia's Anita Horvat, the world championships finalist, will begin her medal quest from heat two.
Elsewhere in the women's 800m heats, Léna Kandissounon of France headlines heat four and her compatriot Agnes Raharolahy leads the starters in the fifth and final heat.
The first two finishers in each heat and the next two fastest will advance to the semi-finals.
European Indoor Championships 2023 – Women's 800m start list
Heat 1
Lane Name Personal Best Season Best
2 NISSEN Annemarie DEN 2:04.04 2:04.04
3 SMONKAR Jerneja SLO 2:03.73 2:03.73
4 PIZZO Charlotte FRA 2:02.18 2:02.18
5 KÉRI Bianka HUN 2:01.95 2:01.95
6 BOFFEY Isabelle GBR 2:00.25 2:00.25
Heat 2
Lane Name Personal Best Season Best
1 BALAN Cristina Daniela ROU 2:05.77 2:06.74
2 NYFORS Malin Ingeborg NOR 2:05.38 2:05.38
3 GAJANOVÁ Gabriela SVK 2:02.31 2:02.31
4 GARCÍA Daniela ESP 2:03.42 2:03.42
5 HOFFMANN Lore SUI 2:01.25 2:01.40
6 HORVAT Anita SLO 2:00.44 2:00.44
Heat 3
Lane Name Personal Best Season Best
2 HYNNE Hedda NOR 2:00.92 2:03.96
3 ROSAMILIA Valentina SUI 2:03.92 2:03.92
4 KOLBERG Majtie GER 2:02.09 2:02.09
5 HODGKINSON Keely GBR 1:57.18 1:57.18
6 COIRO Eloisa ITA 2:02.07 2:02.07
Heat 4
Lane Name Personal Best Season Best
1 TOPTAŞ Tuğba TUR 2:05.51 2:06.60
2 SILVA Patricia POR 2:05.14 2:05.14
3 KOCZANOWA Margarita POL 2:02.36 2:02.36
4 NIELSEN Wilma SWE 2:02.91 2:02.91
5 WERRO Audrey SUI 2:00.57 2:00.57
6 KANDISSOUNON Léna FRA 2:01.31 2:01.31
Heat 5
Lane Name Personal Best Season Best
1 NIELSEN Julia SWE 2:05.74 2:05.74
2 SADEK Veronika SLO 2:03.68 2:04.78
3 SARNA Angelika POL 2:02.74 2:02.74
4 BELLÒ Elena ITA 2:01.45 2:02.86
5 RAHAROLAHY Agnès FRA 2:00.83 2:00.83
6 IBARZABAL Lorea ESP 2:01.00 2:01.00