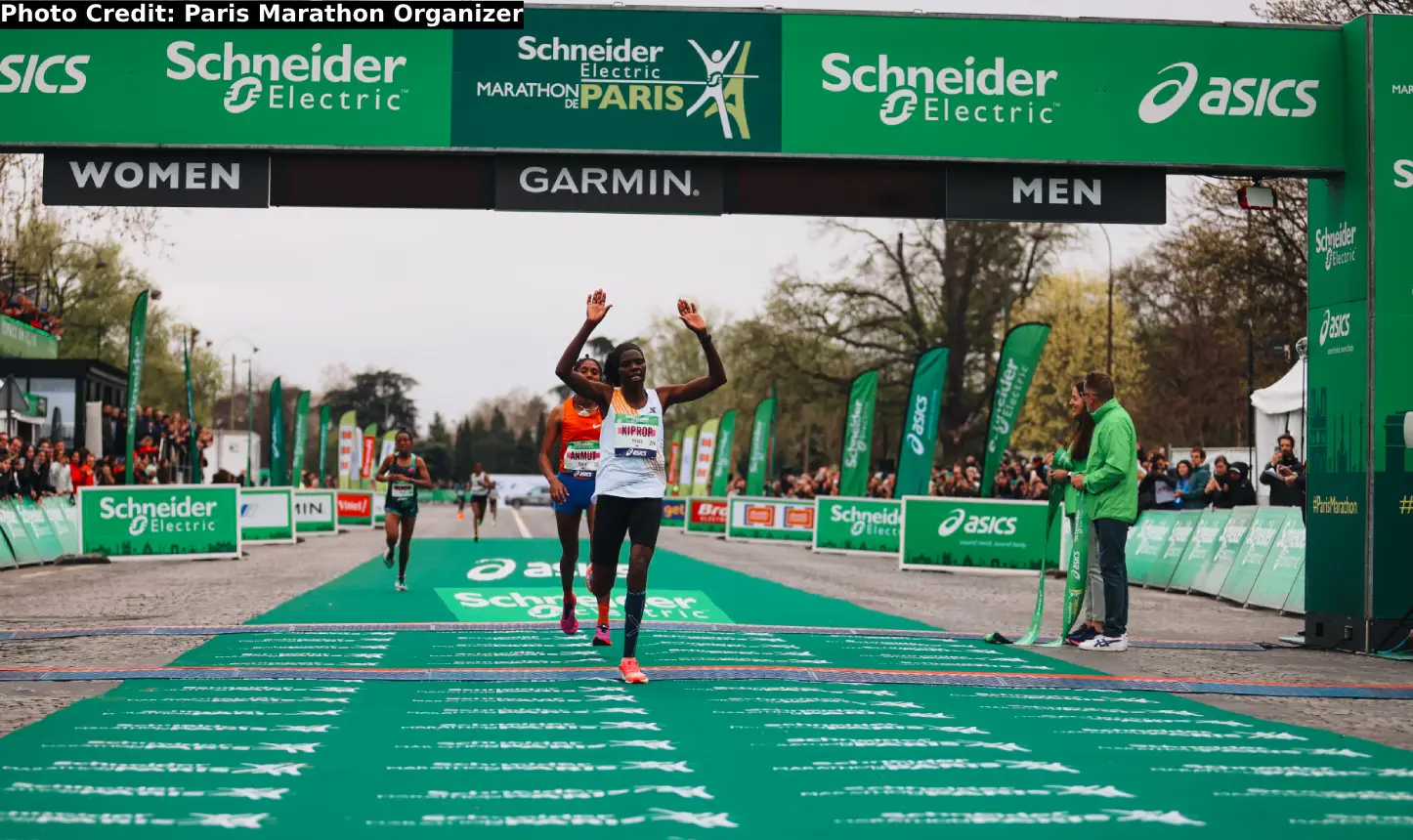 PARIS, France (April 2) — Abeje Ayana of Ethiopia claimed first place in the men's division of the 2023 Paris Marathon on Sunday, in his debut race at this distance. In the women's category, Helah Kiprop of Kenya took the title on a windy and gray morning in the French capital.
Ayana, who is only 20 years old, finished the race in an impressive time of 2:07:15, finishing 20 seconds ahead of his countryman, Guye Adola, who was the pre-race favorite. In the end, Adola stopped the clock at 2:07:35 for the runner up spot and he was followed home by Josphat Boit from Kenya, five seconds behind Adola in 2:07:40.
Meanwhile, the women's contest, Helah Kiprop produced a stunning comeback to win the race with a time of 2:23:19. Read More: Results from the 2023 Berlin Half Marathon; McColgan, Sawe take crowns
Kiprop was more than a minute behind the leading group after the 25-kilometer mark, but the 37-year-old fought back and out-sprinted Atalel Anmut from Ethiopia to take first place. Anmut finished second, also in 2:23:19, while Fikrte Wereta from Ethiopia finished third in a time of 2:23:22.
Yeshi Chekole of Ethiopia ran 2:23:29 for fourth with Kenya's Winfridah Moseti stopping the clock at 2:23:38 to round out the top five finishers.
Women's 2023 Paris Marathon Results
Helah Kiprop – 02:23:19
Atalel Anmut – 02:23:19
Fikrte Wereta – 02:23:22
Yeshi Chekole – 02:23:29
Winfridah Moseti – 02:23:38
Linet Masai – 02:24:49
Judith Jerubet – 02:25:51
Etagegne Woldu – 02:26:00
Solange Jesus – 02:28:15
Ruth Chebitok – 02:30:29
Anais Quemener – 02:32:12
Latifa Mokhtari – 02:32:59
Lilia Fisikovici – 02:34:42
Camille Chaigneau – 02:37:33
Maiwenn Le Corre – 02:42:16
Camille Thire-Monnier – 02:42:26
Christelle Lazard – 02:44:10
Anne Sophie Louf – 02:44:24
Elodie Brotin – 02:47:19
Linda Ducrocq – 02:49:54
Men's 2023 Paris Marathon Results
Abeje Ayana – 02:07:15
Guye Adola – 02:07:35
Josphat Boit – 02:07:40
Elkanah Langat – 02:08:25
Adeledelew Mamo – 02:08:50
Kipkemboi Kiprono – 02:09:27
Leonard Korir – 02:09:31
Laban Korir – 02:09:34
Samuel Tesfamariam – 02:09:47
Medhi Frere – 02:11:04
Evans Sambu – 02:12:23
Noah Kipkemboi – 02:12:41
Morhad Amdouni – 02:12:45
Brian Shrader – 02:12:53
Yoann Kowal – 02:14:56
Freddy Guimard – 02:15:30
Helio Gomes – 02:15:51
Adrien Toucas – 02:15:57
Isaac Cheluko – 02:16:39
Mael Sicot – 02:17:02
Click here for full results of the race