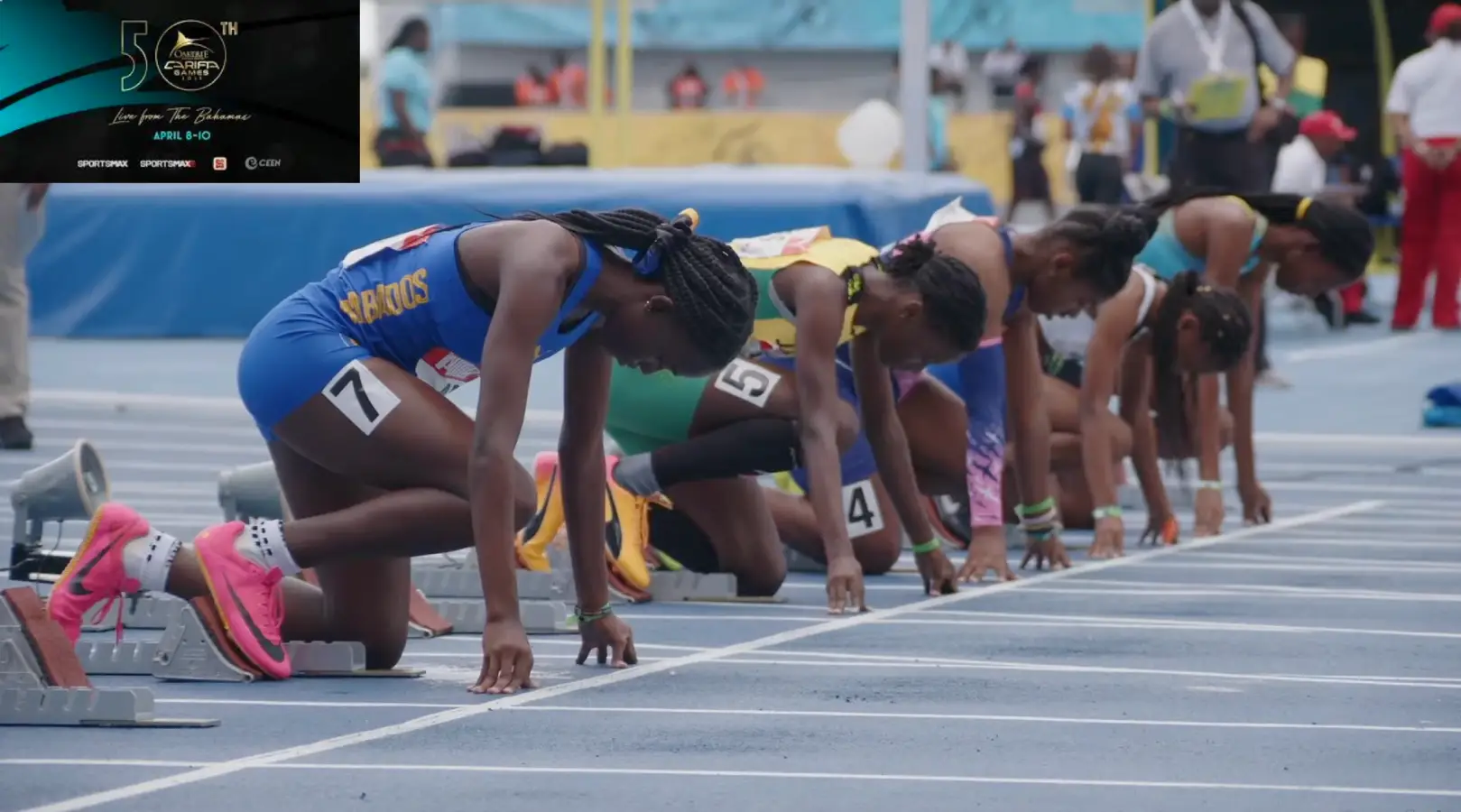 NASSAU, Bahamas (April 9) – After an eventful start to the 50th Carifta Games on Saturday, the action continues on Sunday, with another packed schedule at the Thomas Robinson National Stadium. Fans can catch all the live streaming action via the 50th Carifta Games 2023 YouTube Channel, with highlights available on the SportsMax TV Channel. Read more: How to watch the 2023 Carifta Games?
The day's events kick off at 9:00 a.m. ET, with Boys' Octathlon events, followed by the Girls' Heptathlon competition five minutes later. Early morning field events include the Javelin Throw and Shot Put for Girls at 9:10 a.m. and 9:20 a.m., respectively, while the first track event, the U20 Girls 400m Hurdles, starts at 9:25 a.m.
READ ALSO: Jamaica Leads Medal Standings on Day 1 of 50th Carifta Games 2023
The morning session will also feature the 200m heats and the semi-final rounds of the 4x100m relay races for all age groups. There are several finals scheduled for later in the day, including the open division 4x400m Mixed Relay, which promises to be an exciting closeout to the day's events at 7:00 p.m.
Carifta Games Day 2 Order of Events Schedule on April 9
Morning Session Schedule – Carifta Games Day 2
9:00 AM: Event 5 – 110m Hurdles Octathlon Boys (TRACK)
9:05 AM: Event 5 – Long Jump Heptathlon (FIELD)
9:10 AM: U-20 Girls Final (600g) – Javelin Throw (FIELD)
9:15 AM: U-17 Girls Semi-Finals (0.76m) – 400m Hurdles (TRACK)
9:20 AM: U-20 Girls Final (4kg) – Shot Put (FIELD)
9:25 AM: U-20 Girls Semi-Finals (0.76m) – 400m Hurdles (TRACK)
9:35 AM: U-17 Boys Semi-Finals (0.84m) – 400m Hurdles (TRACK)
9:40 AM: Event 6 – High Jump Octathlon Boys (FIELD)
9:45 AM: U-20 Boys Semi-Finals (0.91m) – 400m Hurdles (TRACK)
10:00 AM: U-17 Girls Semi-Finals – 800m (TRACK)
10:15 AM: U-17 Boys Semi-Finals – 800m (TRACK)
10:20 AM: Event 6 (600g) – Javelin Throw Heptathlon Girls (TRACK)
10:30 AM: U-20 Girls Semi-Finals – 800m (TRACK)
10:35 AM: U-20 Boys Final – Long Jump (TRACK)
10:45 AM: U-20 Boys Semi-Finals – 800m (TRACK)
11:00 AM: U-17 Girls Heats – 200m (TRACK)
11:10 AM: U-17 Boys Heats – 200m (TRACK)
11:20 AM: U-20 Girls Heats – 200m (TRACK)
11:30 AM: U-20 Boys Heats – 200m (TRACK)
11:40 PM: Medal Ceremony
Evening Session Schedule – Carifta Games Day 2
3:00 PM: U-17 Girls Semi-Finals – 4x100m Relay (TRACK)
3:05 PM: U-17 Boys Final – High Jump (FIELD)
3:10 PM: U-17 Boys Semi-Finals – 4x100m Relay (TRACK)
3:15 PM: U-17 Girls Final – Long Jump (FIELD)
3:20 PM: U-20 Girls Semi-Finals – 4x100m Relay (TRACK)
3:25 PM: Event 7 (800g) – Javelin Octathlon Boys (FIELD)
3:30 PM: U-20 Boys Semi-Finals – 4x100m Relay (TRACK)
3:35 PM: U-17 Boys Final (5kg) – Shot Put (FIELD)
3:45 PM: U-17 Girls Finals (0.76m) – 400m Hurdles (TRACK)
3:55 PM: U-20 Girls Finals (0.76m) – 400m Hurdles (TRACK)
4:05 PM: U-17 Boys Finals (0.84m) – 400m Hurdles (TRACK)
4:15 PM: U-20 Boys Finals (0.91m) – 400m Hurdles (TRACK)
4:20 PM: Medal Ceremony
4:30 PM: U-17 Girls Semi-Finals – 200m (TRACK)
4:35 PM: U-17 Boys Final – Triple Jump (FIELD)
4:40 PM: U-17 Boys Semi-Final – 200m (TRACK)
4:50 PM: U-20 Girls Semi-Final – 200m (TRACK)
5:00 PM: U-20 Boys Semi-Final – 200m (TRACK)
5:00 PM: Open Division Boys Final – Pole Vault (FIELD)
5:05 PM: U-17 Boys Final (700g) – Javelin Throw (FIELD)
5:10 PM: Event 7 – 800m Heptathlon Girls (TRACK)
5:20 PM: Event 8 – 1500m Octathlon Boys (TRACK)
5:30 PM: Medal Ceremony
5:40 PM: Open Division Girls Final – 3000m (TRACK)
5:55 PM: U-17 Boys Final – 3000m (TRACK)
6:10 PM: Medal Ceremony
6:20 PM: U-17 Girls Finals – 4x100m Relay (TRACK)
6:30 PM: U-17 Boys Finals – 4x100m Relay (TRACK)
6:40 PM: U-20 Girls Finals – 4x100m Relay (TRACK)
6:50 PM: U-20 Boys Finals – 4x100m Relay (TRACK)
7:00 PM: Open Division Finals – 4x400m Mixed Relay (TRACK)
7:10 PM: Medal Ceremony