WACO, Texas (21 April) — Abby Steiner and Christian Coleman were crowned champions in the women's and men's 200-meter races at the 2023 Michael Johnson Invitational, held at Clyde Hart Track & Field Stadium in Waco, Texas on Friday, 21 April. Unfortunately, Salwa Eid Naser, the Bahraini former 400m world champion, did not compete in the women's race.
Steiner won the women's 200m contest in style, clocking a time of 22.30 seconds (1.5m/s) to win heat 10 and break the stadium record of 22.45 secs, set by Bahamas' Tynia Gaither in 2022. This was the American champion's second 200m outing this outdoor season, following her winning performance at the Miramar Invitational earlier this month.
Fellow USA sprinter Anavia Battle finished second with a season best of 22.58 secs, while Ashanti Moore of Jamaica came third with a new personal best of 22.62 secs in the same heat.
Rosemary Chukwuma of Texas Tech won heat 9 with a time of 22.72, taking fourth place overall ahead of Mariah Ayers of Baylor, who ran 22.78 and rounded out the top five.
Christian Coleman Continues Winning Form
In the men's 200m race, Christian Coleman won with a time of 20.11 (1.2m/s), just edging out Elijah Morrow who finished in second place with a lifetime best of 20.15. Kennedy Lightner of Kentucky came third with a personal best time of 20.33 secs.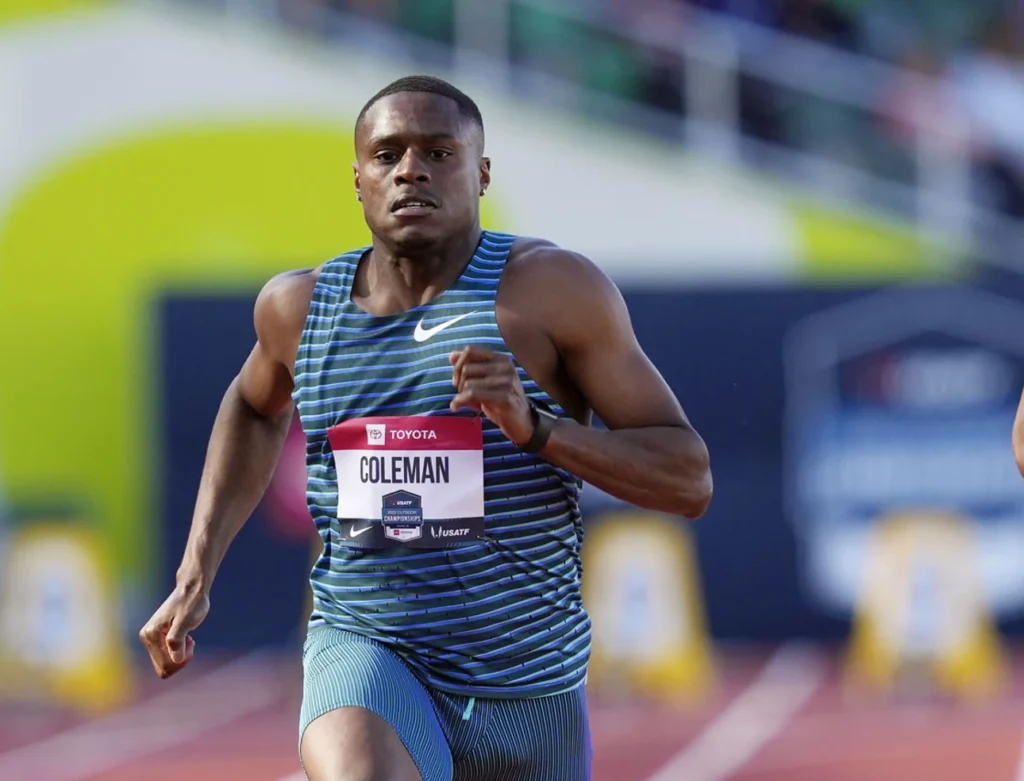 Meanwhile, Justin Robinson of Arizona State at 20.61 secs and Delan Edwin of TAMU-Commerce, who clocked a PB of 20.66 secs, finished fourth and fifth respectively to complete the top five finishers.
Like Steiner on the women's side, Coleman was winning his second 200m race outdoors this season after clocking a world-leading time of 20.00 secs to win in Miramar on 8 April.
Steiner will attempt to complete the sprint double when the former Kentucky star races in the 100m on Saturday.
Meanwhile, Salwa Eid Naser, the 2019 world 400m champion, did not compete in the women's 200m on Friday despite being listed for both the 100m and 200m races at the Invitational. It is unlikely that she will race on Saturday.
2023 Michael Johnson Invitational
Men's Top 10 Results
Christian Coleman (Nike) – 20.11 seconds, 1.2m/s in heat 11
Elijah Morrow (Athletics TX) – 20.15 seconds, 1.2m/s in heat 11 (PR)
Kennedy Lightner (Kentucky) – 20.33 seconds, 0.2m/s in heat 10 (PR)
Justin Robinson (Arizona State) – 20.61 seconds, 0.2m/s in heat 10 (SB)
Delan Edwin (TAMU-Commerce) – 20.66 seconds, 0.2m/s in heat 10 (PR)
Tino Matiyenga (Unattached) – 20.70 seconds, 1.2m/s in heat 11
Canman Swain (Northwestern St.) – 20.73 seconds, 1.7m/s in heat 9 (SB)
Logan Popelka (Boston University) – 20.76 seconds, 1.7m/s in heat 9
Brandon Miller (Kentucky) – 20.78 seconds, 0.2m/s in heat 10
Damoy Allen (Iowa) – 20.81 seconds, 1.0m/s in heat 8
Women's Top 10 Results:
Abby Steiner (Puma) – 22.30 seconds, 1.5m/s at the Stadium in heat 10
Anavia Battle (adidas) – 22.58 seconds, 1.5m/s in heat 10 (SB)
Ashanti Moore (adidas) – 22.62 seconds, 1.5m/s in heat 10 (PR)
Rosemary Chukwuma (Texas Tech) – 22.72 seconds, 1.8m/s in heat 9
Mariah Ayers (Baylor) – 22.78 seconds, 1.8m/s in heat 9 (SB)
Karimah Davis (Kentucky) – 22.82 seconds, 1.8m/s in heat 9
Iyana Gray (TCU) – 23.17 seconds, 1.8m/s in heat 9
Paige Magee (Iowa) – 23.61 seconds, 1.8m/s in heat 9
Sanaria Butler (Northwestern St.) – 23.67 seconds, 2.0m/s in heat 5 (FR)
Colleen Branch (Kentucky) – 23.68 seconds, 1.0m/s in heat 6 (PR)