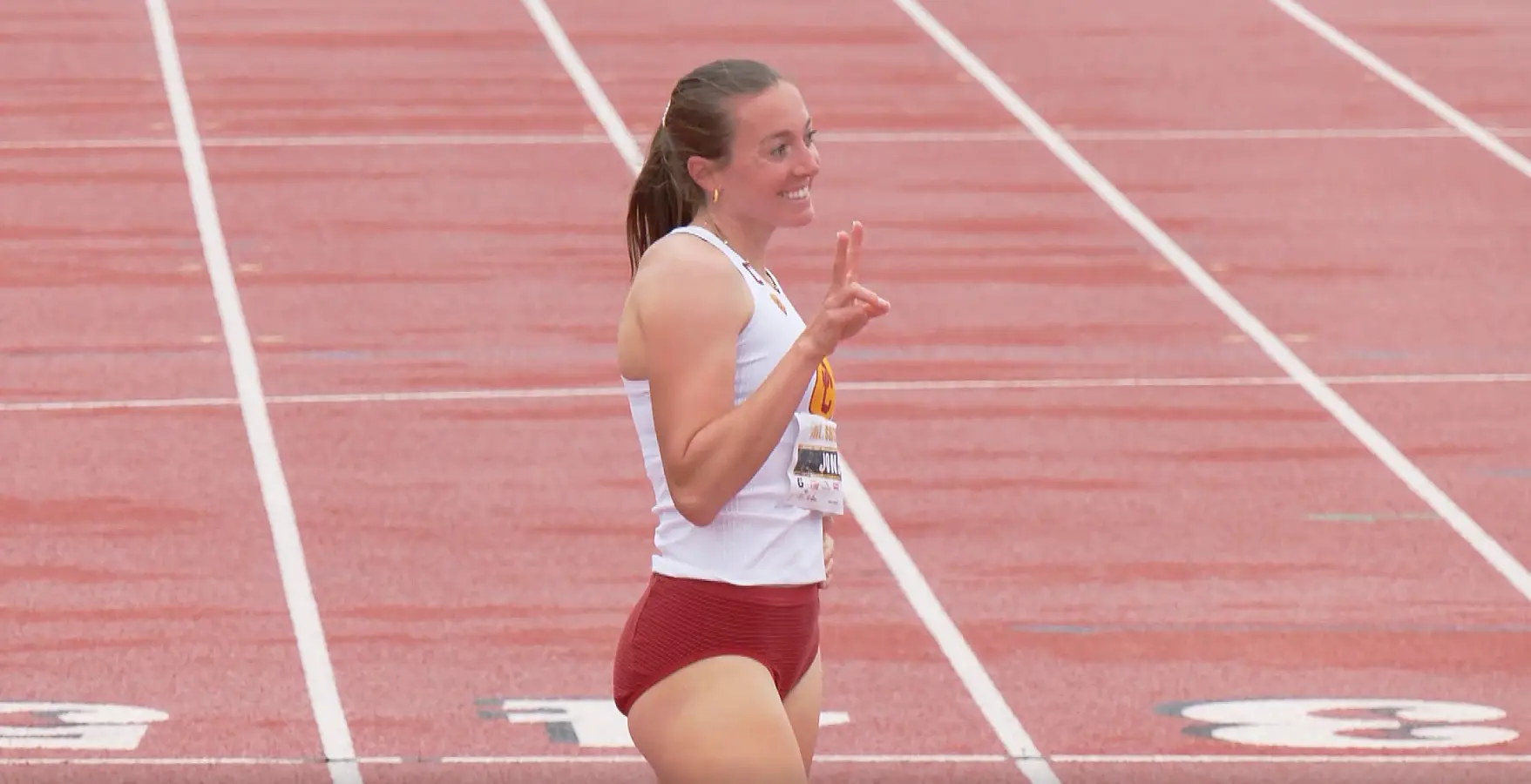 WALNUT, Calif. (April 14) – USC's Allie Jones and Harrison Williams of Chula Vista Elite claimed victories in the Women's 2023 Mt. SAC Relays Elite Heptathlon and Men's Decathlon Elite, respectively, on Day Two at Hilmer Lodge Stadium in Walnut, California on Thursday, April 13.
Jones was outstanding in the women's heptathlon, setting a new school record and producing five personal bests to score an impressive 6217 points, which surpassed her previous personal best of 5832 points. There were also impressive performances from Ida Eikeng of Washington and Beatrice Juskeviciute of Vanderbilt, who joined the 6,000-point club after breaking their personal bests and program records to take second and third place, respectively.
Jones used a balanced performance to top her rivals with a record-breaking score. She managed to produce five personal bests from the seven events, including a stunning 2:13.03 to win the 800m and close out the contest in style. Read more: How to watch the 63rd Annual Mt. SAC Relays 2023?
Her final score surpassed her previous personal best of 5832 points, which she set to finish second at the 2022 Mt. SAC Relays.
The graduate student who transferred from Stanford also set a personal best with a jump of 6.11 meters in the second round of the long jump, which was the opening event on Day Two.
Eikeng, a three-time First Team All-American from Norway, set a school record with a score of 6100 points to finish in second place, breaking her personal best. This was the fifth time Eikeng has broken a Husky record, but it was her first time surpassing the 6,000-point mark.
Vanderbilt's Beatrice Juskeviciute joined the 6,000-point club after taking third place with 6073 points, surpassing the previous school record by 546 points and bettering her old personal best from 5721 points.
Meanwhile, Harrison Williams put together a remarkable performance on the second day to setup the win in the Men's Decathlon Elite –recording a lifetime best of 8492 points, and bettering his previous personal best of 8439 points. His performance is also a world championships qualifying standard.
Overnight leader Kyle Garland of Georgia, who was the event favorite, failed to clear a height in the pole vault and did not compete in the final two events.
Heath Baldwin of Michigan State and Austin West of Iowa secured second and third place, respectively.
In the meantime, speaking after the event, Iowa Director of Track and Field Joey Woody was full of praise for West, who was opening his campaign in the 10 event competition.
"I'm very proud of Austin (West) and his performance today in some tough weather conditions," Iowa Director of Track and Field Joey Woody said on the school's website. "To score over 8,000 points again is incredible, especially in the rain and cold. This shows why Austin is one of the best Decathletes in the world."
"It was amazing that Austin (West) was able to score over 8,000 points, considering we haven't been able to train much since indoor season because of the poor weather conditions," assistant coach Hadrien Choukroun said.
Mt. SAC Relays Elite Decathlon Standings
Harrison Williams – Chula Vista Elite – 8492
Heath Baldwin – Michigan State – 8084
Austin West – Iowa – 8038
Kendrick Thompson – Bahamas – 8015
Ken Mullings – Bahamas – 7933
Yariel Soto Torrado – Arkansas – 7911
Jack Flood – USA – 7783
Daniel Spejcher – Arkansas – 7675
Hakim McMorris – California – 7655
Qihao Sun – China – 7608
Aiden Ouimet – Illinois – 7433
Ryan Talbot – Michigan State – 7195
Mt. SAC Relays Elite Heptathlon Standings
6217 – Allie Jones – USC
6100 – Ida Eikeng – Washington
6073 – Beatrice Juskeviciute – Vanderbilt
5837 – Hope Bender – Unattached
5812 – Erin Marsh – Unattached
5625 – Taylor Chocek – Oregon
5621 – Melanie Winters – Unattached
5557 – Joniar Thomas – Texas A&M
5422 – Ella Rush – Georgia
5387 – Lexie Keller – Colorado St.
5191 – Chari Hawkins – USA
5074 – Jolie Robinson – UC Irvine
4108 – Allyson Andress – Texas A&M