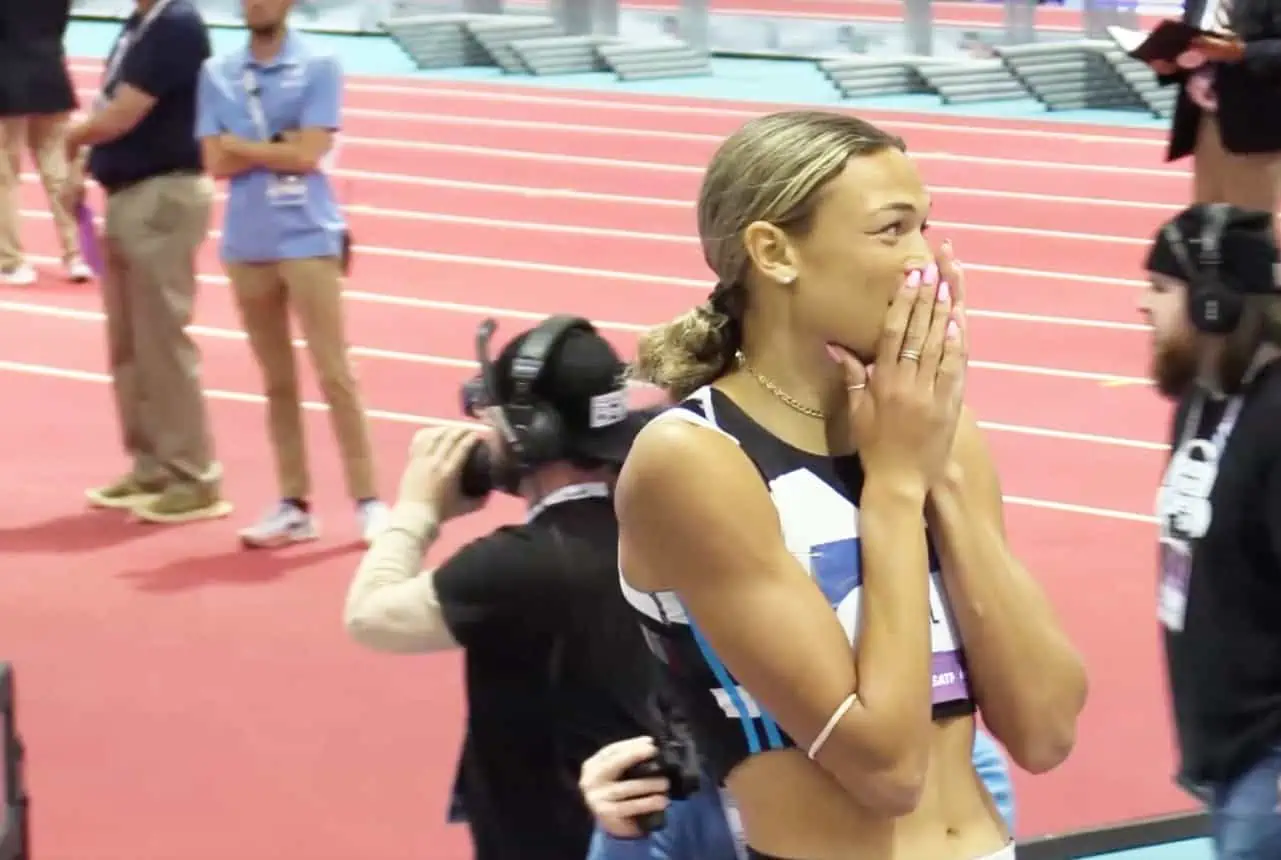 GAINESVILLE, Florida (April 1) — American athlete Anna Hall continued to impress with her versatile abilities as she won the women's 800m at the 2023 Florida Relays held at Percy Beard Track Field on Saturday, April 1. The World Heptathlon bronze medalist completed the two-lap race in 2:03.23 in a closely contested encounter against a strong field that saw four finishers clocking below 2:04.00.
What Were Anna Hall's 800m Split At Florida Relays?
Competing in her third event of the weekend, Hall, a former representative of the University of Florida, began the race with a time of 1:01.82 for the first lap, before completing the second in 1:01.39, securing her victory over her competitors.
This latest win follows her dominant performance at the USA Indoor Championships in February where she set a new American record with 5004 points in the women's Pentathlon. Hall's winning time at the Florida Relays ranks as the second-fastest time of her career for the 800m event.
Emily Richards, another American athlete, finished second to Hall with a time of 2:03.32. Rachel Gearing of Penn State, who came third in the same heat, finished fourth overall with a time of 2:03.92.
Taiya Shelby of Vanderbilt won heat two with a time of 2:03.89, earning her third place overall, while Imogen Barrett from the University of Florida completed the top five with a time of 2:04.28 for fourth place in heat one.
Click here for the full results from the meet.
2023 Florida Relays Women's 800m Results
Anna Hall – Adidas – 2:03.23
Emily Richards – USA – 2:03.32
Taiya Shelby – Vanderbilt – 2:03.89 – SR
Rachel Gearing – Penn State – 2:03.92 – SR
Imogen Barrett – Florida – 2:04.28 – SR
Hayley Kitching – Penn State – 2:04.33 – FR
Gabrielle Wilkinson – Florida – 2:04.63 – SR
Natalie Varela – Miami (Fla.) – 2:05.05 – JR
Allison Johnson – Penn State – 2:05.28 – FR
Kassidy Johnson – Rutgers – 2:05.67 – SR
Michelle Howell – Garden State Track Club – 2:06.12
Sanu Jallow – Texas A&M – 2:06.32 – FR
Jordan Mozie – Hampton – 2:06.43 – SO
Gigi Maccagnini – USC – 2:06.44 – SO
Vanessa Watson – Florida – 2:06.92 – JR
Victoria Bossong – Harvard – 2:07.11 – SO
Emma Maurel – Miami (Fla.) – 2:07.14 – JR
Silan Ayyildiz – South Carolina – 2:07.15 – SO
Clare Pitcher – Iowa – 2:07.65 – JR
Sylvia Chelangat – South Carolina – 2:08.34 – FR