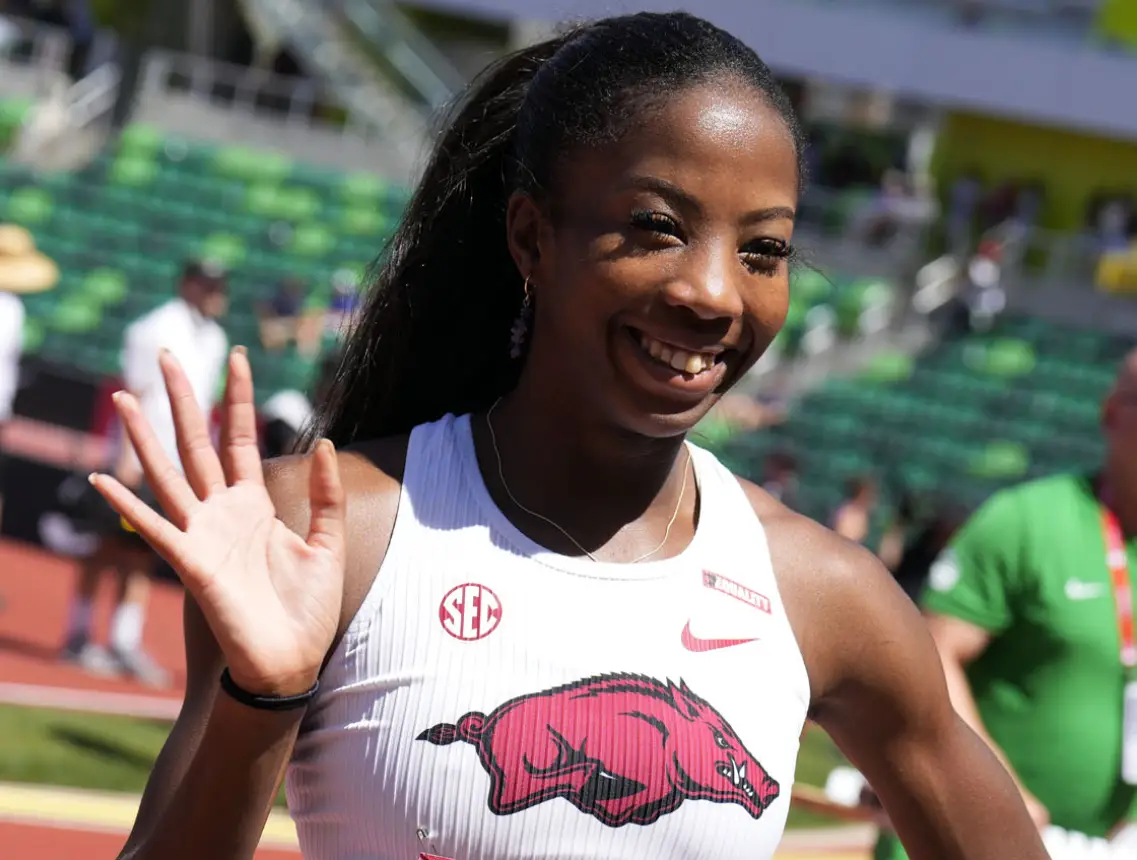 GAINESVILLE, Fla. (April 15) – Arkansas athlete Britton Wilson set a world-leading time of 53.23 seconds on Friday, April 15, to win the women's 400m hurdles at the 2023 Tom Jones Memorial Invitational meet. Wilson, who had an impressive indoor campaign, was making her season debut in the 400m hurdles.
Wilson got off to an aggressive start, covering the athletes in the outside lane in the opening 200m and maintaining her speed to finish the event ahead of the competition. Her performance also placed her third on the all-time collegiate list. Anna Hall, a versatile athlete and world championships heptathlon bronze medalist, finished second with a time of 54.48 secs, while Masai Russell, Kentucky's 100-meter hurdle collegiate record holder, finished third in 55.39. – Read Also: Day 2: How to watch 2023 Tom Jones Memorial Invitational? Event schedule on April 15
According to the USTFCCCA InfoZone and stats gurus, Wilson's time of 53.23 seconds is the fastest ever run by a collegiate athlete in the month of April, surpassing the previous record of 53.60 set by current world record holder and former Kentucky star Sydney McLaughlin [now Sydney McLaughlin-Levrone] in 2018. Click here for the full list.
On the all-time collegian performer list, only McLaughlin-Levrone at 52.75 and Stanford standout Kori Carter with 53.21, ranked above Wilson, who replaced former Texas A&M star and current training partner Shamier Little, who previously held third place with 53.51.
Wilson had a successful indoor season where she set an American and collegiate record of 49.48 seconds for the 400m indoors, in addition to running a personal best of 2:02.13 twice for the 800m.
The Tom Jones Memorial Invitational meet was held at the James G. Pressly Stadium at Percy Beard Track in Gainesville, Florida.
Continue to follow all the latest updates from the meeting on our homepage. Our writers will be providing highlights and race recaps of the top performances.