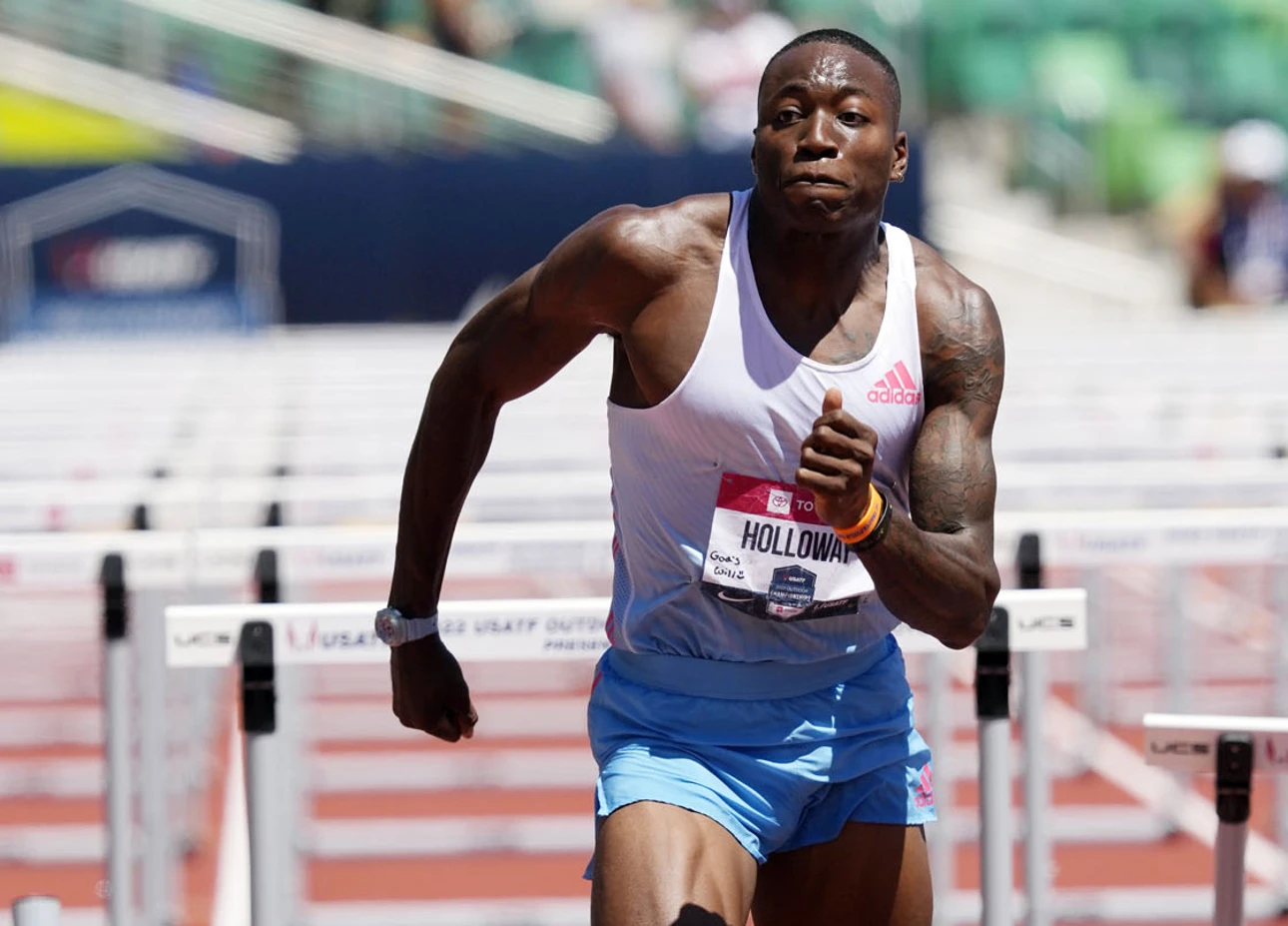 GAINESVILLE, Fla. (April 15) – The 2023 Tom Jones Memorial Invitational meeting resumes on Saturday at the James G. Pressly Stadium, Percy Beard Track, with a lineup of star athletes that includes Noah Lyles, Dalilah Muhammad, Grant Holloway, Tobi Amusan, Anna Hall, Erriyon Knighton, and Andre De Grasse. The event will be streamed live on SECN+ via ESPN+. Watch Saturday Live Streaming – Starting at 1:30 p.m and Click Here For Live Results.
The college women's Discus Throw event kicks off today's schedule at 9:00 a.m. ET, followed by the men's contest at 10:00 a.m. The women's Discus Throw Invitational will start at 11:30 a.m. The first event on the track will be the 100 Hurdles for college women. Read more: Orogot runs windy 19.60secs, Lyles wins Olympic Development 200m at Tom Jones Memorial Invitational
At 1:30 p.m. ET, the SECN+ live streaming coverage will begin with the women's and men's 4x100m relay races. Fans will be eagerly anticipating Lyles' attempt to complete the sprint double, but he will face stiff competition from De Grasse and Joseph Fauhnbulleh. Additionally, 100m hurdles world record holder, Amusan, is set to compete in both the hurdles and open 100m races.
As the action unfolds, sports enthusiasts are encouraged not to miss a moment of the competition.
List of 2023 Tom Jones Memorial Invitational events for the Saturday: Field and Running schedule:
Saturday Field Events:
9:00 AM: Women's Discus Throw College
10:00 AM: Men's Discus Throw Invitational
11:00 AM: Men's Discus Throw College
11:30 AM: Women's Discus Throw Invitational
12:00 PM: Women's High Jump College
1:30 PM: Women's Hammer Throw Invitational
1:30 PM: Women's Triple Jump College
2:30 PM: Men's Triple Jump College
3:00 PM: Men's Hammer Throw Invitational
3:00 PM: Women's Shot Put College
4:00 PM: Women's High Jump Invitational
4:15 PM: Men's Shot Put College
11:00 PM: Women's Pole Vault College
Saturday Running:
12:00 PM: Women's 100 Hurdles College Prelim
12:15 PM: Women's 100 Hurdles Olympic Development Prelim
12:25 PM: Men's 110 Hurdles College Prelim
12:40 PM: Men's 110 Hurdles Olympic Development Prelim
1:30 PM: Women's 400 Relay College
1:40 PM: Men's 400 Relay College
1:55 PM: Women's 800 Run College
2:15 PM: Men's 800 Run College
2:55 PM: Women's 400 Dash College
3:20 PM: Women's 400 Dash Olympic Development
3:25 PM: Men's 400 Dash College
3:50 PM: Men's 400 Dash Olympic Development
4:00 PM: Women's 100 Dash College
4:25 PM: Women's 100 Dash Olympic Development
4:30 PM: Men's 100 Dash College
4:55 PM: Men's 100 Dash Olympic Development
5:05 PM: Women's 3000 Run College
5:20 PM: Men's 3000 Run College
5:35 PM: Women's 1600 Relay College
6:00 PM: Men's 1600 Relay College