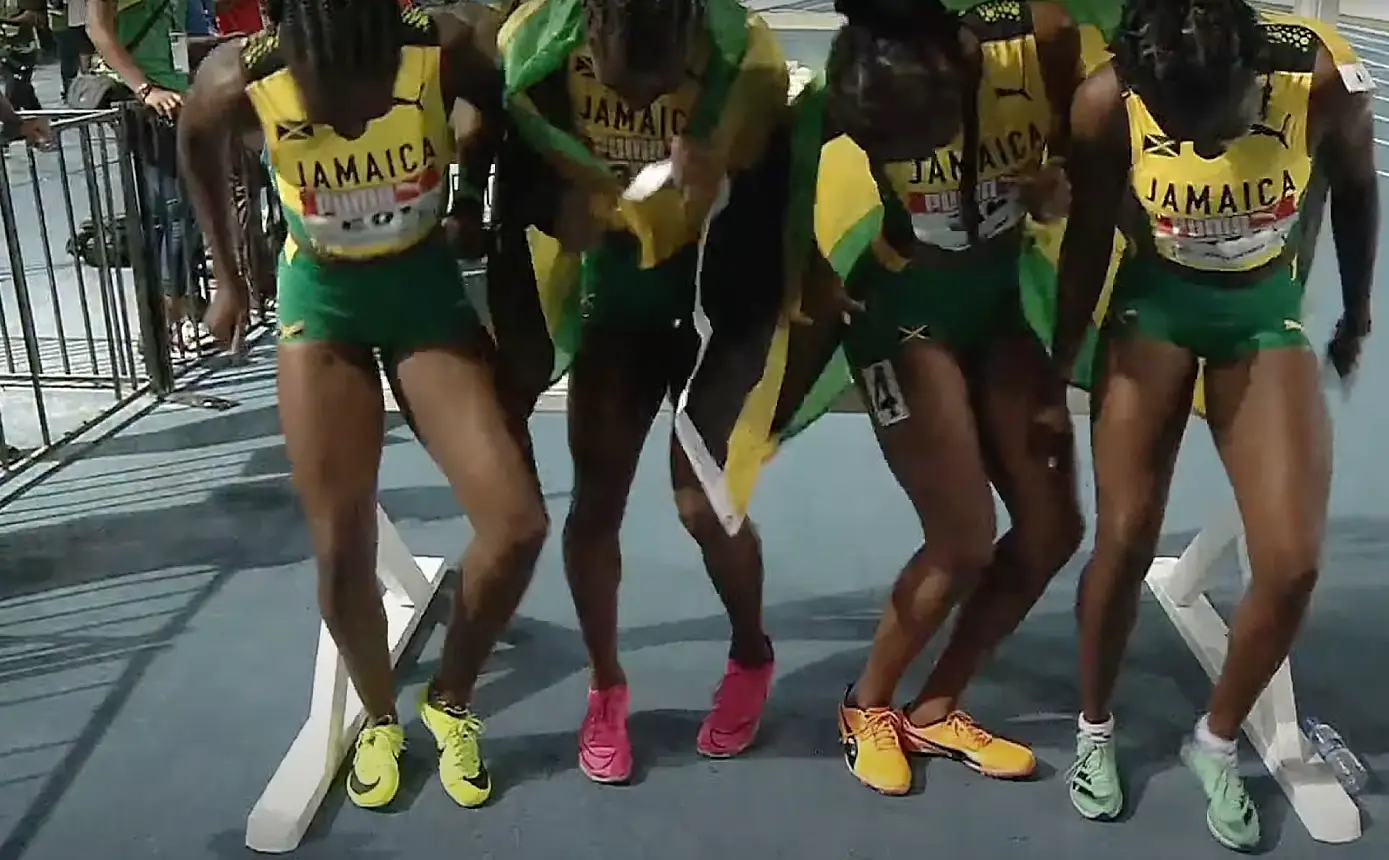 NASSAU, Bahamas (April 10) – Jamaica has furthered its lead in the medal count after a dominant Day Two at the 50th Carifta Games 2023 in Nassau, Bahamas. The regional powerhouse finished the day with an impressive tally of 51 medals, putting them far ahead of the competition on Monday's third and final day of action.
50th Carifta Games 2023 Medal Count Breakdown
On the girs' side, Jamaica secured a total of 24 medals, including 13 gold, seven silver, and four bronze, while the boys' team achieved 27 medals, including 12 gold, eight silver, and seven bronze at the end of Sunday's second day of competition.
Meanwhile, the host nation, Bahamas, closed out the second day with a total of 32 medals, consisting of seven golds, nine silvers, and 16 bronzes, while Trinidad and Tobago follows with 21 medals, including six golds, six silvers, and nine bronze medals. St. Kitts and Nevis with 12 medals, consisting of five golds, four silvers, and three bronzes, and Grenada, which secured a total of eight medals, closing out the second day with two golds, three silvers, and three bronzes, completed the top five in the 50th Carifta Games 2023 medal count standings on Day Two.
The 50th Carifta Games 2023 have been nothing short of spectacular so far over the opening two days at the Thomas Robinson National Stadium, with athletes from across the Caribbean providing lots of entertainment with some amazing performances. The competition promises to get even more intense as it heads into its third day.
The 50th Carifta Games 2023 Medal Count Standings on Day 2
Girls' Medal Table Standings
Jamaica (24 medals: 13 Gold, 7 Silver, 4 Bronze)
Bahamas (19 medals: 5 Gold, 5 Silver, 9 Bronze)
St. Kitts and Nevis (6 medals: 4 Gold, 1 Silver, 1 Bronze)
Trinidad and Tobago (9 medals: 2 Gold, 3 Silver, 4 Bronze)
Cayman Islands (3 medals: 2 Gold, 0 Silver, 1 Bronze)
Belize (2 medals: 2 Gold, 0 Silver, 0 Bronze)
Grenada (6 medals: 1 Gold, 2 Silver, 3 Bronze)
Dominica (1 medal: 1 Gold, 0 Silver, 0 Bronze)
British Virgin Islands (1 medal: 0 Gold, 1 Silver, 0 Bronze)
Bermuda (5 medals: 0 Gold, 3 Silver, 2 Bronze)
Barbados (2 medals: 0 Gold, 2 Silver, 0 Bronze)
Saint Lucia (2 medals: 0 Gold, 2 Silver, 0 Bronze)
Guyana (3 medals: 0 Gold, 1 Silver, 2 Bronze)
Saint Vincent and the Grenadines (2 medals: 0 Gold, 1 Silver, 1 Bronze)
Antigua and Barbuda (1 medal: 0 Gold, 1 Silver, 0 Bronze)
Turks and Caicos Islands (2 medals: 0 Gold, 0 Silver, 2 Bronze)
Guadeloupe (1 medal: 0 Gold, 0 Silver, 1 Bronze)
Boys' Medal Table Standings
Jamaica (27 medals: 12 Gold, 8 Silver, 7 Bronze)
Bahamas (13 medals: 2 Gold, 4 Silver, 7 Bronze)
Trinidad and Tobago (12 medals: 4 Gold, 3 Silver, 5 Bronze)
Guyana (3 medals: 2 Gold, 1 Silver, 0 Bronze)
Barbados (2 medals: 2 Gold, 0 Silver, 0 Bronze)
St. Kitts and Nevis (6 medals: 1 Gold, 3 Silver, 2 Bronze)
Grenada (2 medals: 1 Gold, 1 Silver, 0 Bronze)
Antigua and Barbuda (1 medal: 1 Gold, 0 Silver, 0 Bronze)
U.S. Virgin Islands (1 medal: 1 Gold, 0 Silver, 0 Bronze)
Guadeloupe (3 medals: 0 Gold, 1 Silver, 2 Bronze)
French Guiana (2 medals: 0 Gold, 1 Silver, 1 Bronze)
Saint Lucia (2 medals: 0 Gold, 1 Silver, 1 Bronze)
Curaçao (1 medal: 0 Gold, 1 Silver, 0 Bronze)
British Virgin Islands (1 medal: 0 Gold, 1 Silver, 0 Bronze)
Saint Vincent and the Grenadines (1 medal: 0 Gold, 1 Silver, 0 Bronze)
Martinique (1 medal: 0 Gold, 0 Silver, 1 Bronze)
Bermuda (1 medal: 0 Gold, 0 Silver, 1 Bronze)
The 50th Carifta Games 2023 Medal Combined Count Standings: Day 2
| Rank | Team | Gold | Silver | Bronze | Total |
| --- | --- | --- | --- | --- | --- |
| 1 | Jamaica | 25 | 15 | 11 | 51 |
| 2 | Bahamas | 7 | 9 | 16 | 32 |
| 3 | Trinidad and Tobago | 6 | 6 | 9 | 21 |
| 4 | St. Kitts and Nevis | 5 | 4 | 3 | 12 |
| 5 | Grenada | 2 | 3 | 3 | 8 |
| 6 | Cayman Islands | 2 | 0 | 1 | 3 |
| 7 | Barbados | 2 | 2 | 0 | 4 |
| 8 | Guyana | 2 | 2 | 2 | 6 |
| 9 | Belize | 2 | 0 | 0 | 2 |
| 10 | Dominica | 1 | 0 | 0 | 1 |
| 11 | British Virgin Islands | 1 | 2 | 0 | 3 |
| 12 | St. Lucia | 0 | 4 | 0 | 4 |
| 13 | Saint Vincent and the Grenadines | 0 | 2 | 2 | 4 |
| 14 | U.S. Virgin Islands | 1 | 0 | 0 | 1 |
| 15 | Antigua and Barbuda | 1 | 1 | 0 | 2 |
| 16 | Turks and Caicos Islands | 0 | 0 | 2 | 2 |
| 17 | Guadeloupe | 0 | 1 | 3 | 4 |
| 18 | French Guiana | 0 | 1 | 1 | 2 |
| 19 | Curaçao | 0 | 1 | 0 | 1 |
| 20 | Martinique | 0 | 0 | 1 | 1 |