By David Monti, @d9monti
(c) 2023 Race Results Weekly, all rights reserved
NOTE: This story was written remotely –Ed.

LONDON, April 23 — Using totally different strategies, Dutchwoman Sifan Hassan and Kenyan Kelvin Kiptum were victorious at this morning's 43rd TCS London Marathon held in cool and rainy conditions. Hassan, the 2019 World Athletics 1500m and 10,000m champion, won in her debut at the distance with a spectacular come-from-behind performance in 2:18:33. 
Kiptum, 23, who only made his marathon debut last December in Valencia, flattened a top-class field with a 59:45 second half (the fastest second half ever in a certified marathon) to win in a course record 2:01:25, the second-fastest time in history.
Sifan Hassan's Brilliant Comeback In London
The surprises began early in the women's elite race when world record holder Brigid Kosgei of Kenya, who complained of hamstring problems in her pre-race interviews, went straight to the back and dropped out just past the one-kilometer mark.
READ MORE: Latest 2023 London Marathon Results (April 23)
Up the road, a lead pack of ten had formed behind four pacemakers: Peres Jepchirchir, Judith Jeptum Korir, and Sheila Chepkirui of Kenya; Genzebe Dibaba, Alemu Megertu, Tadu Teshome, Almaz Ayana, Yalemzerf Yehualaw, and Sutume Asefa Kebede of Ethiopia; and Hassan.  The first 5 km segment is downhill, so their split of 16:13 wasn't surprising, on pace for a sub-2:17 finish.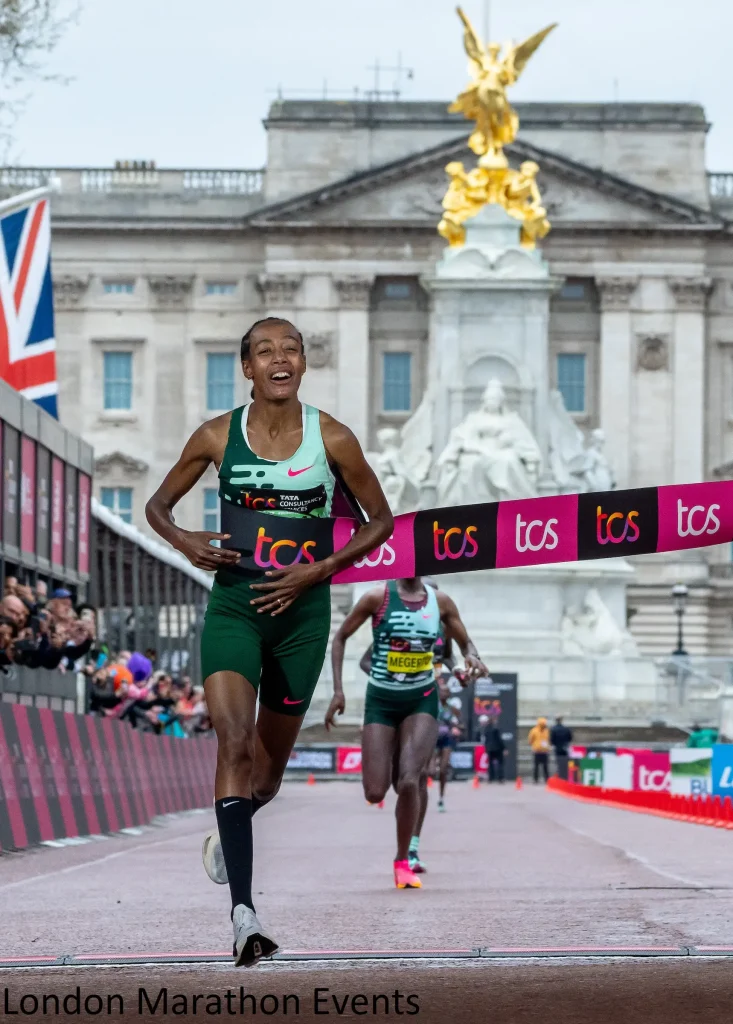 Hassan ran at the back of the pack, as is her custom on the track.  She stayed on the heels of the main group through 15 km (48:43), but just before 20 km she felt the need to stop briefly and stretch her left quadriceps muscle. In fact she stopped twice, and by halfway (1:08:29) she was fully 10 seconds behind.  She lost even more ground in the next segment, and was 28 seconds off the pace through 25-K.
"At 20-K I was feeling my legs," Hassan would tell reporters later.  "I wasn't tired and I didn't care how I was going to finish."
READ ALSO: Report: Tokyo Marathon 2023 titles won by Wanjiru, Gelmisa
But, between 25 and 30 km –the first segment with no pacemakers– Hassan's prospects improved.  The main group slowed and Hassan's deficit was only three seconds.  Moreover, Ayana and Teshome had been dropped.  Hassan was in seventh position at that point, and resumed her earlier position at the back of the main group.
Moments later, Peres put in a surge in the 19th mile, which shaved the lead group to just 4: Jepchirchir, Megertu, Yehualaw, and Chepkirui.  Hassan was again off the pace, but she didn't panic. Instead, she first caught Korir, last summer's World Athletics Championships Marathon silver medalist, and set her sights on the leaders. 
Although she was 14 seconds down at 35 km, by the 40 km mark she was again with the leaders.  Chepkirui had fallen back, leaving four women to battle for the three spots on the podium.
Yehualaw was next to fade, and with 400m to go the race was down to Jepchirchir, Hassan and Megertu.  Hassan, with a 1500m personal best of 3:51.95, by far had the best leg speed of the three.  She waited, and waited, and waited.  And then she pounced.
"I wasn't going to kick until the finish line, and when I saw it I thought, 'Is that the finish line?'"
Megertu got second in 2:18:37 and Jepchirchir, the reigning Olympic champion, finished third in 2:18:38.  Chepkirui passed Yehualaw to take fourth in 2:18:51, and Yehualaw was fifth in 2:18:53.
"It was really amazing and I never thought I would finish a marathon," Hassan added.  "I can't believe I've won and the crowd was amazing."
Only 13 women (out of 16 starters) finished the elite women's race today (there were also nine pacemakers).  Among them was American Susanna Sullivan, an elementary school teacher from Virginia.  She was the only elite American woman in the field after both Emily Sisson and Keira D'Amato scratched weeks ago with injuries.
READ MORE: Tom Jones Memorial witnesses blazing performances by Caribbean stars Julien Alfred and Terrence Jones
Sullivan ran a 47-second personal best of 2:24:27 in tenth place and bagged a Paris 2024 Olympic qualifying mark (2:26:50 or better).  South Africa's Dom Scott made her debut in 12th place in 2:29:19.
Kelvin Kiptum Destroys London Marathon Field
When Kiptum ran 2:01:53 in his marathon debut in Valencia last December, he became the third-fastest man of all time behind only Eliud Kipchoge and Kenenisa Bekele.  Today, he backed-up that performance with style by splitting 13:49 from 30 to 35 kilometers, and 27:50 from 30 km to 40 km.
That put superb athletes like Geoffrey Kamworor (a five-time world champion) and Tamirat Tola (the reigning World Athletics Marathon champion) well behind and launched Kiptum to a finish time which was only 16 seconds off of Kipchoge's world record.  Kiptum's time smashed Kipchoge's 2019 course record of 2:02:37, and he earned USD 230,000 in prize money and time bonuses.
"I'm so happy with my performance," Kiptum told the media in the mixed zone.  When asked about the final kilometers of the race he said, "I was so exhausted.  I had no energy."
Kamworor ran an excellent personal best of 2:04:23 in second place, his first sub-2:05 clocking.
"I feel great.  I feel happy about today's result," Kamworor told LetsRun.com's Jon Gault.  "After a long struggle with injuries I've come back, I bounced back stronger and run a great race."
Tola got third in 2:04:59, and two more Ethiopians –Leul Gebresilase and Seifu Tura– finished fourth and fifth, respectively, in 2:05:45 and 2:06:38.  Sixth place (and the national title) went to British debutante Emile Cairess in 2:08:07.  He qualified for the Paris 2024 Olympics by just three seconds.  
Running in what he said would be his last marathon, 40 year-old Mo Farah finished ninth in 2:10:28, the slowest of his six marathons.  Farah announced that the final race of his career would be the Great North Run on September 10.
In the men's wheelchair race, Switzerland's Marcel Hug won in a course record, just as he had at the Boston Marathon last Monday.  His time was 1:23:44.  Like in Boston, he won by a wide margin (five minutes exactly today). 
Australia's Madison de Rozario won the women's wheelchair race in a four-way sprint over Switzerland's Manuela Schar and Catherine Debrunner, and American Susannah Scaroni.  de Rozario clocked 1:38:51, one second ahead of Schar. Debrunner got third in 1:38:54, and Scaroni, who was the Boston Marathon champion last Monday, clocked 1:38:57.