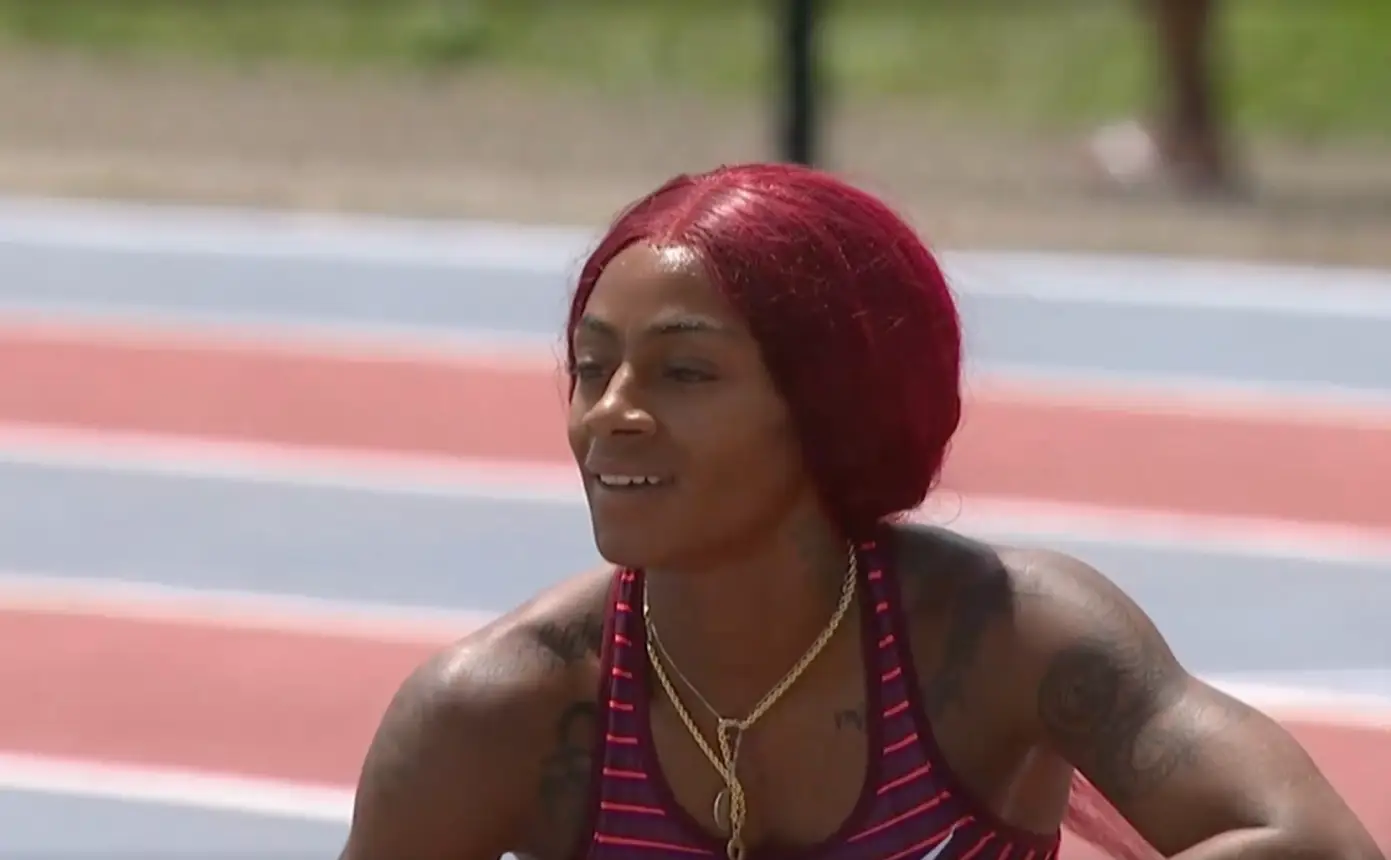 MIRAMAR, Florida (April 8) – Sha'Carri Richardson announced her comeback in grand style at the 2023 Miramar Invitational on Saturday, clocking a wind-assisted 10.57 seconds (converted to 10.77 secs with legal wind) to win the women's 100-meter final. Richardson, who had opened her season with an impressive anchor leg at the 2023 Texas Relays last weekend, dominated the race, even celebrating a few meters before crossing the finish line.
With the help of a strong 4.1 m/s tailwind, Richardson's performance marked the fourth-fastest time in all conditions. Twanisha Terry of the United States finished second in 10.89 seconds. Read More: How to Miramar Invitational 2023 for free? (Runnerspace Live Stream). Richardson ran 10.75 secs with the help with the wind in the heats.
In the men's 100m dash, Jamaica's Oblique Seville led a 1-2 finish for Jamaica, clocking 9.91 seconds to win ahead of Ackeem Blake, who finished second in 9.93 seconds. Aaron Brown of Canada was third in 9.97, while Ronnie Baker finished fourth in 9.98.
"It was a great start to the season. 9.91 is a good start to the season. I just wanted to come here to see where I am in training," Seville said after the win.
In the women's 400m, USA's Shamier Little finished first in a time of 50.73 seconds, beating world 200m champion Shericka Jackson of Jamaica, who faded to third in 51.64. Jamaican Charokee Young finished second in 51.58.
Women's 100m at 2023 Miramar Invitational Results
Sha'Carri Richardson (USA) – 10.57 (4.1 m/s)
Twanisha Terry (USA) – 10.83 (4.1 m/s)
Cambrea Sturgis (USA) – 10.98 (3.2 m/s)
Natasha Morrison (Jamaica) – 11.05 (4.1 m/s)
Jada Baylark (USA) – 11.08 (4.1 m/s)
Destiny Smith-Barnett (USA) – 11.09 (4.1 m/s)
English Gardner (USA) – 11.10 (4.1 m/s)
Javianne Oliver (USA) – 11.11 (4.1 m/s)
Taylor Anderson (USA) – 11.11 (3.2 m/s)
Shockoria Wallace (Jamaica) – 11.13 (3.2 m/s)
Kasheika Cameron (Jamaica) – 11.15 (3.2 m/s)
Teahna Daniels (USA) – 11.16 (3.2 m/s)
Shannon Ray (USA) – 11.22 (3.2 m/s)
Alaysha Johnson (USA) – 11.22 (3.2 m/s)
Jonielle Smith (Jamaica) – 11.25 (3.2 m/s)
Melissa Jefferson (USA) – 11.27 (4.1 m/s)
Note: "m/s" indicating meters per second.