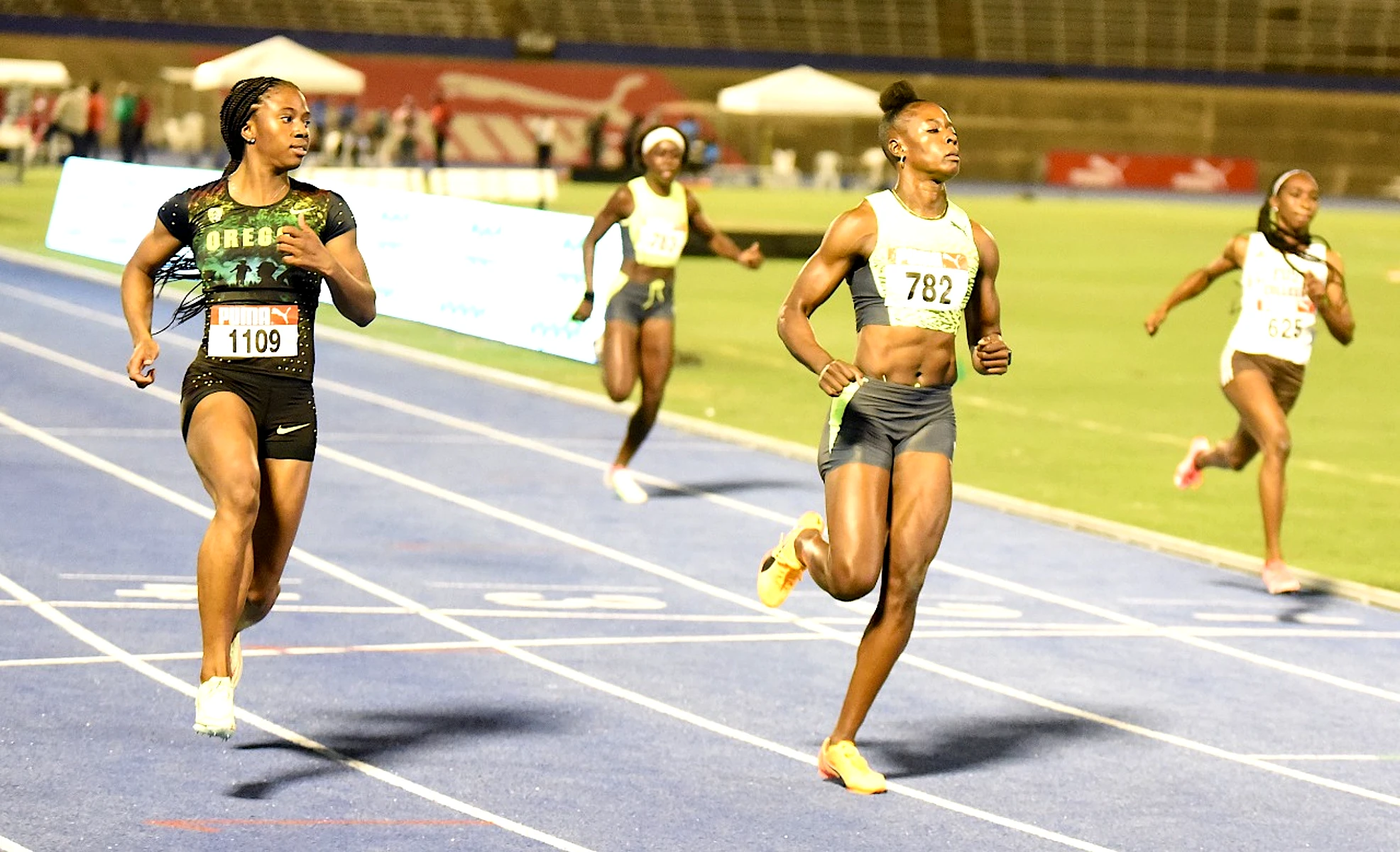 KINGSTON, Jamaica (April 20, 2023) — World 200-meter champion Shericka Jackson will open her 100-meter season at the 2023 Velocity Fest 13 on Saturday, 22 April, at the National Stadium in Kingston. The field also includes Briana Williams and Tina Clayton, two of Jamaica's brightest young sprinters. Double Olympic sprint champion Elaine Thompson-Herah has also been added to the field.
Jackson has been focusing on building her endurance in the early part of the season, and has already contested four 400-meter races in 2023. The Jamaican world 100-meter silver medalist from last summer hinted this week that she would be shifting away from the longer sprint event for the remainder of the season and concentrating on the shorter distances as she prepares to defend her world title in Budapest, Hungary, later this year.
READ MORE: Shericka Jackson not focused on breaking world record, but on having fun
On Saturday, Jackson will line up against Williams and Clayton, who have both won World U20 titles. Williams is the 2018 world U20 sprint double champion, and Clayton is the back-to-back defending 100-meter champion in the same age group in 2021 and 2022.
Jackson owns a personal best of 10.71 seconds for the 100 meters, while Williams and Clayton both have personal bests under 11 seconds.
Meanwhile, Thompson-Herah, the Olympic 100m and 200m sprint double-double champion from Rio and Tokyo, has been added to the field and will start from the third heat which also includes Williams and Clayton.
The women's 100-meter field also includes Anthonique Strachan of The Bahamas, the 2012 sprint double champion at the world juniors. She has already clocked 11.02 seconds this season. Jonielle Smith, Natasha Morrison, Shashalee Forbes, Remona Burchell, and Shockoria Wallace are also among the starters.
The Velocity Fest 13 meeting is the second of the two meetings organized by MVP Track Club at the National Stadium in Kingston. The previous meeting of the series was held on 25 March at the same venue.
Women's 100m Heats and Startlist For Velocity Fest 13
Heat 1
Tia Clayton (Jamaica) – PB: 11.25, SB: N/A, MVP
Yanique Thompson (Jamaica) – PB: 11.64, SB: N/A, adidas
Kasheika Cameron (Jamaica) – PB: 11.22, SB: 11.22, MVP
Remona Burchell (Jamaica) – PB: 11.03, SB: 11.29, SprinTec TC
Shericka Jackson (Jamaica) – PB: 10.71, SB: N/A, MVP
Tatjana Pinto (Germany) – PB: 11.00, SB: N/A, Elite Performance TC
Crystal Morrison (Jamaica) – PB: 11.62, SB: 11.62, Racers TC
Mariyam Ru Ya Ali (Maldives) – PB: 11.86, SB: N/A, Racers TC.
Heat 2
Grizell Scarlett (Jamaica) – PB: 11.58, SB: 11.58, MVP
Shenike Malcolm (Jamaica) – PB: 11.93, SB: 11.93, MVP
Jonielle Smith (Jamaica) – PB: 11.04, SB: N/A, MVP
Shashalee Forbes (Jamaica) – PB: 11.10, SB: 11.21, SprinTec TC
Natasha Morrison (Jamaica) – PB: 10.87, SB: N/A, MVP
Anthonique Strachan (Bahamas) – PB: 10.98, SB: 11.02, MVP
Shurria Amoy Henry (Jamaica) – PB: 11.72, SB: N/A, Titans TC
Srabani Nanda (India) – PB: 11.36, SB: 11.87, MVP
Heat 3
Rohanna Wright (Jamaica) – PB: 11.95, SB: 12.15
Jura Levy (Jamaica) – PB: 11.06, SB: 11.87
Briana Williams (Jamaica) – PB: 10.94, SB: N/A
Tina Clayton (Jamaica) – PB: 10.95, SB: N/A
Elaine Thompson-Herah (Jamaica) – PB: 10.54, SB: N/A
Shockoria Wallace (Jamaica) – PB: 11.09, SB: 11.57
Krystal Sloley (Jamaica) – PB: 11.48, SB: N/A
Mickaell Moodie (Jamaica) – PB: 11.54, SB: 11.65