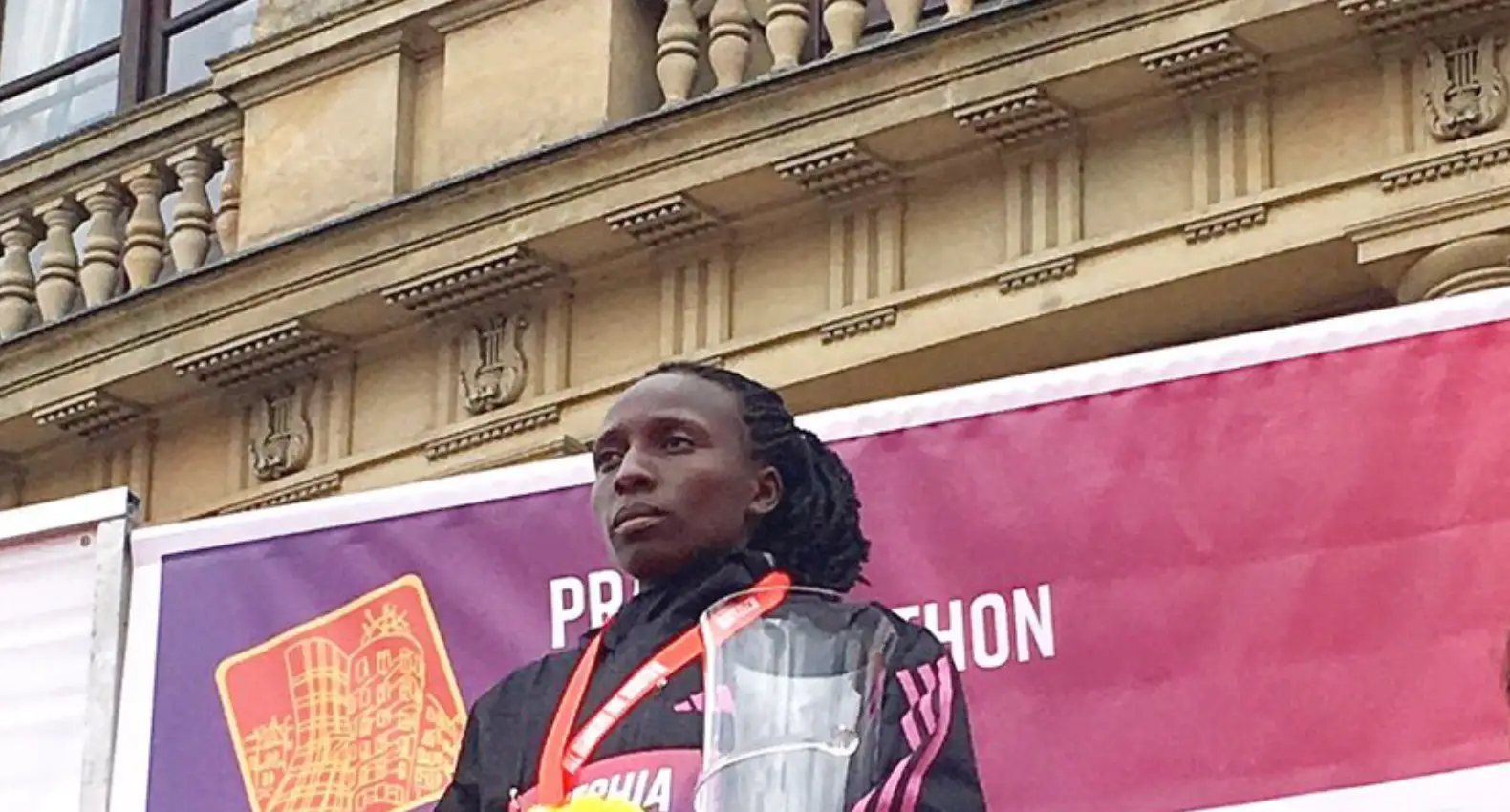 PRAGUE, Czech Republic – Kenya's Irine Jepchumba Kimais and Roncer Kipkorir Konga won the women's and men's respective titles at the 2023 Prague Half Marathon on Saturday, 1 April. The World Athletics Elite Label road race saw Kimais cross the finish line in 1:06:00, while Konga finished in 59:43.
In the women's race, Janeth Chepngetich of Kenya secured second place with a time of 1:06:42, and Ethiopian Nesphine Jepleting rounded out the top three with a time of 1:07:15. Read More: 2022 Sportisimo Prague Half Marathon results; Renju and Jepleting seal wins
On the men's side, Uganda's Maxwell Rotich came in second place with a time of 1:00:06, and Kenya's Geoffrey Koech claimed third place with a time of 1:00:11. Completing the top five were Laban Kiplimo of Kenya with a time of 1:00:13 and his fellow countryman Kelvin Kibiwott with a time of 1:00:14.
The Prague Half Marathon was a highly competitive race featuring elite runners from around the world. The Kenyan runners proved to be a dominant force, claiming five of the top six positions in the men's race and taking the top two spots in the women's race.
Prague Half Marathon 2023 Results
Men's Half Marathon Final results, with full national names in parentheses:
Roncer Kipkorir (Kenya) – 59:43:00
Maxwell Rotich (Uganda) – 1:00:06
Geoffrey Koech (Kenya) – 1:00:11
Laban Kiplimo (Kenya) – 1:00:13
Kelvin Kibiwott (Kenya) – 1:00:14
Benard Kimeli (Kenya) – 1:00:40
Paulos Surafel (Great Britain) – 1:03:44
Jose Ignacio Gimenez Perez (Spain) – 1:03:55
Michele Fontana (Italy) – 1:04:06
Levente Szemerei (Hungary) – 1:05:09
Patrik Vebr (Czech Republic) – 1:05:42
Jiří Homoláč (Czech Republic) – 1:05:43
Julius Kipchumba (Kenya) – 1:06:31
Michael Ward (Great Britain) – 1:06:40
Mario Bauernfeind (Austria) – 1:07:30
Tomáš Křivohlávek (Czech Republic) – 1:07:59
Matěj Zima (Czech Republic) – 1:08:06
Robbie Ferguson (Great Britain) – 1:08:13
Vojtěch Novák (Czech Republic) – 1:08:17
Jakub Wozńiak (Poland) – 1:08:20
Victor Kipkirui Mutai (Kenya) – 1:08:27
Max Nzaou (France) – 1:08:37
Deniss Salkauskas (Estonia) – 1:08:55
Steven Bayton (Great Britain) – 1:09:27
Josep Díaz (Spain) – 1:09:36
Tomas Hudec (Czech Republic) – 1:09:59
Andreas Iden (Norway) – 1:10:04
Dominik Chlupáč (Czech Republic) – 1:10:30
Jose Manuel Vieito (Spain) – 1:11:08
Pavel Tvrdek (Czech Republic) – 1:11:15
Kristian Tjørnhom (Norway) – 1:11:35
Ewan Short (Great Britain) – 1:11:43
Jack Heathwood (Great Britain) – 1:11:43
Petr Soukup (Czech Republic) – 1:11:57
Women's Half Marathon Final results, with full national names in parentheses:
Irine Jepchumba Kimais (Kenya) – 1:06:00
Janeth Chepngetich (Kenya) – 1:06:42
Ftaw Zeray (Ethiopia) – 1:07:15
Aynadis Mebrit (Ethiopia) – 1:08:45
Nesphine Jepleting (Kenya) – 1:10:04
Sentayehu Lewetegn (Ethiopia) – 1:11:50
Moira Stewartová (Czech Republic) – 1:12:43
Tereza Hrochová (Czech Republic) – 1:13:07
Barbora Macurová (Czech Republic) – 1:13:21
Paola Ramos (Puerto Rico) – 1:15:14
Anja Fink (Slovenia) – 1:16:22
Sereina Scherzinger (Switzerland) – 1:16:56
Melissa Hawtin (Great Britain) – 1:17:00
Johanna Bäcklund (Sweden) – 1:18:11
Tereza Novotná (Czech Republic) – 1:18:34
Silvie Valová (Czech Republic) – 1:19:02
Barbora Besperát (Czech Republic) – 1:20:16
Katherine Golding (Great Britain) – 1:21:21
Charlotte Taylor (Great Britain) – 1:22:23
Katerina Kasparová (Czech Republic) – 1:22:34
Alexandra Bauer (Germany) – 1:23:00
Karina Klok (Denmark) – 1:23:18
Petra Kamínková (Czech Republic) – 1:23:37
Zuzana Pičmanová (Czech Republic) – 1:23:49
Sindy Kermer (Germany) – 1:24:09
Vanina Dal Santo (Italy) – 1:24:11
Lucie Davidová (Czech Republic) – 1:24:24
Simona Tumová (Czech Republic) – 1:24:40
Tereza Kubíčková (Czech Republic) – 1:24:50
Sina Sprecher (Switzerland) – 1:25:20
Berengere Hanini (France) – 1:25:40
Edith Blomqvist (Sweden) – 1:25:45
Lenka Šatavová (Czech Republic) – 1:25:50
Romana Lojková (Czech Republic) – 1:25:58
Tereza Kalousová (Czech Republic) – 1:26:06
Rebecca Blain (Great Britain) – 1:26:46
Lenka Kůsová (Czech Republic) – 1:26:47