GÖTZIS, Austria (May 28) – Anna Hall delivered a remarkable performance, achieving a personal best score of 6988 points to claim victory in the Heptathlon at the 2023 Götzis Hypomeeting – World Athletics Combined Events Tour Gold meet on Sunday (28).
Hall, who led the competition after an impressive first day, continued to excel on the second day, setting two additional personal bests for a total of five overall in the seven-event competition. The American 2022 NCAA champion leaped 6.54m in the long jump and showcased gut and determination with a world-class time of 2:02.97 in the 800m event, securing her victory in spectacular fashion. – Read Also: Day 2: 2023 Götzis Hypomeeting Heptathlon points standings
Although Hall was determined to join the prestigious 7000 points club, she fell just short by 12 points. Furthermore, she narrowly missed breaking the Götzis Hypomeeting record of 7013 points, set by world and Olympic champion Nafissatou Thiam in 2017. Read more: How to watch the 2023 Götzis Hypomeeting on Day 2?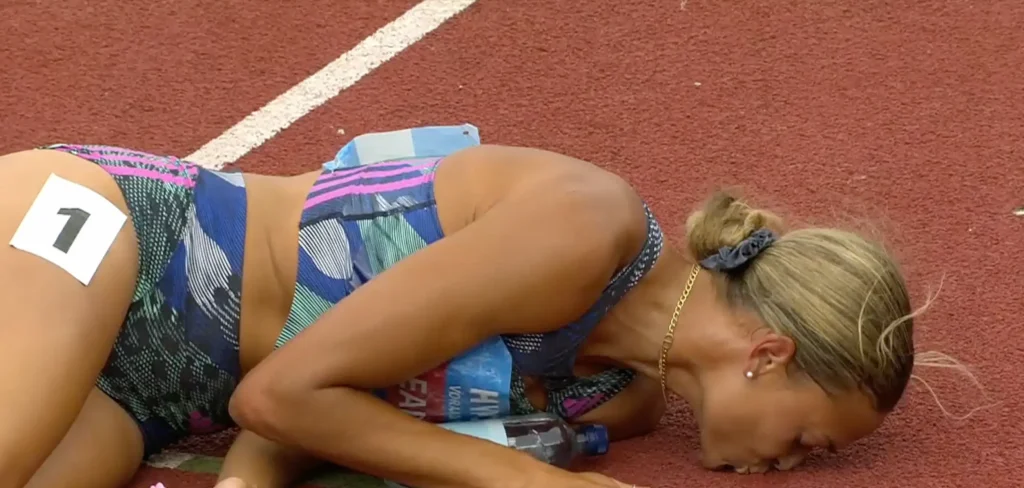 However, the 22-year-old athlete climbed to the second spot on the U.S. all-time list for women's Heptathlon, surpassing Jane Frederick's tally of 6803 points set in 1984. Only the legendary Jackie Joyner-Kersee, who holds the world record with 7291 points, remains ahead of Hall on the U.S. chart.
With her outstanding performance, Hall now occupies the fifth position on the all-time list of best performers, overtaking Germany's Sabine Braun, who achieved a score of 6985 points in Götzis in 1992.
Jackie Joyner-Kersee (USA), who has six totals over 7000 points, including the world record with 7291pts, Carolina Klüft (Sweden) with 7032pts, Belgium's Nafissatou Thiam (7013pts) and Russia's Larisa Turchinskaya (7007pts) –are the only athletes ranked above Hall in the history of the women's Heptathlon.
In a commendable display of talent, British athlete Katarina Johnson-Thompson, a two-time Götzis champion, finished second with a score of 6556 points in only her second appearance in 2023. Poland's Adrianna Sulek secured third place with 6480 points.
In other notable performances, Saga Vanninen of Finland achieved a new personal best with 6391 points, securing fourth place. Sophie Weißenberg also impressed with a personal best score of 6375 points, placing fifth. Annie Kunz of the United States concluded the event with a score of 6330 points.
Netherlands' Anouk Vetter, the defending Götzis champion and the Olympic silver medalist in Tokyo, withdrew on Sunday's day two as a precaution with an Achilles injury. USA's Taliyah Brooks also failed to finish the competition after reaching 4375pts.
2023 Götzis Hypomeeting Top 10
Anna Hall (USA) – 6988 points WL PB
Katarina Johnson-Thompson (Great Britain) – 6556pts
Adrianna Sulek (Poland) – 6480pts
Saga Vanninen (Finland) – 6391 PB
Sophie Weißenberg (Germany) – 6375pts PB
Annie Kunz (USA) – 6330pts
Sofie Dokter – NED: 6321 (PB)
Carolin Schäfer – GER: 6312 (SB)
Jana Košcak – CRO: 6293 (SB)
Jade O'Dowda – GBR: 6255 (PB)