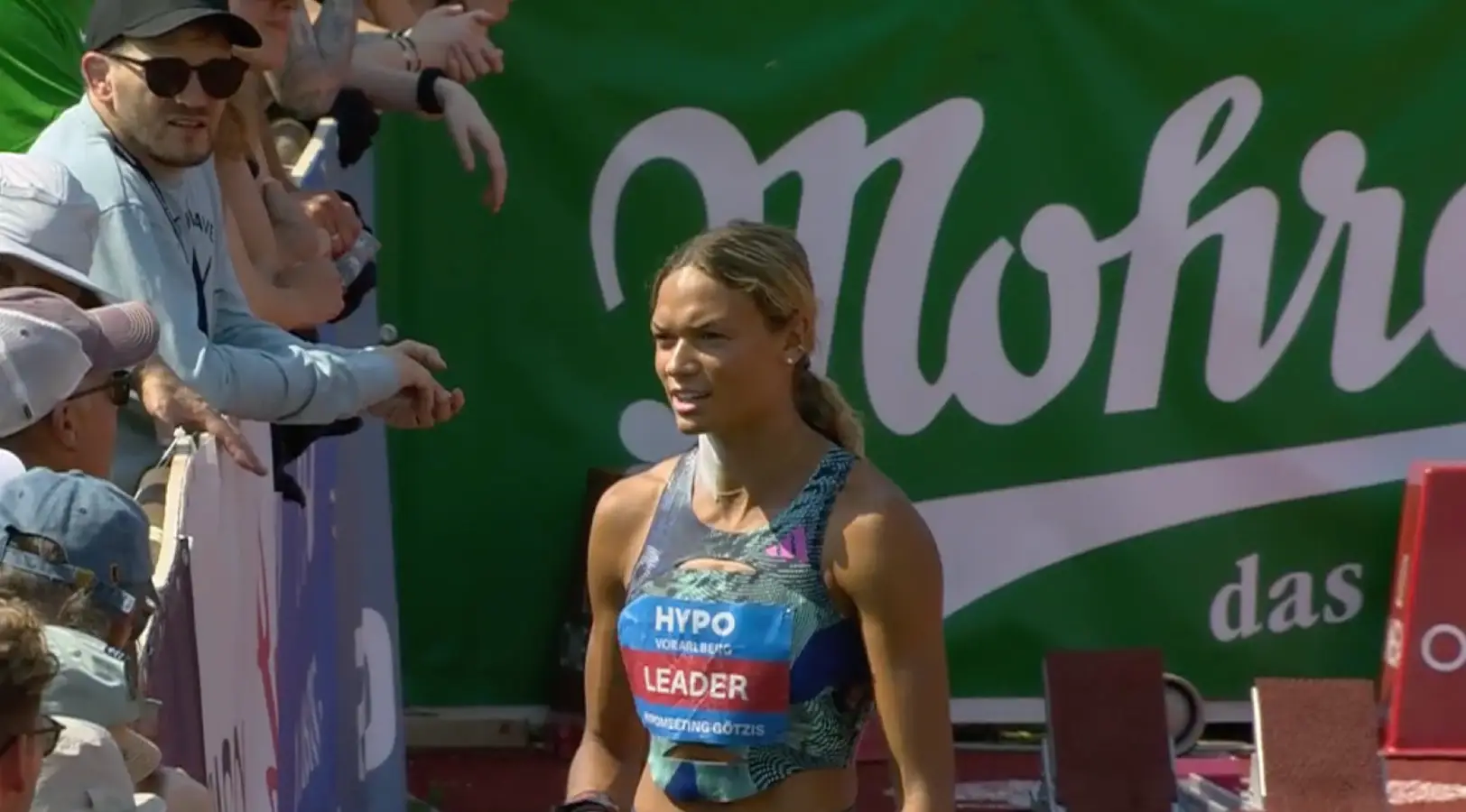 Anna Hall leads the women's heptathlon points standings at the 2023 Hypomeeting – World Athletics Combined Events Tour Gold meeting in Mösle-Stadium – after day one in Gotzis, Austria, on Saturday (27). Hall dominated the first day of action to close the day with a total of 4172 points and is well on her way to threatening the 7000-point barrier and a new lifetime best.
The 22-year-old American world bronze medalist set three personal bests from the opening four events on Day 1 of the competition to lead her close challenger by 236 points. Read more: Day 1: Dominant Anna Hall leads at 2023 Hypomeeting in Gotzis
At the end of the first day, Poland's Adrianna sits in second after the four completed events with 3936 points, followed by two-time Hypomeeting champion Katarina Johnson-Thompson (3930 pts) of Great Britain, who won in Gotzis in 2014 and 2019.
Americans Taliyah Brooks and Annie Kunz ended the day in 10th and 11th, respectively, with 3789 points and 3754 points.
Day 1 2023 Hypomeeting in Gotzis heptathlon standings.
Anna HALL – USA

100m Hurdles: 12.75 (1)
High Jump: 1.92m (2)
Shot Put: 13.90m (11)
200m: 22.88 (1)
Total Points: 4172 (1)

Adrianna SULEK – POL

100m Hurdles: 13.18 (4)
High Jump: 1.83m (4)
Shot Put: 14.44m (4)
200m: 23.80 (9)
Total Points: 3936 (2)

Katarina JOHNSON-THOMPSON – GBR

100m Hurdles: 13.88 (22)
High Jump: 1.89m (3)
Shot Put: 13.92m (10)
200m: 23.26 (2)
Total Points: 3930 (3)

Jana KOŠCAK – CRO

100m Hurdles: 13.26 (6)
High Jump: 1.92m (1)
Shot Put: 12.42m (24)
200m: 24.13 (14)
Total Points: 3875 (4)

Sophie WEIßENBERG – GER

100m Hurdles: 13.46 (11)
High Jump: 1.83m (4)
Shot Put: 13.25m (17)
200m: 23.49 (3)
Total Points: 3846 (5)

Saga VANNINEN – FIN

100m Hurdles: 13.48 (12)
High Jump: 1.80m (6)
Shot Put: 14.98m (1)
200m: 24.35 (15)
Total Points: 3838 (6)

Anouk VETTER – NED

100m Hurdles: 13.29 (8)
High Jump: 1.71m (20)
Shot Put: 14.88m (2)
200m: 23.71 (6)
Total Points: 3810 (7)

Adriana RODRÍGUEZ – CUB

100m Hurdles: 12.97 (3)
High Jump: 1.74m (12)
Shot Put: 13.62m (14)
200m: 23.78 (8)
Total Points: 3803 (8)

Sofie DOKTER – NED

100m Hurdles: 13.51 (13)
High Jump: 1.80m (7)
Shot Put: 13.38m (16)
200m: 23.68 (5)
Total Points: 3792 (9)

Taliyah BROOKS – USA

100m Hurdles: 12.85 (2)
High Jump: 1.74m (10)
Shot Put: 12.97m (19)
200m: 23.66 (4)
Total Points: 3789 (10)

Annie KUNZ – USA

100m Hurdles: 13.19 (5)
High Jump: 1.71m (15)
Shot Put: 13.98m (9)
200m: 23.82 (10)
Total Points: 3754 (11)

Carolin SCHÄFER – GER

100m Hurdles: 13.39 (9)
High Jump: 1.71m (15)
Shot Put: 14.44m (5)
200m: 23.84 (11)
Total Points: 3752 (12)

Marijke ESSELINK – NED

100m Hurdles: 13.55 (14)
High Jump: 1.74m (14)
Shot Put: 14.03m (8)
200m: 23.88 (12)
Total Points: 3734 (13)

Celine ALBISSER – SUI

100m Hurdles: 13.27 (7)
High Jump: 1.71m (17)
Shot Put: 13.11m (18)
200m: 24.00 (13)
Total Points: 3667 (14)

Yuliya LOBAN – UKR

100m Hurdles: 13.82 (19)
High Jump: 1.74m (12)
Shot Put: 14.83m (3)
200m: 24.77 (20)
Total Points: 3665 (15)

Jade O'DOWDA – GBR

100m Hurdles: 13.70 (17)
High Jump: 1.77m (8)
Shot Put: 13.40m (15)
200m: 24.44 (17)
Total Points: 3655 (16)

Vanessa GRIMM – GER

100m Hurdles: 13.94 (23)
High Jump: 1.71m (22)
Shot Put: 14.26m (6)
200m: 24.45 (18)
Total Points: 3603 (17)

Paulina LIGARSKA – POL

100m Hurdles: 13.87 (20)
High Jump: 1.68m (23)
Shot Put: 13.83m (12)
200m: 24.38 (16)
Total Points: 3555 (18)

Georgia ELLENWOOD – CAN

100m Hurdles: 13.88 (21)
High Jump: 1.77m (9)
Shot Put: 12.83m (20)
200m: 25.00 (23)
Total Points: 3539 (19)

Taneille CRASE – AUS

100m Hurdles: 13.46 (10)
High Jump: 1.71m (20)
Shot Put: 12.22m (25)
200m: 24.52 (19)
Total Points: 3530 (20)

Chiara-Belinda SCHULER – AUT

100m Hurdles: 13.67 (16)
High Jump: 1.65m (24)
Shot Put: 13.71m (13)
200m: 24.90 (22)
Total Points: 3492 (21)
Sarah LAGGER – AUT
100m Hurdles: 14.18 (25)
High Jump: 1.71m (18)
Shot Put: 14.16m (7)
200m: 25.33 (25)
Total Points: 3482 (22)
Isabel POSCH – AUT
100m Hurdles: 13.76 (18)
High Jump: 1.62m (26)
Shot Put: 12.66m (21)
200m: 23.76 (7)
Total Points: 3481 (23)
Sandra RÖTHLIN – SUI
100m Hurdles: 13.63 (15)
High Jump: 1.65m (25)
Shot Put: 12.49m (23)
200m: 24.86 (21)
Total Points: 3420 (24)
Anna-Lena OBERMAIER – GER
100m Hurdles: 14.07 (24)
High Jump: 1.71m (19)
Shot Put: 12.64m (22)
200m: 25.89 (26)
Total Points: 3346 (25)
Marys A. PATTERSON – CUB
100m Hurdles: 14.89 (26)
High Jump: 1.74m (10)
Shot Put: 12.20m (26)
200m: 25.18 (24)
Total Points: 3303 (26)