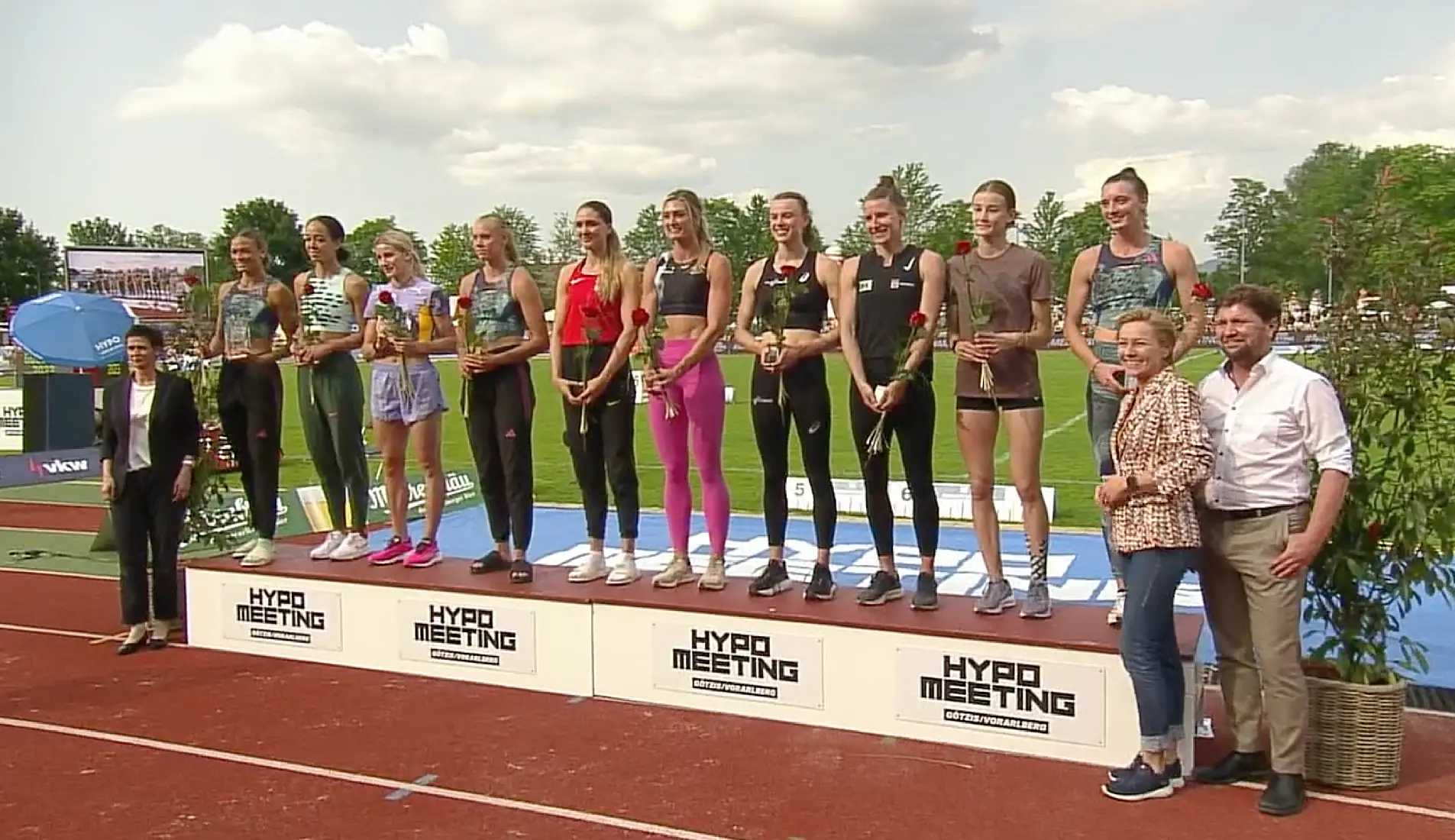 GÖTZIS, Austria (May 28) – The latest results and the 2023 Götzis Hypomeeting Heptathlon points standings are now available after two days of thrilling competition at the World Athletics Combined Events Tour Gold meeting on Sunday (28). Anna Hall of the USA delivered an outstanding performance, achieving a world-leading and personal best score of 6988 points, which catapulted her to No. 5 on the all-time list.
Hall, who clinched the world bronze medal at Oregon22 last summer, displayed complete dominance throughout the weekend, setting five personal bests out of the seven events. Her remarkable improvement from her previous personal best of 6755 points allowed her to secure victory with an astounding margin of 432 points over the second-place finisher. Read more: Anna Hall moves to No. 5 all-time with 6988pts to win 2023 Götzis Hypomeeting
Katarina Johnson-Thompson, the two-time Götzis champion from Great Britain, participated in her first heptathlon of the season and accumulated a solid total of 6556 points, securing second place behind the American star. Adrianna Sulek of Poland, the European silver medalist, finished third with a score of 6480 points. She was also contesting her first Heptathlon this season.
Anouk Vetter, the defending Götzis Hypomeeting champion from the Netherlands, tallied 3810 points on Day One. However, she did not participate on the second day of the competition.
Meanwhile, Taliyah Brooks of the USA amassed 4375 points before withdrawing from the competition before the 800m. Brooks encountered difficulty in the long jump, failing to register a valid attempt in all three tries.
Day 2: 2023 Götzis Hypomeeting Heptathlon points standings
Anna Hall – USA: 6988 (WL PB)
Katarina Johnson-Thompson – GBR: 6556 (SB)
Adrianna Sulek – POL: 6480 (SB)
Saga Vanninen – FIN: 6391 (PB)
Sophie Weißenberg – GER: 6375 (PB)
Annie Kunz – USA: 6330 (SB)
Sofie Dokter – NED: 6321 (PB)
Carolin Schäfer – GER: 6312 (SB)
Jana Košcak – CRO: 6293 (SB)
Jade O'Dowda – GBR: 6255 (PB)
Marijke Esselink – NED: 6222 (PB)
Celine Albisser – SUI: 6096 (PB)
Yuliya Loban – UKR: 6065 (PB)
Vanessa Grimm – GER: 6035 (SB)
Isabel Posch – AUT: 6021 (PB)
Paulina Ligarska – POL: 6013 (SB)
Georgia Ellenwood – CAN: 5988 (SB)
Taneille Crase – AUS: 5925
Chiara-Belinda Schuler – AUT: 5916 (SB)
Sandra Röthlin – SUI: 5720 (SB)
Anna-Lena Obermaier – GER: 5671 (SB)
Marys A. Patterson – CUB: 5577 (SB)
Adriana Rodríguez – CUB: 5222
Sarah Lagger – AUT: 5001
DNF. Taliyah Brooks – USA: 4375
DNF. Anouk Vetter – NED: 3810
DNF. Maria Huntington – FIN: 0