HAMILTON, Bermuda (May 21) – The highly-anticipated men's 100-meter dash at the 2023 USATF Bermuda Grand Prix – Puma American Track League meeting is set to feature a thrilling showdown between Jamaican sprinter Ackeem Blake and American speedsters Christian Coleman and Noah Lyles. Taking place at the Flora Duffy Stadium in Devonshire, this event is a part of the prestigious 2023 World Athletics Continental Tour Gold series.
The pre-race favorites, Coleman and Lyles, are expected to put on a show, with experts in the track and field community even predicting a winning time below 9.70 seconds. However, Blake has recently displayed impressive form, raising hopes of an upset. His coach, Gregory Little, believes Blake is in excellent condition and on track to achieve a new personal best.
While Lyles and Blake have already competed in the 100m this season, this race will mark Coleman's season debut in the event. The 2019 world champion has recorded a speedy time of 20.00 seconds in the 200m this year and an impressive 6.47 seconds for the 60m indoors. Read more: Abby Steiner looks to bounce back at Bermuda Grand Prix
Lyles boasts a season best time of 9.95 seconds and is coming off a confidence-boosting victory in the 150m event at the adidas Atlanta City Games, where he clocked 14.56 seconds on May 6. Now, the two-time reigning world 200m champion aims to carry that form into the 100m race in the Caribbean this weekend.
Meanwhile, Ackeem Blake currently holds a season best time of 9.99 seconds and produced a slightly wind-aided 9.93 at the Miramar Invitational in Florida last month when finishing behind countryman Oblique Seville.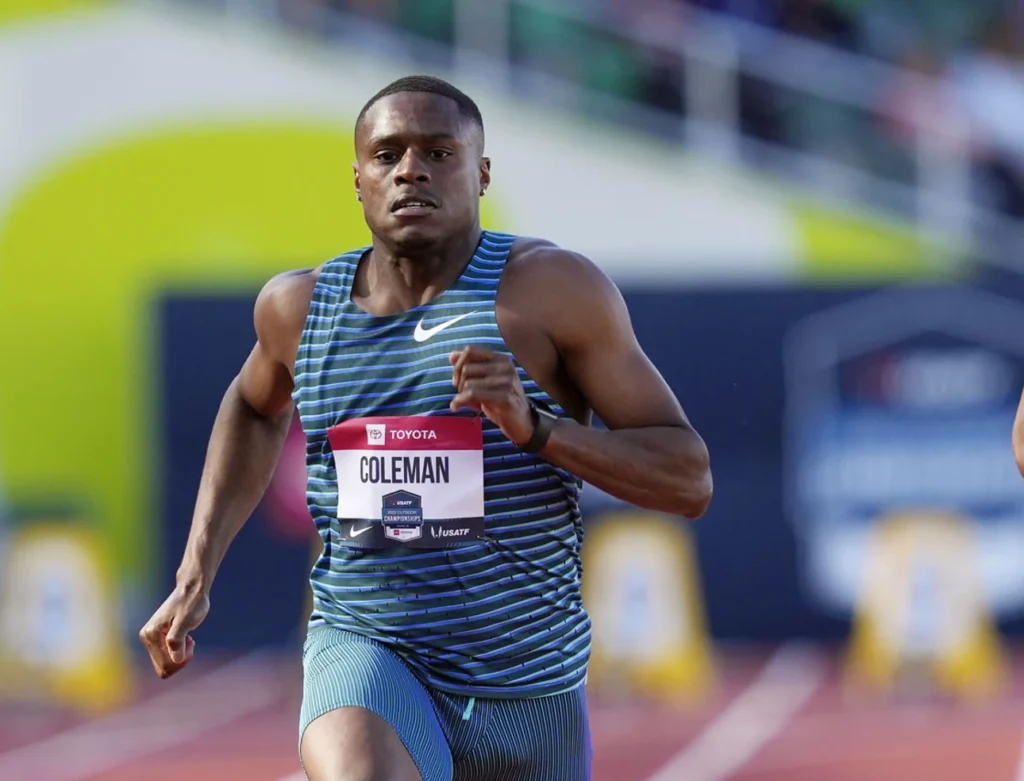 His coach is confident that Blake is progressing well and could break the 9.80-second barrier this season, making his performance against this world-class field all the more intriguing. Read Also: Noah Lyles sizzles to 14.56 for 150m; Grant Holloway dominates 110m hurdles
In addition to these sprint stars, the men's 100m field at the 2023 USATF Bermuda Grand Prix will also include Andre De Grasse of Canada, a two-time Olympic bronze medalist. De Grasse has faced a challenging start to the new season but has been working diligently in training to regain his top form.
So far, he has competed once in the 100m, recording a time of 10.21 seconds for fifth place at the UF Tom Jones Memorial in April, while Lyles secured victory with his season-best time of 9.95 seconds.
Notably, the men's 100m event will showcase a total of six athletes who have achieved sub-10-second times. Emmanuel Matadi of Liberia (9.98) and Joseph Amoha of Ghana (9.94) have also dipped below this illustrious mark, further heightening the level of competition at the 2023 USATF Bermuda Grand Prix on Sunday.
| Lane/Position | ATHLETE | Country | Personal Best | Season Best |
| --- | --- | --- | --- | --- |
| 1 | Sachin Dennis | Jamaica | 10.11 | 10.11 |
| 2 | Josephus Lyles | United States | 10.03 | 10.15 |
| 3 | Ackeem Blake | Jamaica | 9.93 | 9.99 |
| 4 | Christian Coleman | United States | 9.76 | |
| 5 | Noah Lyles | United States | 9.86 | 9.95 |
| 6 | Andre DeGrasse | Canada | 9.89 | 10.21 |
| 7 | Emmanuel Matadi | Liberia | 9.98 | 10.33 |
| 8 | Joseph Amoha | Ghana | 9.94 | 10.19 |