By David Monti, @d9monti
(c) 2023 Race Results Weekly, all rights reserved
Race Results Weekly, 04-May — Katelyn Tuohy's 2023 indoor season was spectacular by any measure. The 21-year-old from Rockland County, N.Y., not only won the NCAA Division I titles at 3000m and 5000m, but also set collegiate indoor records for the mile (4:24.26), 1500m (4:06.49), and 3000m (8:35.20).
She also won the Atlantic Coast Conference 3000m indoor title in a championships record 8:51.92, and anchored her North Carolina State team's distance medley relay squad with a blazing 4:23.36, 1600m split.
But when asked to evaluate her performance, Tuohy was circumspect, just like her coach Laurie Henes.  Read more: Who were the winners on Day 1 at the 2023 NCAA Indoor Championships?
"Yeah, I would say it hasn't been too bad," she told Race Results Weekly in a telephone interview yesterday.  "Coach Henes is pretty reserved, I think.  She thought it went pretty well.  She's not the type to kind of say [it] out loud or brag or anything.  Yeah, I think we both could agree that it was a pretty good season."
That "pretty good season" followed a sensational cross country campaign last fall which culminated in Tuohy winning the individual NCAA Division I Cross Country Championships, the most competitive team running race in the United States, and Henes's Wolfpack women taking their second consecutive team title.
"That was a really special day," said Tuohy who got a special satisfaction seeing her teammates Kelsey Chmiel, Samantha Bush, Nevada Mareno, and Brooke Rauber cross the finish line behind her.  "It was really cool crossing the line and seeing all the girls come in.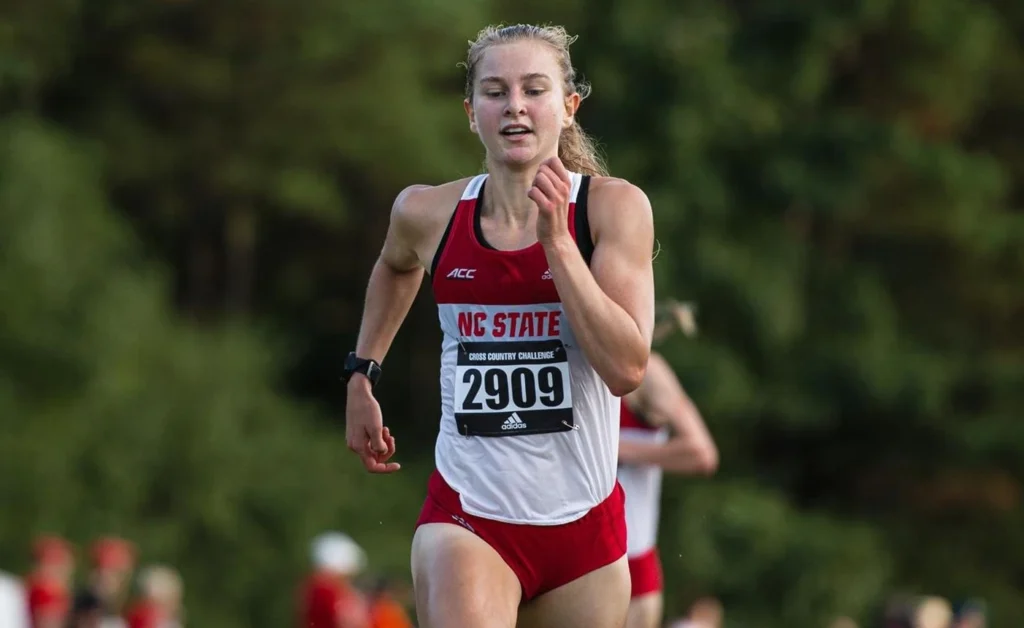 We were definitely a little nervous going in because a lot of people had setbacks during the year.  A lot of people didn't see that from the outside, kind of how people on the team overcame a lot to get where they were and line up for each other.  It was just, like, really cool that it worked out.  We worked hard all season together.  It really was a collective effort.  It was definitely a big deal for me."
But instead of launching into her 2023 outdoor season in late March as she usually would –Tuohy skipped her school's big spring meet, the Raleigh Relays– Tuohy and Henes are working off of a longer-term plan that would give the reigning NCAA 5000m champion her best chance to not only defend that title but also compete well at the USATF Outdoor Track & Field Championships in Eugene, Ore., in July, and have a shot at making the national team for the World Athletics Championships in Budapest in August.
"Indoors is like early March, and Raleigh Relays happens two weeks later," Tuohy explained.  "So, it's a quick turnaround.  Coach Henes wasn't sure if she was going to race us."  
She continued: "Then she kind of said, like, I could race if I wanted, but kind of decided that we were hopeful that my season would extend to July because I'll try to qualify for the U.S. Championships that we should try to hold off the early races and focus on having a good training cycle for then."
READ MORE: How to watch and follow the Doha Diamond League?
To that end, Tuohy has raced sparingly and strategically during her outdoor season.  So far, she's only run in one meet, the Wake Forest Invitational on April 21.  There she ran a fast 1500m (4:08.29), the fastest time so far in the NCAA this year.  She doubled back in the 5000m, but did not push for a fast time. 
Instead, she helped pace teammates Amaris Tyynismaa, Kelsey Chmiel and Savannah Shaw and in the process put up a qualifying mark of 15:50.90 that would put her on the path for the NCAA Championships.  Tyynismaa ran 15:30.37, Chmiel clocked 15:43.25, and Shaw ran 15:58.91.
"I had to run the 5-K kind of like a workout after the 1500 at Wake Forest just to get a regional mark," Tuohy explained.  "So, I just decided to get it out of the way there as a workout after the 1500.  I got to help pace some of my teammates during the race and help them out and kind of get my mark out of the way.  I wouldn't have to worry about it at ACC's."
Tuohy's next race comes this Saturday at the On Track Fest, a World Athletics Continental Tour event, near Los Angeles.  There she'll line up against top international athletes plus some of America's best distance runners including Josette Andrews, Whittni Orton-Morgan, Elly Henes, Emily Infeld, Annie Rodenfels, and Ednah Kurgat. 
There she hopes to achieve an automatic qualifier of 15:09.59 for the USATF Outdoor Track & Field Championships.
"So, early in the year Coach Henes found out about it, talked to a few people, and it seemed like it was going to be a really good set-up for a fast race," Tuohy said.  "There's going to be a lot of really talented women running it. 
I guess the biggest goal is to run a good race and get a race in where I'm competing against women who are, like, clearly better than me.  There's Olympians in that race, so I'm just going to put myself in there and see what I can do against these phenomenal women and hopefully the time is fast enough to qualify for U.S. Nationals.  That's the main goal."  She added: "I'm definitely grateful for the opportunity."
Tuohy admitted that it's been a while since she's run in a fast 5000m, but that's been by design (her personal best is 15:14.61 from April, 2022).  She's been pointing for this race and feels ready to be competitive.
READ ALSO: Sha'Carri Richardson beaten by Kayla White in Botswana Golden Grand Prix
"I think that I've been training really hard and I haven't had a really good 5-K race in a while," Tuohy said.  "The last time I raced a 5-K was indoor nationals and it was kind of a strategic race, it was slower, and it was at altitude.  Before then I kind of just ran a mark in Boston just to qualify for NCAA's, and that was in December. 
So, the last time I had a super-competitive 5-K was NCAA's last year.  So, it's been a while, so I'm excited to kind of just race the distance with a bunch of women who are the best in the U.S. right now."
When she returns to collegiate competition the following week (the ACC Championships are May 11-13 in Raleigh), Tuohy is not sure if she will focus more on the 1500m or the 5000m.  She and Coach Henes are still working that out.
"I haven't fully decided what I'm going to do at nationals yet," she said.  "It will either be the fifteen, five or both."
No matter what events she chooses, Tuohy will have the best interests of her Wolfpack team in mind.  She said that Henes has fostered an incredible team culture and that she's very close with her teammates, especially Chmiel whom she sometimes competed against in high school (Chmiel is also from Upstate New York).  
"Kelsey is one of my best friends," Tuohy said.  "I've known her from high school.  We used to race against each other from time to time.  She's definitely someone I looked up to.  You could tell she was just a really team-oriented person which is something that I aspired to be. 
When she committed to NC State it kind of put the school on my radar because I was like, well, if Kelsey thinks it's a good school it definitely is.  I knew if I came here we'd definitely get along and train well together.  It's true."
But eventually, Tuohy's teammates will have to compete without her.  As much as she loves competing in the NCAA she is weighing her options for turning pro.  She already has an endorsement deal with adidas under the NCAA's name, image and likeness (NIL) policy (adidas is also the kit supplier for NC State sports teams), but turning pro would completely cut the collegiate cord.
"That's definitely the goal," said.  "I haven't decided when yet, whether it's now or after the fall.  I'm still weighing my options, so there hasn't been a decision made yet.  I'm definitely going to have to rely on the people I keep close in my small circle, people I trust to help me with that decision-making process.  I feel like I'm in a unique opportunity and I'm very grateful to be where I do have options."
Tuohy's performance on Saturday in California will help her to make that decision, especially if she runs the even faster World Athletics Championships qualifying standard of 14:57.00, something that is within her capabilities.  Only two USA women have the standard so far: Natosha Rogers (14:52.21) and Elly Henes (14:52.87).  
"I mean, I'm not going to count myself out of it, for sure," Tuohy said.  "I don't know.  I feel like if you count yourself out you're already putting yourself behind before the race even starts.  I'll fight during the race for it and do everything I can, but there is like a ton of competitive women in this sport.  So, I'm looking forward to putting myself in there with the big dogs and seeing what I can do."
PHOTO: Katelyn Tuohy competing at the 2022 USATF Outdoor Track & Field Championships in Eugene, Ore., in the 1500m where she placed 13th (photo by Jane Monti for Race Results Weekly)