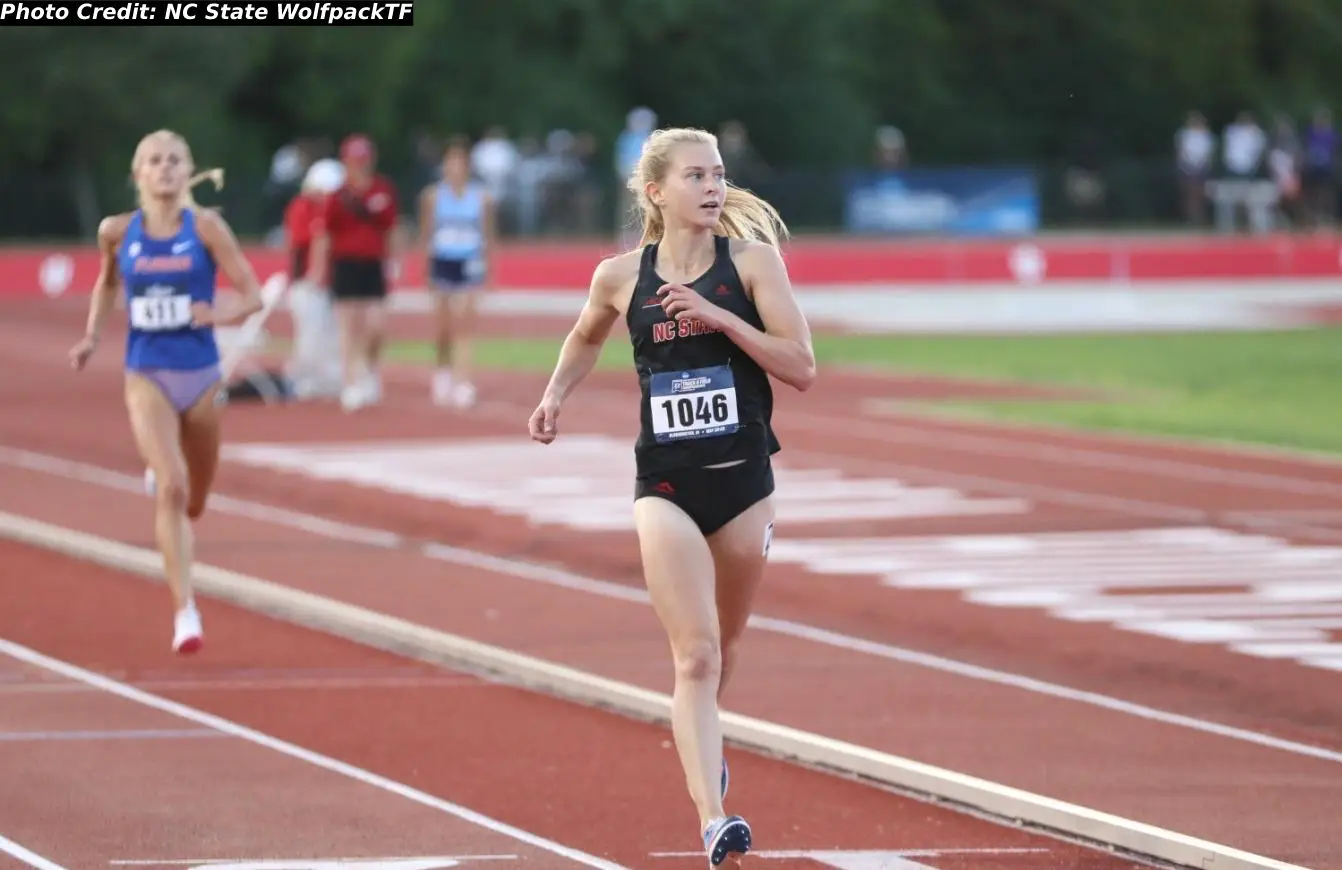 WALNUT, CA (May 7) – NC State's Katelyn Tuohy set a new NCAA outdoor record for the women's 5000m at the Sound Running On Track Fest in California on Saturday night (6) with a time of 15:03.12. Tuohy's time is over 17 seconds faster than the mark set by Jenny Simpson (formerly Barringer), who ran 15:07.64 to set the previous collegiate outdoor record, while competing for Colorado in 2009.
Despite falling just short of recording her sub-15 minute target for the event, Tuohy, who was seventh overall at the Sound Running On Track Fest, now holds the top time in the NCAA for both the 1500m and 5000m and she was delighted with her overall performance on Saturday after bettering her previous lifetime best of 15:14.61.
She was competing only for the second event this outdoor season after running 15:50.90 last month at the Wake Forest Invite, where she also ran 4:08.29 in the 1500m. Read more: Alicia Monson takes Mile Run Invitational at 2023 Dr. Sander Columbia Challenge
Tuohy, the NCAA Indoor 3000m and 5000m national champion, has also set the collegiate all-time records for the indoor mile and 3000m earlier this year, but this is her first outdoor NCAA record.
Meanwhile, Josette Andrews of On Athletics Club dominated the race at the Sound Running On Track Fest this weekend, clocking a world-leading time of 14:43.36 to smash her personal best and take the victory after breaking loose on the final late to open up a big gap.
There were lots of career bests behind Andrews as well. Joselyn Brea was second with a new lifetime mark of 14:47.76, followed by Laura Galvan, who ran a new Mexican national record and personal best of 14:49.34, while Emily Infeld also recorded a lifetime best of 14:50.90 for fourth and Elly Henes (14:54.20) also dipped under 15 minutes.
Women's 5000m:
Josette Andrews – On Athletics Club – 14:43.36
Joselyn Brea – LA Mamba Negra – 14:47.76
Laura Galvan – Hoka – 14:49.34
Emily Infeld – Nike – 14:50.90
Elly Henes – Adidas – 14:54.20
Melissa Courtney-Bryant – New Balance – 15:02.93
Katelyn Tuohy – North Carolina State University – 15:03.12
Abby Nichols – Hoka NAZ Elite – 15:09.60
Parul Chaudhary – ADP / India / adidas – 15:10.35
Ednah Kurgat – U.S. Army – 15:11.30
Jessica Warner-Judd – Hoka – 15:13.95
Allie Buchalski – Brooks Beasts Track Club – 15:19.51
Lauren Ryan – Under Armour / Dark Sky Distance – 15:20.98
Julie-Anne Staelhi – New Balance Boston – 15:25.20
Annie Rodenfels – Adidas / Boston Athletic Assoc – 15:31.27
Katie Izzo – Adidas – 15:32.20
Emily Lipari – Adidas – 15:42.47
Grace Barnett – ASICS Mammoth Track Club – 16:25.40 DNF. Whittni Orton-Morgan – Adidas DNF. Calli Thackery – Hallamshire Harriers DNF. Micaela DeGenero – Puma DNS. Dani Jones – PACER DNS. Taylor Werner – Puma Elite DNS. Millie Paladino – New Balance Boston