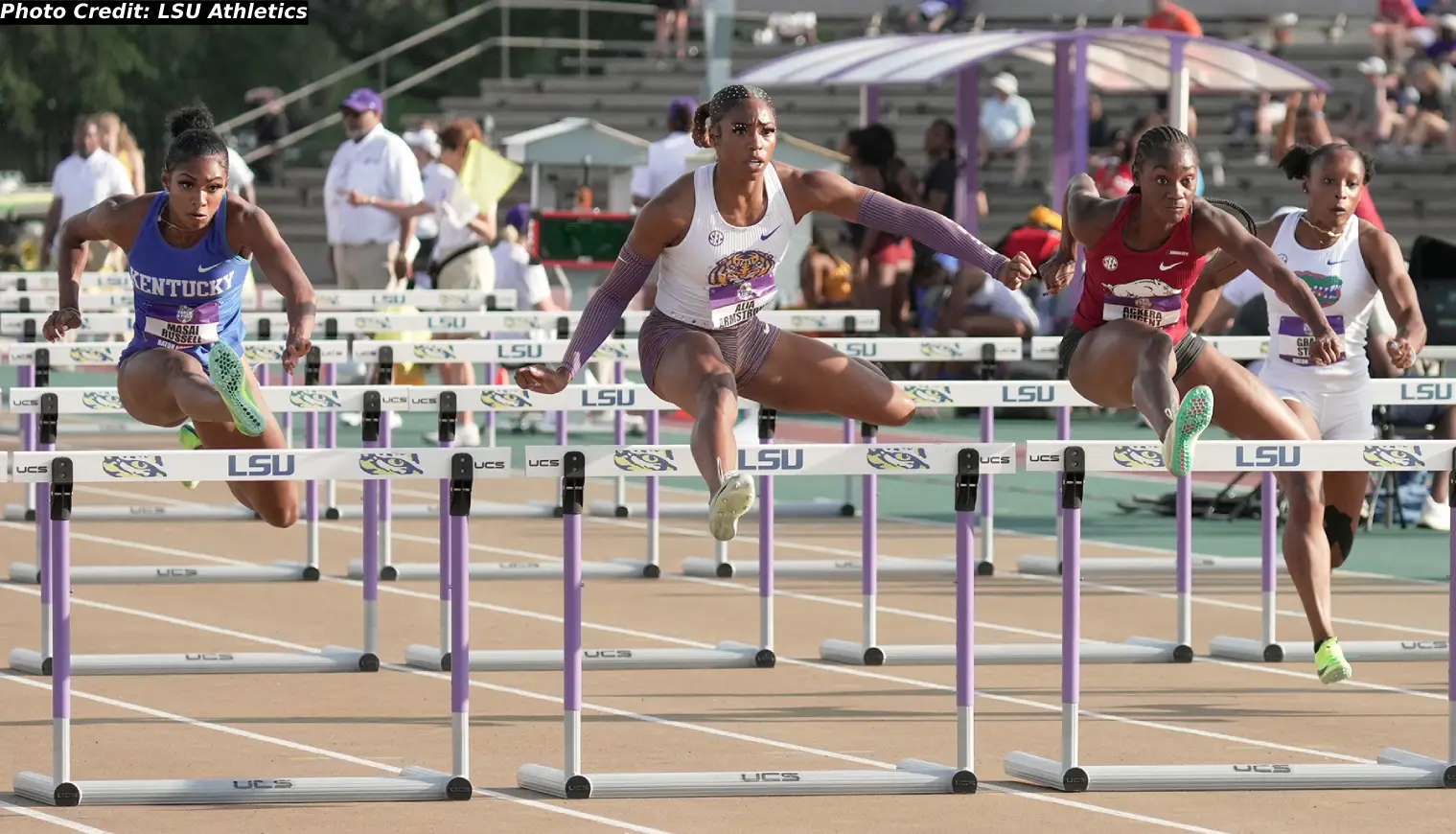 BATON ROUGE, LA, 15 May —— In the women's 100-meter hurdles at the 2023 SEC Outdoor Championships in Baton Rouge on Saturday (13), we witnessed a battle of speed, skill, and sheer determination that will go down in the history books. Alia Armstrong, Akeera Nugent, and Masai Russell delivered an absolutely electrifying race, surpassing all expectations.
These three remarkable athletes etched their names into the annals of collegiate track and field by breaking the 12.50-second barrier in the same race and creating a sensational record. This race, unquestionably, became the fastest women's sprint hurdles race in collegiate history.
During the heats on Friday, LSU's Armstrong set the tone with a wind-aided time of 12.31 seconds, accompanied by a tailwind of 2.2m/s. Demonstrating her exceptional form, Armstrong returned for the final on Saturday, determined to leave her mark on the competition on her home track.
And leave her mark she did. With a captivating performance, the defending NCAA champion blazed through the finish line in a remarkable wind-legal time of 12.40 seconds. Her impressive run not only secured the victory but also shattered the previous meeting record. Read more: Sha'Carri Richardson toys with competitors in 200m at 2023 Kip Keino Classic
In the midst of Armstrong's triumphant display, Akeera Nugent from Arkansas, the indoor champion, showcased her own exceptional talent. The Jamaican, entering the championships with a personal best of 12.45 seconds, rose to the occasion and pushed herself to new heights.
Crossing the line in second place, Nugent achieved a new lifetime best of 12.43 seconds, while Masai Russell of Kentucky, who delivered a strong performance with a time of 12.47 seconds, finished with the bronze.
This historic race not only saw three women breaking the 12.50-second barrier but also witnessed the shattering of the previous facility record of 12.70 seconds, set by former Purdue star Devynne Charlton in 2018. It was a remarkable achievement that highlighted the exceptional talent on display.
With her victory over the weekend, Armstrong, the World Championships 4th place finisher, now holds the rank of No. 3 on the all-time collegiate list for the women's 100m hurdles. Nugent's impressive performance propelled her to No. 6 on the same list.
Meanwhile, Russell maintains her leading position on the all-time list, having set a record-breaking run of 12.31 seconds earlier this season.
Women's 100m Hurdles Results – SEC 2023 Championships
Alia Armstrong (LSU) – 12.40

PR: Meet and Facility PR
Wind: 0.4m/s

Ackera Nugent (Arkansas) – 12.43 PB
Masai Russell (Kentucky) – 12.47
Charisma Taylor (Tennessee) – 12.84 PB
Rosealee Cooper (Miss State) – 13.00
Grace Stark (Florida) – 13.01
Jaiya Covington (Texas A&M) – 13.18
Madison Langley-Walker (Arkansas) – 13.22
Jayla Hollis (Florida) – 13.23