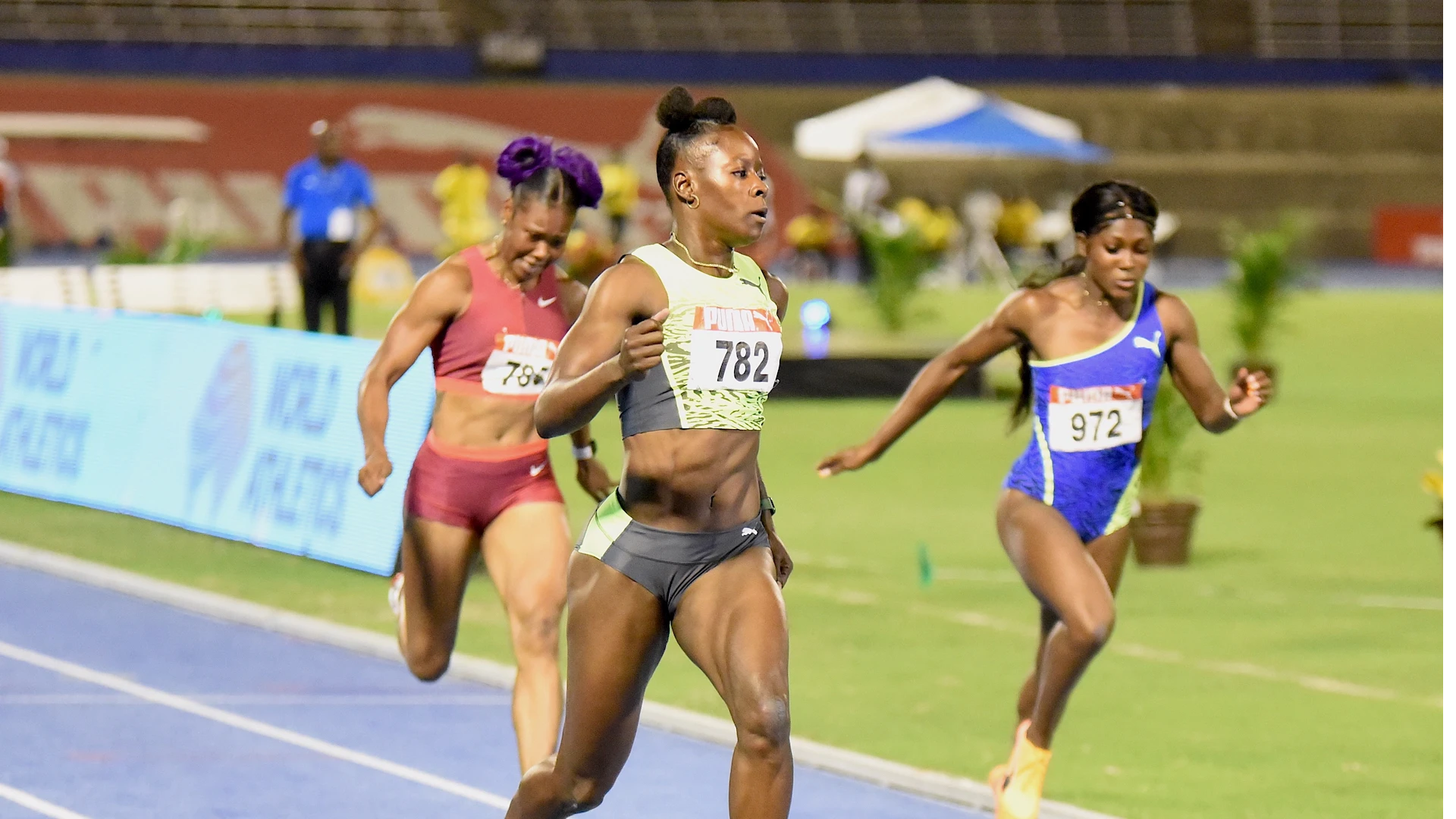 KINGSTON, Jamaica (May 20) – Shericka Jackson displayed her impressive speed as she triumphed in the women's 200-meter dash at the JAAA All-Comers 2023 Series meeting held at the National Stadium in Kingston on Saturday. On the men's side, Oblique Seville dominated the 100m with a comfortable 9.94 seconds performance.
In the women's 200m, Jackson, a seasoned athlete, who was competing for the first time this season in this event, left her competitors struggling to keep up with her pace.
The reigning world champion in the event, rebounded from her recent loss to American sprinter Sha'Carri Richardson in the 100-meter race at the 2023 Doha Diamond League meeting. Taking the lead right from the start, the 29-year-old swiftly accelerated around the corner and distanced herself from the remaining four contestants.
She secured the victory with an impressive time of 22.25 seconds (+1.1 m/s), marking the sixth-fastest time recorded worldwide this season. Notably, the current world-leading time of 21.91 seconds was set by Julien Alfred, a sprinter hailing from St. Lucia and Texas.
Finishing in second place was Stephenie-Ann McPherson, a specialist in the 400-meter event, representing Mvp Track. McPherson completed the race in a commendable time of 23.38 seconds.
Meanwhile, Tatjana Pinto of Germany, participating in her first event of the season, claimed third place with a time of 23.74 seconds.
In the men's 200m race, European champion Zharnel Hughes of Great Britain, who trains at the Racers Track Club under the guidance of Glen Mills, clocked 20.18 (0.9 m/s) for an impressive victory tonight.
Jazeel Murphy, who won the sixth heat with 20.76 (1.3 m/s) was second overall ahead of Nigel Ellis (20.80) and Tyquendo Tracey (20.81) who was second to Hughes in his race.
Oblique Seville of the Racers Track Club, who trains with Hughes, continued his impressive start to the season, cruising to 9.94 (1.6 m/s) to win the men's 100m dash.
Women's 200 Meter Run SENIOR
Name Age Team Finals Wind
Finals – Wind: + 1.1 m/s
Shericka Jackson Mvp Track Club 22.25
Stephenie-Ann McPherson Mvp Track Club 23.38
Tatjana Pinto (Germany) Elite Track Club 23.74
Mickaell Moodie GC Foster College 24.05
Aishath Himna Hassan (Maldives) SprinTec 25.38