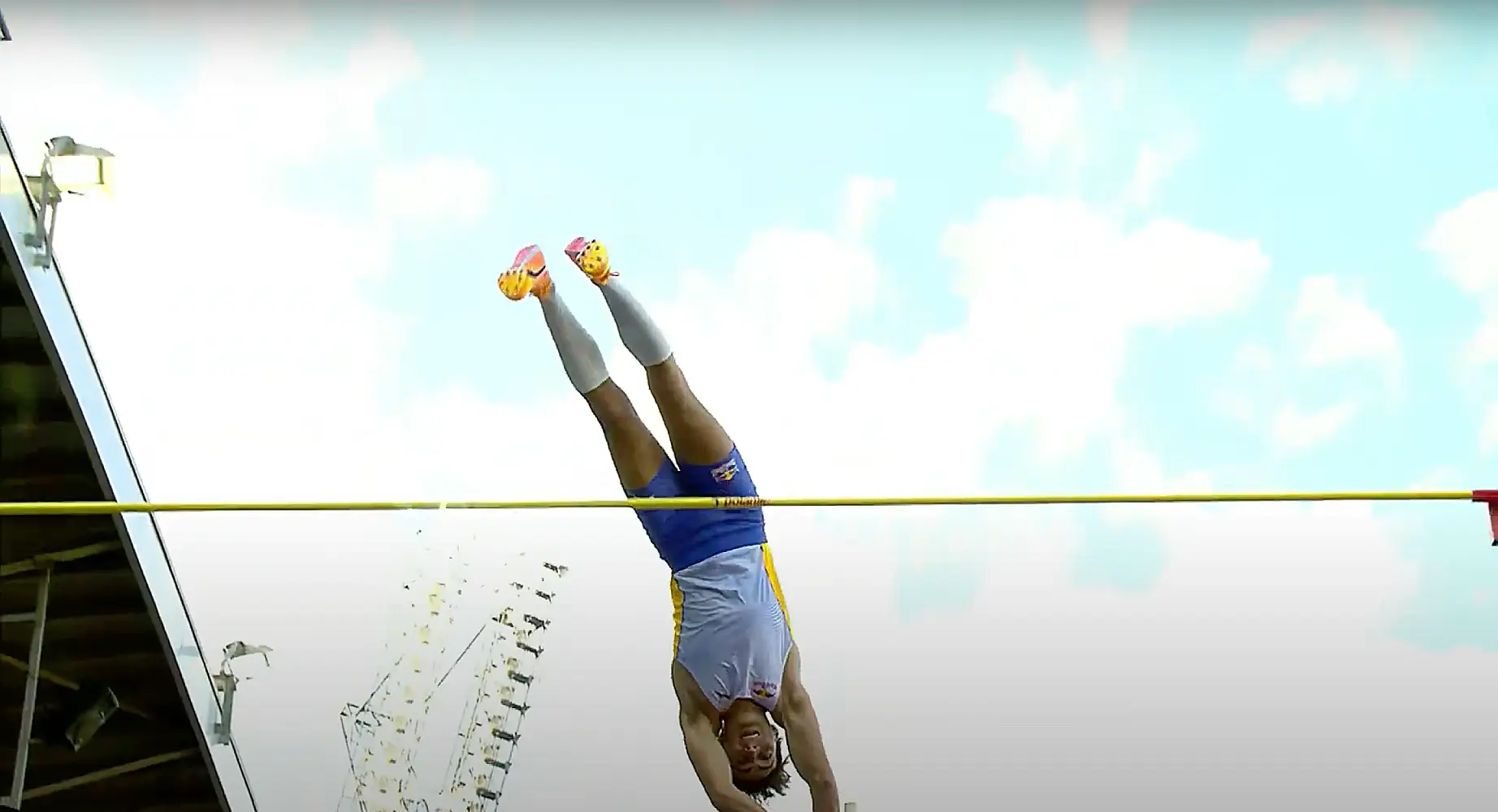 The 2023 Golden Spike results in Ostrava – a World Athletics Continental Tour Gold series meeting on Tuesday (27). Olympic champions Mondo Duplantis, Ryan Crouser, and Jasmine Camacho-Quinn, in addition to world record-holder Lamecha Girma were among the winners today. Below you will find the full results from today's meeting.
Duplantis set a world-leading mark of 6.12 meters to win the men's Pole Vault title before missing all three attempts at 6.17m. Crouser, meanwhile, delivered a meeting record of 22.63m to win the men's Shot Put, while the world record holder also threw 22.17m, 22.16m, and 22.14m. Tom Walsh of New Zealand did 22.15m for second place.
Tokyo Olympic champion Jasmine Camacho-Quinn stayed undefeated this season with another victory in the women's 100m hurdles, clocking a new meeting record of 12.42secs to beat Tia Jones of USA, at 12.44secs, and world champion and world record holder Tobi Amusan of Nigeria, who ran 12.47.
Also in the 2023 Golden Spike results was another world record holder Lamecha Girma of Ethiopia won the men's 1500m with a battling 3:33.15.
Read more: 2023 USA Half Marathon Championships results
The Full 2023 Golden Spike Results on June 27
Men's 100m
Final, Wind: +0.6
PLACE NAME NAT. MARK
1 Akani SIMBINE RSA 9.98
2 Samuele CECCARELLI ITA 10.15
3 Andre DE GRASSE CAN 10.21
4 Ján VOLKO SVK 10.25
5 Joseph FAHNBULLEH LBR 10.26
6 Jerome BLAKE CAN 10.33
7 Jan VELEBA CZE 10.42
8 Zdeněk STROMŠÍK CZE 10.43
Men's 200m
Final, Wind: +0.4
PLACE NAME NAT. MARK
1 Luxolo ADAMS RSA 20.22
2 Sinesipho DAMBILE RSA 20.58
3 Ján VOLKO SVK 20.65
4 Ondřej MACÍK CZE 20.71
5 William REAIS SUI 20.78
6 Jerome BLAKE CAN 20.81
7 Isaac MAKWALA BOT 20.93
Men's 400m
Final
PLACE NAME NAT. MARK
1 Muzala SAMUKONGA ZAM 45.05
2 Zakithi NENE RSA 45.22
3 Oleksandr POHORILKO UKR 45.37
4 João COELHO POR 45.38
5 Attila MOLNÁR HUN 45.39
6 Matěj KRSEK CZE 45.62
7 Pavel MASLÁK CZE 45.81
8 Patrik ŠORM CZE 46.16
Men's 800m
Final
PLACE NAME NAT. MARK
1 Saúl ORDÓÑEZ ESP 1:44.85
2 Simone BARONTINI ITA 1:45.03
2 Elliot GILES GBR 1:45.03
4 Neil GOURLEY GBR 1:45.49
5 Gabriel TUAL FRA 1:45.78
6 Peter BOL AUS 1:46.02
7 Jakub DUDYCHA CZE 1:46.27
8 Kelvin Kimtai LOTI KEN 1:46.62
9 Ben PATTISON GBR 1:46.78
10 Jakub DAVIDÍK CZE 1:47.02
11 Amel TUKA BIH 1:47.30
12 Marino BLOUDEK CRO 1:47.35
13 Filip ŠNEJDR CZE 1:48.37
14 Daniel KOTYZA CZE 1:54.34
Patryk SIERADZKI POL DNF
Men's 1500m
Final
PLACE NAME NAT. MARK
1 Lamecha GIRMA ETH 3:33.15
2 Mafori Ryan MPHAHLELE RSA 3:33.38
3 George MILLS GBR 3:33.85
4 Isaac NADER POR 3:34.01
5 Elzan BIBIĆ SRB 3:35.78
6 Jimmy GRESSIER FRA 3:35.97
7 Adam FOGG GBR 3:35.99
8 Cameron MYERS AUS 3:36.47
9 Elijah Motonei MANANGOI KEN 3:36.79
10 Kieran LUMB CAN 3:36.97
11 Diriba GIRMA ETH 3:37.13
12 Brian KOMEN KEN 3:38.78
13 Tshepo TSHITE RSA 3:40.00
14 Melese NBERET ETH 3:41.09
15 Jan FRIŠ CZE 3:41.84
16 Pavel VINDUŠKA CZE 3:41.88
17 Baptiste MISCHLER FRA 3:44.05
18 Filip RAK POL 3:46.13
19 Raphael PALLITSCH AUT 4:02.94
Simon DENISSEL FRA DNF
Filip SASÍNEK CZE DNF
Jan VUKOVIČ SLO DNF
Erik SOWINSKI USA DNF
Men's 110m Hurdles
Final, Wind: +0.5
PLACE NAME NAT. MARK
1 Wilhem BELOCIAN FRA 13.25
2 Just KWAOU-MATHEY FRA 13.32
3 Roger IRIBARNE CUB 13.33
4 Shunsuke IZUMIYA JPN 13.37
5 Antonio ALKANA RSA 13.40
6 Jakub SZYMAŃSKI POL 13.58
7 Damian CZYKIER POL 13.64
8 Pascal MARTINOT-LAGARDE FRA 13.91
Men's Pole Vault
Final
PLACE NAME NAT. MARK
1 Armand DUPLANTIS SWE 6.12m WL
2 Kurtis MARSCHALL AUS 5.90
3 Ernest John OBIENA PHI 5.90
4 Piotr LISEK POL 5.70
4 Pål Haugen LILLEFOSSE NOR 5.70
6 Thibaut COLLET FRA 5.60
7 Emmanouil KARALIS GRE 5.60
8 Simen GUTTORMSEN NOR 5.40
9 David HOLÝ CZE 5.20
10 Dan BÁRTA CZE 5.20
Men's Shot Put
Final
PLACE NAME NAT. MARK
1 Ryan CROUSER USA 22.63m
2 Tom WALSH NZL 22.15
3 Tomáš STANĚK CZE 21.71
4 Leonardo FABBRI ITA 21.37
5 Filip MIHALJEVIĆ CRO 21.05
6 Mostafa Amr HASSAN EGY 20.61
7 Michał HARATYK POL 20.52
Men's Discus Throw
Final
PLACE NAME NAT. MARK
1 Kristjan ČEH SLO 68.55m
2 Martin MARKOVIĆ CRO 64.00
3 Robert URBANEK POL 63.36
4 Nicholas PERCY GBR 62.98
5 Simon PETTERSSON SWE 62.34
6 Lawrence OKOYE GBR 61.82
7 Michal FOREJT CZE 60.51
Men's Javelin Throw
Final
PLACE NAME NAT. MARK
1 Jakub VADLEJCH CZE 81.93m
2 Timothy HERMAN BEL 77.41
3 Martin KONEČNÝ CZE 76.8
4 Rolands ŠTROBINDERS LAT 76.24
5 Anderson PETERS GRN 74.11
6 Jaroslav JÍLEK CZE 73.8
7 Martin FLORIAN CZE 71.36
Women's 400m
Final
PLACE NAME NAT. MARK
1 Natalia KACZMAREK POL 50.88
2 Lada VONDROVÁ CZE 51.43
3 Tereza PETRŽILKOVÁ CZE 51.99
4 Miranda Charlene COETZEE RSA 52.01
5 Laviai NIELSEN GBR 52.04
6 Sharlene MAWDSLEY IRL 52.26
7 Carys MCAULAY GBR 52.75
8 Cátia AZEVEDO POR 52.8
Women's 1500m
Final
PLACE NAME NAT. MARK
1 Diribe WELTEJI ETH 3:57.38
2 Hirut MESHESHA ETH 3:57.87
3 Tigist GIRMA ETH 3:59.33
4 Sarah HEALY IRL 4:01.75
5 Axumawit EMBAYE ETH 4:01.79
6 Gaia SABBATINI ITA 4:03.84
7 Martyna GALANT POL 4:04.11
8 Marta PÉREZ ESP 4:04.58
9 Agathe GUILLEMOT FRA 4:04.96
10 Kristiina MÄKI CZE 4:06.12
11 Esther GUERRERO ESP 4:06.72
12 Weronika LIZAKOWSKA POL 4:07.97
13 Ayal DAGNACHEW ETH 4:08.16
14 Gela Hambese DEGAFA ETH 4:08.40
15 Tsiyon ABEBE ETH 4:09.24
16 Ludovica CAVALLI ITA 4:10.25
17 Anna ŠIMKOVÁ CZE 4:17.18
Aneta LEMIESZ POL DNF
Kimberley FICENEC CZE DNF
Women's 100m Hurdles
Final 1, Wind: 0.0
PLACE NAME NAT. MARK
1 Jasmine CAMACHO-QUINN PUR 12.42
2 Tia JONES USA 12.44
3 Tobi AMUSAN NGR 12.47
4 Nia ALI USA 12.75
5 Michelle JENNEKE AUS 12.88
6 Luca KOZÁK HUN 12.98
7 Devynne CHARLTON BAH 13.01
Cindy SEMBER GBR DNF
Final 2, Wind: -0.1
PLACE NAME NAT. MARK
1 Viktória FORSTER SVK 12.82
2 Ditaji KAMBUNDJI SUI 12.99
3 Natalia CHRISTOFI CYP 13.04
4 Stanislava ŠKVARKOVÁ SVK 13.29
5 Tereza Elena ŠÍNOVÁ CZE 13.30
6 Dafni GEORGIOU CYP 13.38
7 Helena JIRANOVÁ CZE 13.43
8 Nicoleta TURNEROVÁ CZE 13.67
Women's 400m Hurdles
Final
PLACE NAME NAT. MARK
1 Jessie KNIGHT GBR 54.96
2 Nikoleta JÍCHOVÁ CZE 55.17
3 Taylon BIELDT RSA 55.35
4 Noura ENNADI MAR 55.56
5 Zenéy VAN DER WALT RSA 55.77
6 Janka MOLNÁR HUN 56.91
7 Daniela LEDECKÁ SVK 57.63
8 Ester BENDOVÁ CZE 57.77
Women's Pole Vault
Final
PLACE NAME NAT. MARK
1 Tina ŠUTEJ SLO 4.64m
2 Amálie ŠVÁBÍKOVÁ CZE 4.64
3 Margot CHEVRIER FRA 4.54
4 Michaela MEIJER SWE 4.34
5 Eleni-Klaoudia POLAK GRE 4.24
6 Lene Onsrud RETZIUS NOR 4.24
Hanga KLEKNER HUN NM
Women's Javelin Throw
Final
PLACE NAME NAT. MARK
1 Haruka KITAGUCHI JPN 63.72m
2 Adriana VILAGOŠ SRB 61.22
3 Nikola OGRODNÍKOVÁ CZE 58.84
4 Elina TZENGKO GRE 58.83
5 Nikol TABAČKOVÁ CZE 57.57
6 Barbora ŠPOTÁKOVÁ CZE 57.23
7 Sara KOLAK CRO 56.89
8 Irena GILLAROVÁ CZE 54.7
9 Petra SIČAKOVÁ CZE 51.29