Three of the nation's top five sprinters are set to compete in the High School Girls' 200-meter dash at the 2023 USATF NYC Grand Prix. Adaejah Hodge, Shawnti Jackson, and Elise Cooper will headline the field for the event taking place at Icahn Stadium on Randall's Island in New York City on Saturday, June 24.
Adaejah Hodge Hunts Big Wins vs Shawnti Jackson
Hodge comes into this clash with the fastest all-conditions time of the season, clocking in at 22.31 seconds (+5.1 m/s), and boasts a wind-legal personal best of 22.60 seconds.
After Shawnti Jackson false-started in the final, Hodge delivered an impressive performance of 22.64 seconds to secure victory at the New Balance Nationals Outdoor 2023 this past weekend so fans are eager to see the pair go head-to-head in New York.
READ MORE: Adaejah Hodge wins New Balance Nationals Outdoor 200m title; Shawnti Jackson DQ
Jackson, who holds the national record in the 100m with a remarkable time of 10.89 seconds, aims to rebound from her disqualification at Franklin Field in Philadelphia, and will also strive to surpass her personal best of 22.70 seconds in the 200m.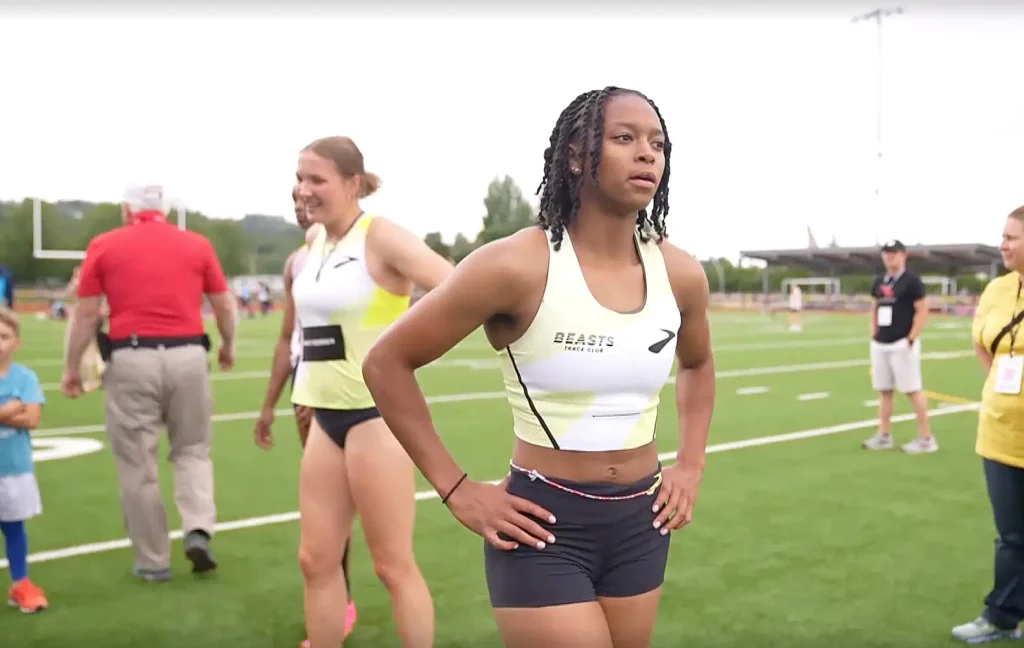 The Arkansas Razorback signee has been setting the track ablaze since recovering from an injury and she will be confident about her chances of winning against a very strong field that could challenge the national high school record of 22.11secs.
Mia Brahe-Pedersen Won't Be At NYC Grand Prix
Meanwhile, despite being listed to compete in the event, Mia Brahe-Pedersen will not be in New York this weekend.
The junior, who has been in excellent form this season, and achieved a lifetime best of 22.43 seconds to claim victory as part of her sprint double triumph at the 2023 Nike Outdoor Nationals at Hayward Field in Oregon this past weekend, did not make the trip to Randall's Island.
In fact, her father, Christian Brahe-Pedersen, confirmed with World-Track that she was never "committed to being at the NYC Grand Prix."
READ MORE: Shawnti Jackson runs blistering 10.89 secs, set national high school record
Meanwhile, Elise Cooper, ranked fifth in the nation this season with a personal best of 22.93 seconds, is another athlete to watch in the girls' 200m at the 2023 USATF NYC Grand Prix.
The sophomore from Owings Mills, who finished fourth behind Adaejah Hodge at the New Balance Nationals Outdoor 2023, will undoubtedly aim to improve on her previous time of 23.31 seconds and challenge the frontrunners.
Avery Lewis, a junior from Friends' Central, is also a notable participant in this event, along with Ashley Fulton, Breanne Barnett, and Kiera Davis.
Anticipate a thrilling contest featuring the three fastest girls in the nation for the 200m event this year!
The 2023 USATF NYC Grand Prix is part of the World Athletics' Continental Tour Gold series and will be televised and streamed live on NBC and Peacock TV from 1:00 p.m. to 3:00 p.m. EDT. Live results and updates will be here: Click for live results
Start List:
Ashley Fulton – United States
Breanne Barnett – United States
Kiera Davis – United States
Adaejah Hodge – British Virgin Islands
Elise Cooper – United States
Shawnti Jackson – United States
Mia Brahe-Pedersen – United States (Was never committed)
Avery Lewis – United States