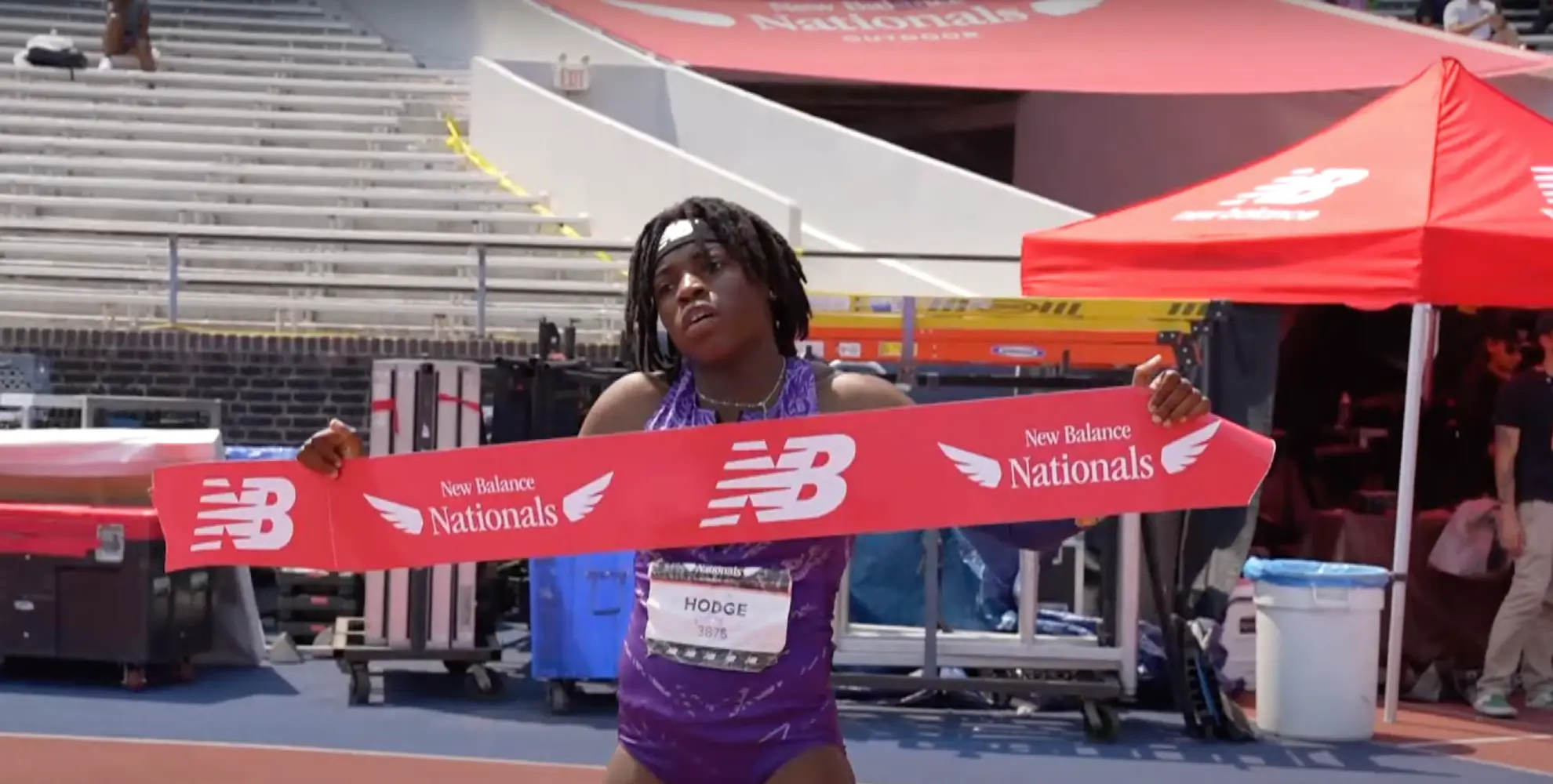 PHILADELPHIA (June 18) – Adaejah Hodge captured the girls' championships 200-meter title at the 2023 New Balance Nationals Outdoor in a record-breaking time of 22.64 seconds (1.3 m/s) after her main rival Shawnti Jackson false started in the final. The event took place on Day 4 of the competition at Franklin Field, where more than 7,000 athletes from across the country gathered to showcase their talents.
Hodge, a standout athlete from Montverde Academy, entered the championships as one of the favorites for the title. She had recently achieved a wind-legal outdoor personal best of 22.60 seconds in Florida. Read more: Shawnti Jackson runs blistering 10.89 secs, set national high school record
However, her path to the gold medal became significantly easier when her main rival, Shawnti Jackson, false started in the final, resulting in her disqualification.
From the moment the race began, Hodge asserted her dominance. The 17-year-old surged out of the blocks and established a commanding lead in the opening 100 meters. This advantageous position allowed her to navigate the bend smoothly and then unleash her impressive finishing speed, leaving her competitors behind.
Adaejah Hodge, Mia Brahe-Pedersen, Shawnti Jackson clash over 200m at NYC Grand Prix
Hodge's strong performance not only secured the victory but also surpassed the previous meeting record of 22.84 seconds set by Jackson in the semifinal heats on Saturday (17).
Madison Whyte, a senior athlete, secured second place with a time of 22.94 seconds, while junior runner Laila Campbell claimed the bronze medal, crossing the finish line in 23.26 seconds.
Read Also: Shericka Jackson can break world records says coach Stephen Francis
The 2023 New Balance Nationals Outdoor spanned four days (June 15-18) and witnessed an extraordinary gathering of talented athletes at the iconic Franklin Field here in Philadelphia.