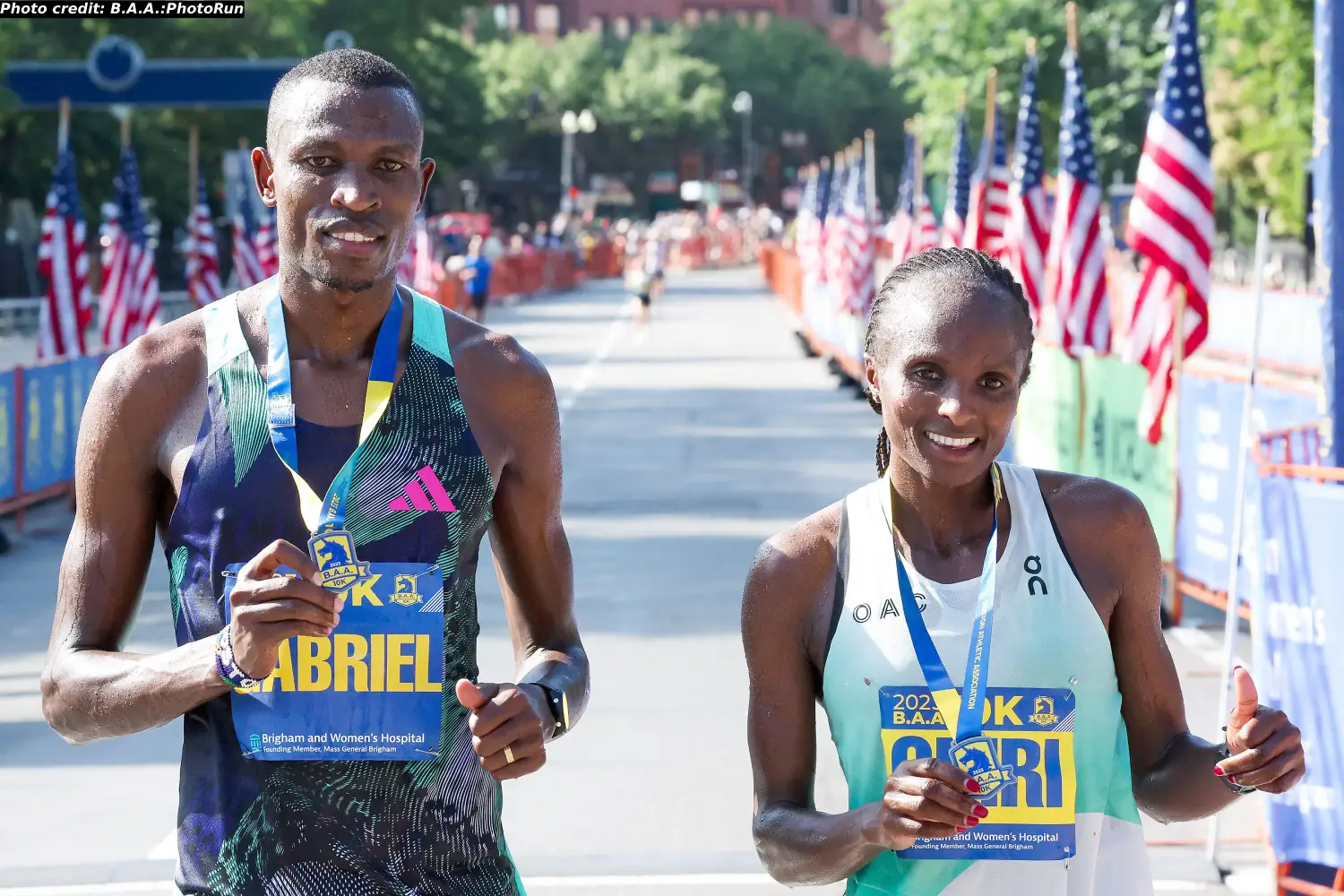 Hellen Obiri and Gabriel Geay emerged as the victors in the women's and men's B.A.A. 10K 2023 races on Sunday, June 25th. Obiri, hailing from Kenya, previously secured the titles of the Boston Marathon 2023 and the New York Half Marathon earlier this year. This was her first B.A.A. 10K crown. Geay, on the other hand, clinched his second title after his triumph in 2018.
Obiri completed the women's race in 31:21, making a strong comeback from her defeat at the Mastercard New York Mini 10K on June 10th. The two-time world 5000m champion battled hard in the humid conditions to hold on and cross the finish line ahead of her Kenyan compatriots. Stacy Ndiwa secured second place with a time of 31:25, while Sheila Chepkirui finished fourth with 31:27.
Emily Sisson, the USA's record holder for the marathon and half-marathon, showcased an exceptional performance, setting a new personal best of 31:35 and securing fourth place in the women's race.
In the men's B.A.A. 10K race, Tanzania's Gabriel Geay emerged as the winner, completing the course in 27:49. Geay, the 2018 champion, outperformed a pair of Kenyan runners, Edwin Kurgat (28:01) and Alex Masai (28:09), to claim the title.
Rounding up the top five finishers in the men's contest were Tsegay Kidanu from Ethiopia, who finished with a time of 28:18, and Diego Estrada from Mexico, who finished with a time of 28:19.
Reed Fischer achieved the highest placement among American runners in the men's race, securing 10th place with a time of 29:15.
Check out the top 30 finishers from both the men's and women's races at the B.A.A. 10K 2023 below:
The B.A.A. 10K 2023 Results
Women's 10K results:
Hellen Obiri (Kenya) – 00:31:21
Stacy Ndiwa (Kenya) – 00:31:25
Sheila Chepkirui (Kenya) – 00:31:27
Emily Sisson (United States) – 00:31:35
Mary Ngugi (Kenya) – 00:31:45
Cynthia Limo (Kenya) – 00:31:49
Ftaw Zeray (Ethiopia) – 00:31:55
Emily Durgin (United States) – 00:31:57
Vicoty Chepngeno (Kenya) – 00:32:20
Edna Kiplagat (Kenya) – 00:32:46
Annie Frisbie (United States) – 00:32:47
Jessie Cardin (United States) – 00:32:49
Dominique Scott (South Africa) – 00:33:07
Lindsay Flanagan (United States) – 00:33:09
Susanna Sullivan (United States) – 00:33:15
Kaoutar Boulaid (Morocco) – 00:33:26
Molly Seidel (United States) – 00:33:35
Jacqueline Gaughan (United States) – 00:33:44
Jeralyn Poe (United States) – 00:34:04
Katrina Spratford (United States) – 00:35:00
Anna Oeser (Germany) – 00:35:04
Caroline Rotich (Kenya) – 00:35:18
Carmela Cardama Baez (Spain) – 00:36:16
Jenny Grimshaw (United States) – 00:38:19
Nada Pauer (Austria) – 00:36:41
Jen Moroz (Canada) – 00:36:57
Lily Robinson (United Kingdom) – 00:37:14
Chloe Christiaen (Belgium) – 00:37:15
Reilly Kiernan (United States) – 00:37:16
Jackie Burr (United States) – 00:37:16
Men's 10k results:
Gabriel Geay (Tanzania) – 00:27:49
Edwin Kurgat (Kenya) – 00:28:01
Alex Masai (Kenya) – 00:28:09
Tsegay Kidanu (Ethiopia) – 00:28:18
Diego Estrada (Mexico) – 00:28:19
Geoffrey Koech (Kenya) – 00:28:32
Benson Kipruto (Kenya) – 00:28:39
Wesley Kiptoo (Kenya) – 00:28:54
Abel Kipchumba (Kenya) – 00:29:05
Reed Fischer (United States) – 00:29:15
Zouhair Talbi (Morocco) – 00:29:28
Marcelo Rocha (Brazil) – 00:29:33
Reid Buchanan (United States) – 00:29:40
Leonard Korir (United States) – 00:29:45
Eric Hamer (United States) – 00:29:58
Richard Ringer (Germany) – 00:30:02
Tai Dinger (United States) – 00:30:12
Johannes Motschmann (Germany) – 00:30:15
JP Flavin (United States) – 00:30:28
Jamie Dee (United States) – 00:30:33
Tim McGowan (United States) – 00:30:58
Fikadu Tegene (Ethiopia) – 00:31:14
Thomas Toth (United States) – 00:31:15
Erik Linden (United States) – 00:31:23
Josh Kalapos (United States) – 00:31:26
Jonas Hampton (United States) – 00:31:51
Henry Sterling (United States) – 00:31:57
Jack Leitch (United States) – 00:32:37
Filip Vercruysse (Belgium) – 00:33:10
Christopher Phillips-Hart (United States) – 00:30:37
For full results, please click here