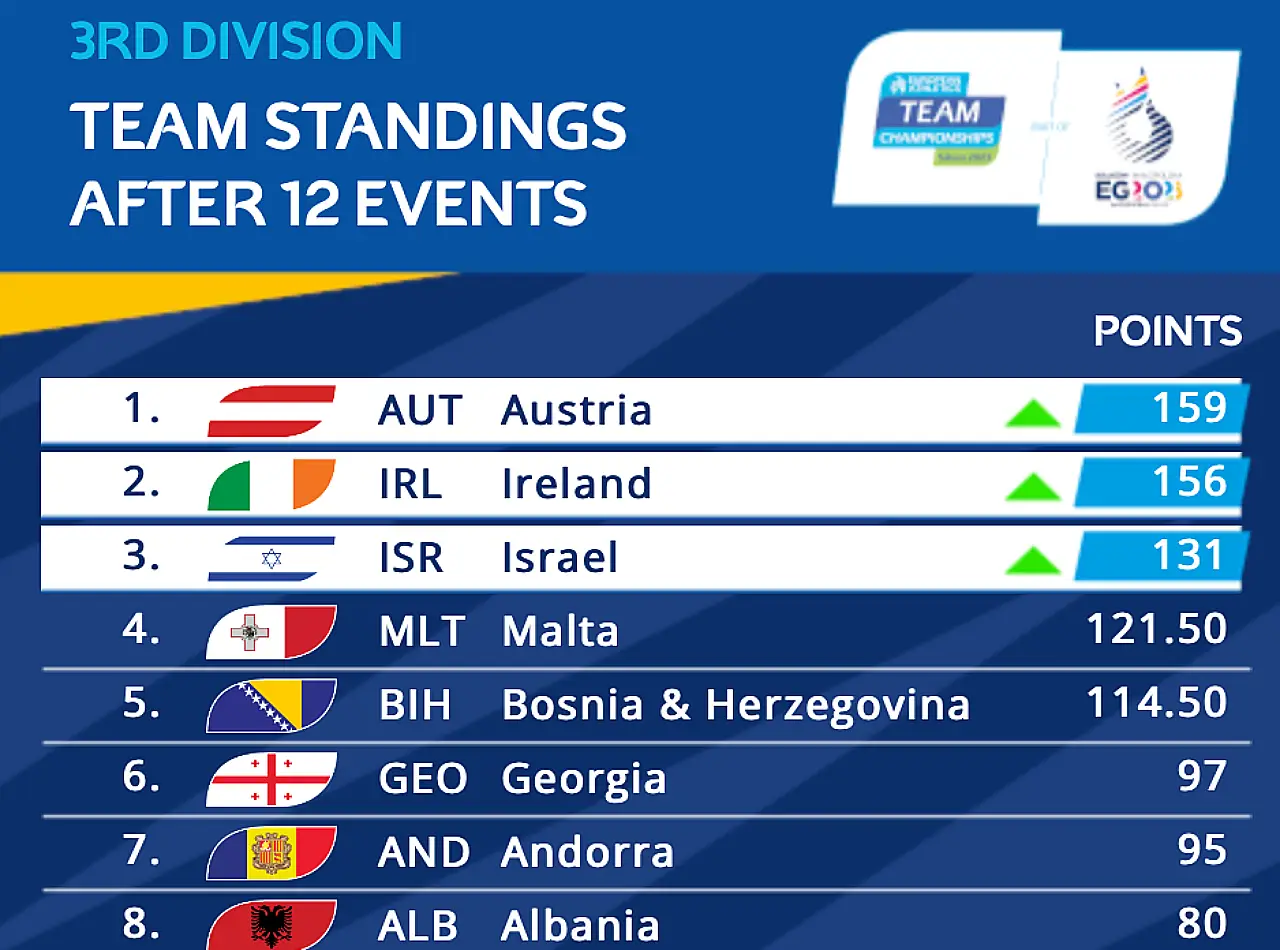 SILESIA (June 20) – Austria holds a three-point advantage over Ireland in the highly competitive 3rd Division of the European Athletics Team Championships Silesia 2023. After Day 1, which featured 12 scored events, Austria came out as the early frontrunner in the points standings with a total of 159 points, closely followed by a spirited Irish team with 156 points.
The morning session of Division 3 witnessed some strong performances from the top five teams, with all surpassing the 100-point mark. Alongside Austria and Ireland, Israel sits in the third spot with 131 points, while Malta and Bosnia and Herzegovina took the fourth and fifth positions with 121.50 and 114.50 points, respectively.
Highlighting the day, Austria collected 45 points from first place finishes, which was allocated from three 15-point wins, while Ireland's points total was heavily influenced by 56 second-place points and 52 third-place points.
In the overall top 10 standings, Georgia sits in sixth place with 97 points, followed by Andorra (95), Albania and Armenia (80), and North Macedonia (79). – Read more: How to watch the European Athletics Team Championships 2023?
Thus far, 15 of the participating nations have successfully earned points, with Liechtenstein currently occupying the 15th place at the bottom with 13 points.
Early battle for points – Ireland caught
During the early morning session, Ireland initially held the lead. However, Austria managed to catch up, both accumulating 116 points after nine events. The Austrians then surged ahead, securing victories in the men's pole vault and 100m events courtesy of Alexander Auer and Markus Fuchs, respectively.
With 25 more scoring events remaining in the third division, the battle for the European Athletics Team Championships Silesia 2023 team title in Poland is expected to intensify over the next few days, and promises to be a thrilling encounter for all!
The coverage of the European Athletics Team Championships Silesia 2023 will be live streamed across several platforms from June 20-23. Live streaming coverage will be available on the European Athletics YouTube page (audio) and All-Athletics (live video).
Division 3 European Athletics Team Championships Day 1 standings
Austria – 159
Ireland – 156
Israel – 131
Malta – 121.50
Bosnia and Herzegovina – 114.50
Georgia – 97
Andorra – 95)
Albania – 80; Armenia – 80
North Macedonia – 79
Azerbaijan – 70
Montenegro – 65
San Marino – 57
Kosovo – 56
Liechtenstein – 13