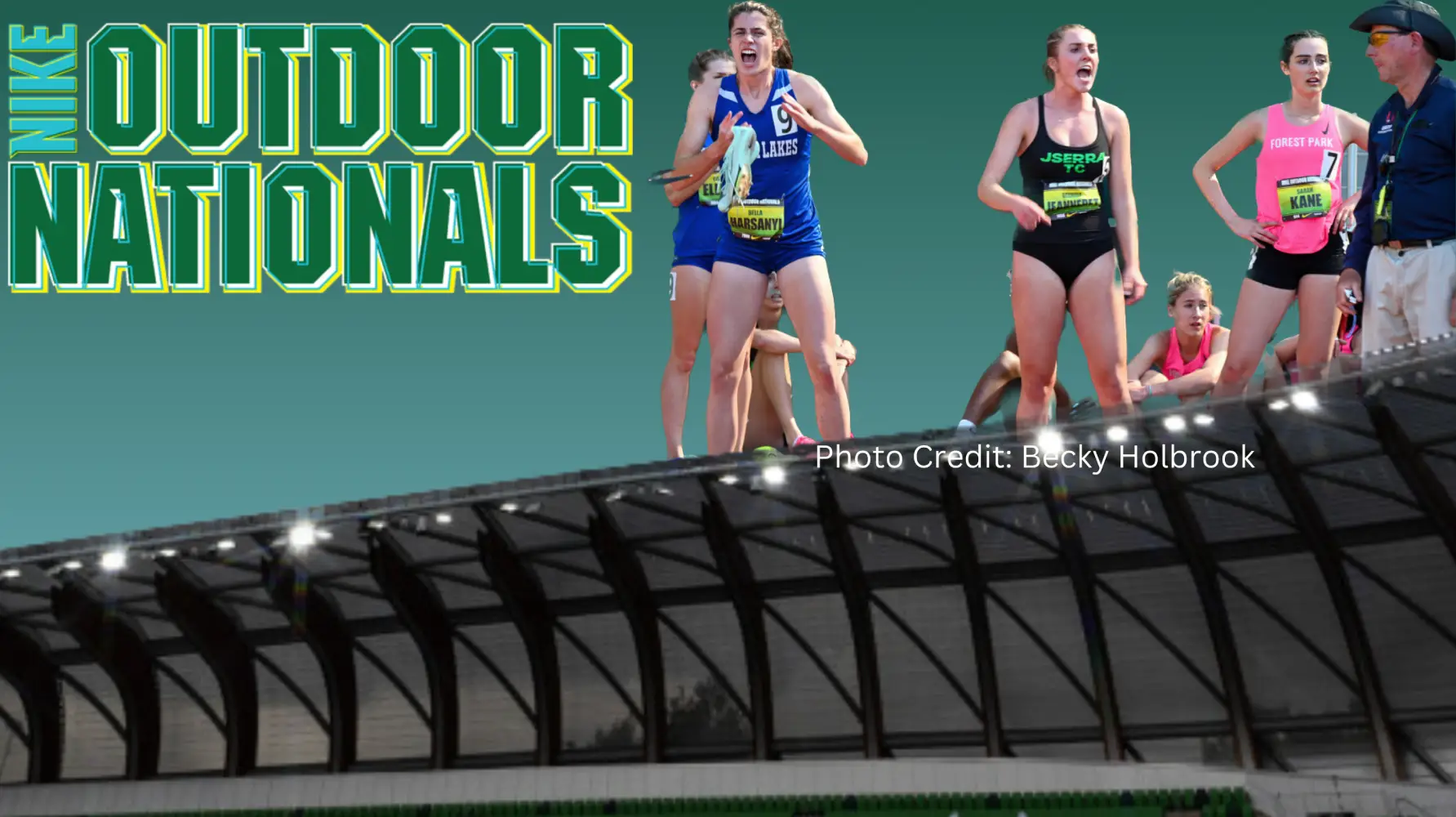 The 2023 Nike Outdoor Nationals continues today, on Friday, June 16 and the following is the order of event schedule for Day 2 at the four-day meeting being held at Hayward Field at the University of Oregon.
Day 2 will start at 10:00 a.m. local time in Oregon (Pacific Time) and 1:00 p.m. ET –with the boys' Long Jump Emerging Elite event as well as the girls' Discus Throw Championship competition. The Decathlon will also resume today at 1:30 p.m. ET, while the the Heptathlon for girls will start at 1:53 p.m. ET.
Live streaming coverage of the Day 2 at the 2023 Nike Outdoor Nationals on Friday, will be on Runnerspace for free! – Read more: How to watch the Nike Outdoor Nationals?
On-demand videos will be available here under RunnerSpace +PLUS. Signup here for RunnerSpace +PLUS.
Day 2 2023 Nike Outdoor Nationals order of event schedule
Day 2 – FRIDAY
Friday Track Events
Time
Gender
Division
Event
Round
10:30 AM
Boys
Decathlon
110m Hurdles
Final
10:53 AM
Girls
Heptathlon
100m Hurdles
Final
11:09 AM
Boys
Emerging Elite
100m Dash
Prelims
11:39 AM
Girls
Emerging Elite
100m Dash
Prelims
12:06 PM
Boys
Championship
100m Dash
Prelims
12:24 PM
Girls
Championship
100m Dash
Prelims
12:33 PM
Boys
Middle School
800m Run
Final
12:53 PM
Girls
Middle School
800m Run
Final
1:15 PM
Boys
Emerging Elite
Sprint Medley (2-2-4-8)
Final
1:23 PM
Girls
Emerging Elite
Sprint Medley (2-2-4-8)
Final
1:31 PM
Boys
Championship
Sprint Medley (2-2-4-8)
Final
1:47 PM
Girls
Championship
Sprint Medley (2-2-4-8)
Final
1:55 PM
Boys
Middle School
200m Dash
Final
2:22 PM
Girls
Middle School
200m Dash
Final
2:49 PM
Girls
Heptathlon
200m Dash
Final
3:01 PM
Boys
Championship
2000m Steeple
Finals
3:31 PM
Girls
Championship
2000m Steeple
Finals
3:53 PM
Boys
Championship
4x200m Relay
Final
4:02 PM
Girls
Championship
4x200m Relay
Final
4:07 PM
Boys
Emerging Elite
4x800m Relay
Final
4:29 PM
Boys
Decathlon
1500m Run
Final
4:45 PM
Girls
Emerging Elite
4x800m Relay
Final
5:07 PM
Boys
Kids Sports
60m Dash
Finals
5:31 PM
Girls
Kids Sports
60m Dash
Finals
5:55 PM
Boys
Championship
4x800m Relay
Final
6:17 PM
Girls
Championship
4x800m Relay
Final
6:41 PM
Boys
Emerging Elite
100m Dash
Finals
6:50 PM
Girls
Emerging Elite
100m Dash
Finals
6:59 PM
Boys
Championship
5000m Run(Section1)
Final
7:20 PM
Girls
Championship
5000m Run(Section 1)
Final
7:44 PM
Mixed
Championship
4 x 400m Relay
Final
7:51 PM
Boys
Championship
100m Dash
Finals
7:56 PM
Girls
Championship
100m Dash
Finals
8:01 PM
Men's
Professional
800m Run
Final
8:07 PM
Women's
Professional
800m Run
Final
8:13 PM
Boys
Championship
5000m run (Section 2)
Final
8:35 PM
Men's
Professional
3000m Steeple
Final
8:47 PM
Women's
Professional
1500m Run
Final
8:55 PM
Girls
Championship
5000m run (Section 2)
Final
9:17 PM
Men's
Professional
1500m Run
Final
9:27 PM
Men's/Women's
Coaches
Mile
Final
To follow Coaches Mile
Everyone
ALL
Nick Symmonds' Experience
| | | | | |
| --- | --- | --- | --- | --- |
| Friday Field Events | | | | |
| Time | Gender | Division | Event | Round |
| 10:00 AM | Boys | Emerging Elite | Long Jump | Final |
| 10:00 AM | Girls | Championship | Discus | Final |
| 11:15 AM | Boys | Decathlon | Discus | Final |
| 11:30 AM | Girls | Heptathlon | High Jump | Final |
| 12:45 PM | Boys | Decathlon | Pole Vault | Final |
| 1:00 PM | Girls | Heptathlon | Shot Put | Final |
| 1:30 PM | Girls | Emerging Elite | Long Jump | Final |
| 2:30 PM | Boys | Emerging Elite | Shot Put | Final |
| 2:45 PM | Boys | Decathlon | Javelin | Final |
| 4:00 PM | Girls | Emerging Elite | Discus | Final |
| 4:30 PM | Girls | Championship | Pole Vault | Final |
| 5:00 PM | Girls | Championship | Long Jump | Final |
| 5:00 PM | Boys | Championship | Shot Put | Final |