Italy emerged as the victors of the European Athletics Team Championships First Division Silesia 2023, which concluded on Sunday (25). The overall performance and strong team dynamics propelled the Italians to a first-ever team title in this event. They accumulated a total of 426.50 points across 37 events to outscore the reigning champions, Poland, and Germany.
Italy's Balanced Performance at Silesia 2023
After the culmination of the second day of the 1st Division on Saturday, Italy took the lead with an impressive score of 293 points, maintaining a 34.50-point advantage over Great Britain entering Sunday's final day of competition.
With victories in seven events, Italy solidified their position as the frontrunners. The final day of the action saw the leaders maintaining their advantage as they continued to excel, ultimately clinching the Silesia 2023 European Athletics Team Championships team title.
This triumph marked their first-ever European team championship victory, a historic moment for Italian athletics.
Poland's Strong Finish
Meanwhile, despite Italy's exceptional performance, Poland made a valiant effort to defend their title at home. The hosts concluded the championships on a high note by securing victory in the A race of the mixed 4x400m relay. The time was the second-fastest overall, behind the record-breaking Czech Republic, the winner of Heat B with 3:12.34.
However, their strong finish wasn't sufficient to overtake Italy, who had already secured the crown before the commencement of the last event. Poland finished in a respectable second place with a total of 402.50 points.
READ MORE: Final Standings: 2023 European Athletics Team Championships 2nd Division
Germany's Steadfast Performance and Top 5
Germany showcased their prowess in the competition with a commendable performance. Their consistency and skill contributed significantly to their overall score of 387.50 points, securing them the third position in the championships.
The German athletes' dedication and determination were evident throughout the event, highlighting their status as a formidable force in European athletics.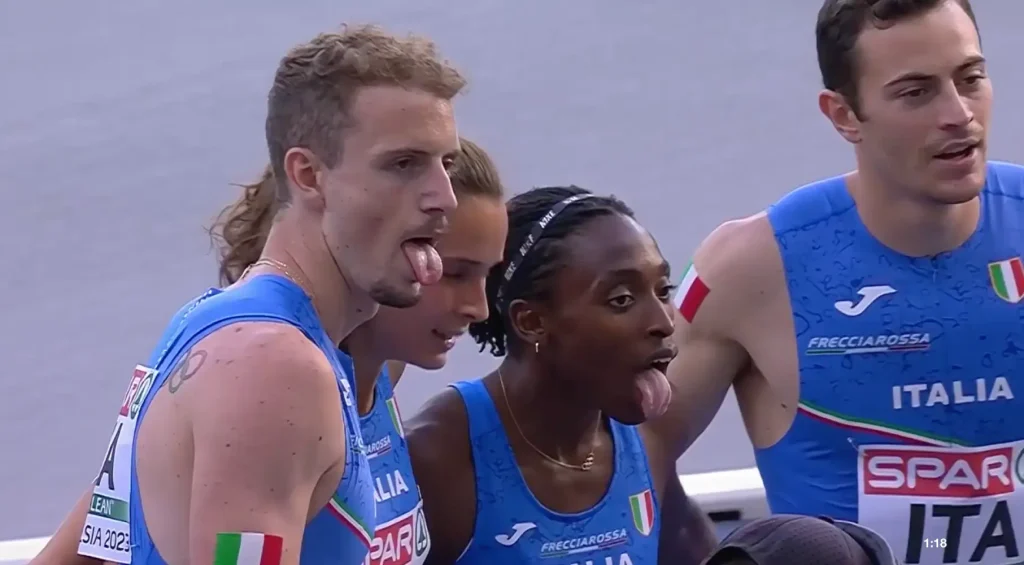 Spain displayed their athletic prowess and secured the fourth position with a total of 352 points. Great Britain & NI, despite initially challenging Italy for the lead, finished in fifth place with 341 points.
Division Relegation and Promotion
In addition to celebrating the triumphs of the top-performing teams, the conclusion of the championships marked the relegation and promotion of nations between divisions.
Belgium, Turkey, and Norway, unfortunately, faced relegation to Division 2 after their performances in the First Division. They will be replaced in the top tier by the Division 2 champions, Hungary, along with Ukraine and Lithuania.
These promoted countries now have the opportunity to compete on a higher stage and strive for excellence in two years time at the 2025 championships.
READ MORE: Final Division 3 European Athletics Team Championships standings; Ireland claim victory
European Athletics Team Championships Silesia 2023: First Division Table Standings
Here is a table with the information from the 2023 European Athletics Team Championships:
| Nation | Total Points | 1st Place with Points |
| --- | --- | --- |
| Italy | 426.5 | 7 (112) |
| Poland | 402.5 | 4 (64) |
| Germany | 387.5 | 4 (64) |
| Spain | 352 | 4 (64) |
| Great Britain & NI | 341 | 0 |
| Netherlands | 339.5 | 4 (64) |
| France | 337.5 | 3 (48) |
| Portugal | 315 | 1 (16) |
| Czech Republic | 303.5 | 2 (32) |
| Sweden | 283 | 1 (16) |
| Finland | 282.5 | 1 (16) |
| Switzerland | 263 | 3 (48) |
| Greece | 256.5 | 1 (16) |
| Belgium | 250 | 0 |
| Türkiye | 245 | 1 (16) |
| Norway | 223 | 1 (16) |
Note that the European Athletics Team Championships is an international athletics competition organized by European Athletics between different countries of Europe, over three divisions