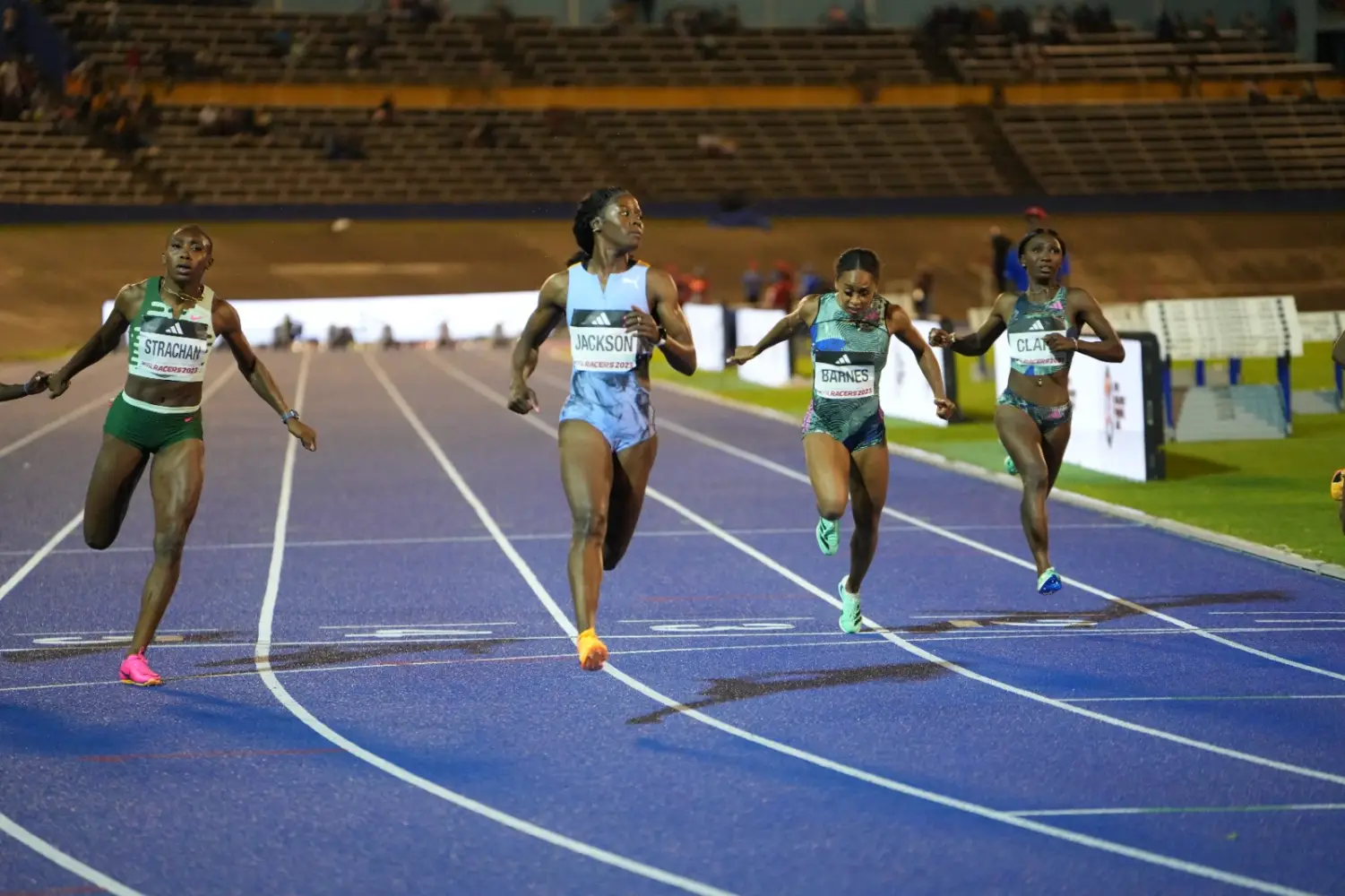 KINGSTON (June 3) – Shericka Jackson showcased her impressive form at the 2023 Racers Grand Prix – World Athletics Continental Tour Silver event, held at the National Stadium on Saturday night (3). Jackson, the reigning world champion in the 200m, blazed through the finish line in a season best and meet record time of 10.78 seconds (+1.6 m/s) to clinch victory in the women's 100 meters.
Improving upon her previous season best of 10.82 seconds, the 28-year-old demonstrated a remarkable start and maintained her momentum throughout the race, leaving her competitors in the dust. Read more: Wayde van Niekerk runs 44.21 at Racers Grand Prix
The Jamaican sprinter attributed her success to the recent strides she's been making in training, stating, "Coach and I have been working on the first 30m, and tonight I think I did great."
Jackson expressed her satisfaction with the time achieved and expressed optimism about going even faster in the upcoming summer season. She boldly declared, "I am definitely on the right path (to run 10.50 and 10.60) this season."
Jackson's time matched the second-fastest of the season, equaling the mark set by the Ivory Coast's Marie Josée Ta Lou, who also posted 10.78 seconds last month. American Sha'Carri Richardson owns the world lead at 10.76 secs.
In the 100m on Saturday, Anthonique Strachan from the Bahamas secured second place with a season best time of 10.99 seconds, while Shashalee Forbes took third place at 11.07 seconds. Fourth place was claimed by Kemba Nelson, who ran a season best of 11.10 seconds.
Noah Lyles Claims Men's 200m Title in Style
In the meantime, Noah Lyles, a two-time world champion, delivered a stunning performance in the men's 200m at the 2023 Racers Grand Prix, setting a new meeting record. Lyles sprinted across the finish line in a world-leading time of 19.67 seconds, leaving his competitors trailing behind.
Displaying his exceptional speed and dominance in the closing 30 meters, the American expressed contentment with his performance while acknowledging room for improvement, stating, "I still have some things to clean."
When questioned about his pursuit of Usain Bolt's world record of 19.19 seconds, the 25-year-old American champion confidently asserted that he is targeting a time of "19.10."
Securing a distant second place was Great Britain's European champion Zharnel Hughes, achieving a season best of 20.14 seconds. Jamaican sprinter Rasheed Dwyer claimed third place, also attaining a season best time of 20.53 seconds.
American 2019 world champion Christian Coleman won the men's 100m with a time of 10.03 seconds, holding off the fast-finishing Kadrian Goldson of Jamaica who was reward for his efforts with a lifetime best of 10.08 secs.