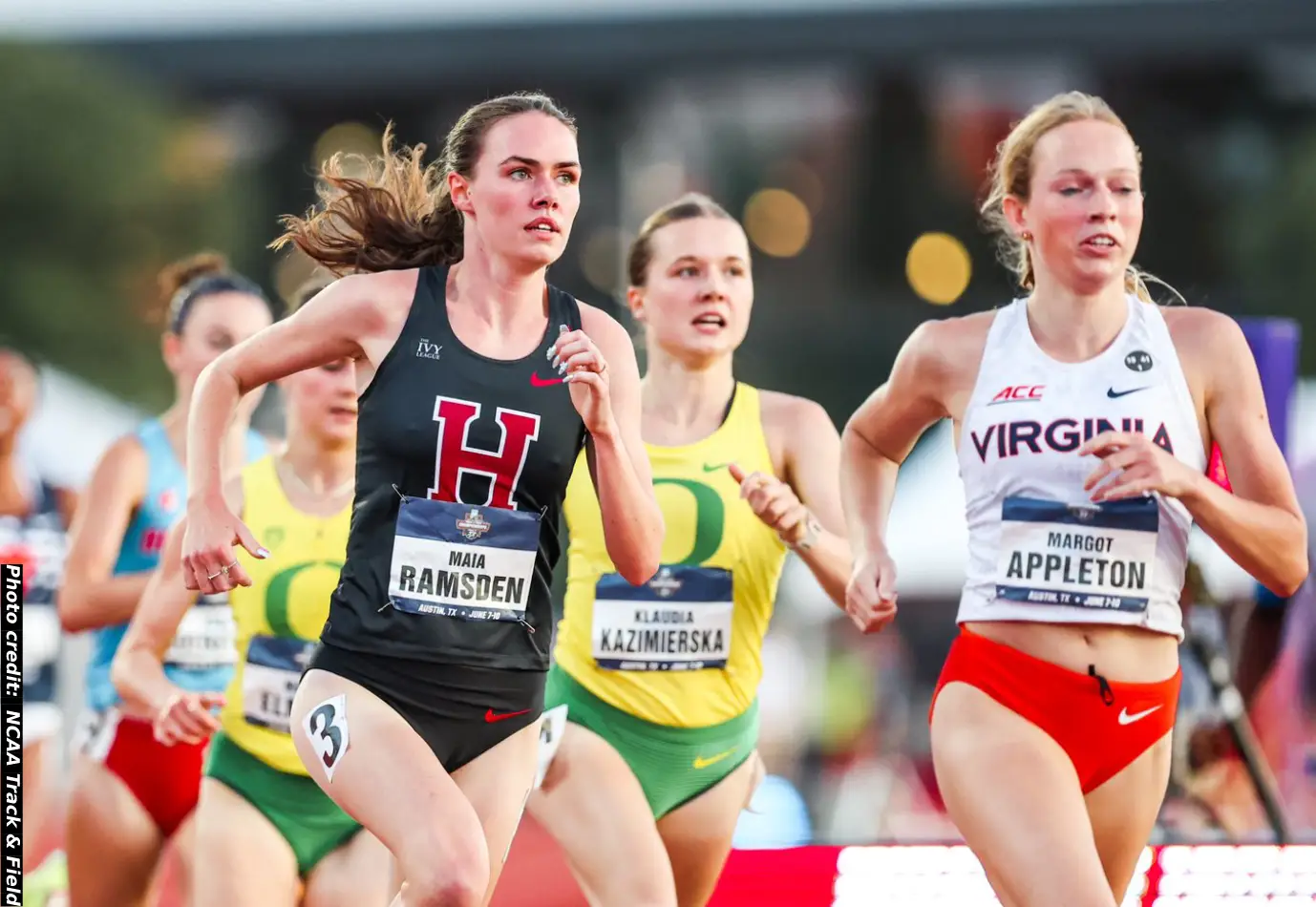 Austin, Texas (June 10) – Harvard's Maia Ramsden displayed her joyous form this season, delivering a stunning performance by clocking 4:08.60 to set a personal best and emerge as the champion in the women's 1500m at the 2023 NCAA Outdoor Championships on Saturday (10). In a surprising turn of events, pre-championship favorite Katelyn Tuohy from NC State faded to seventh place.
After finishing 10th at the 2022 NCAA Championships and missing the podium in the indoor mile championships, Ramsden aim was to improve both her personal best and her position from last season in the 1500m.
The Harvard sophomore successfully achieved her goals on Saturday night, becoming the first from the program to win the women's 1500m title since 1986.
"This year I tried to have fun," said Ramsden, who surpassed her previous personal best of 4:09.81 set in the semi-finals on Thursday. "I love racing, and it's all about having fun." – Read more: Day 4: 2023 NCAA Outdoor Championships order of event, live stream, results, start list
Ramsden emphasized her desire to achieve a new personal best and secure a higher finish than her performances from last year and the indoor championships. Her dedication paid off as she worked on improving her race moves and maintaining efficiency without unnecessary bouncing.
"Today I wanted to PB and a finish that was higher than last year and higher than indoors," she added. "That was my goal going into (the NCAA Championships).
"I am working on being more efficient with my race moves and not bouncing around so much."
Katelyn Tuohy Fades In Final 50m To 7th
Tuohy started out aggressively and even held a 10m advantage on the field at one point, but her ambitious start took a toll as she was caught and overtaken by several runners, including Ramsden, who went on to establish a new school record at Mike A. Myers Stadium.
Oregon's Izzy Thornton-Bott finished strongly, securing second place with a time of 4:09.21, while Margot Appleton from Virginia claimed third place with a time of 4:09.30.
Tuohy, looking fatigued, crossed the finish line with a disappointing time of 4:11.40, settling for seventh place and ends her quest to win a 1500m and 5000m double. Sophie O'Sullivan from Washington, the top-ranked athlete entering the championships, finished last at 4:22.81.