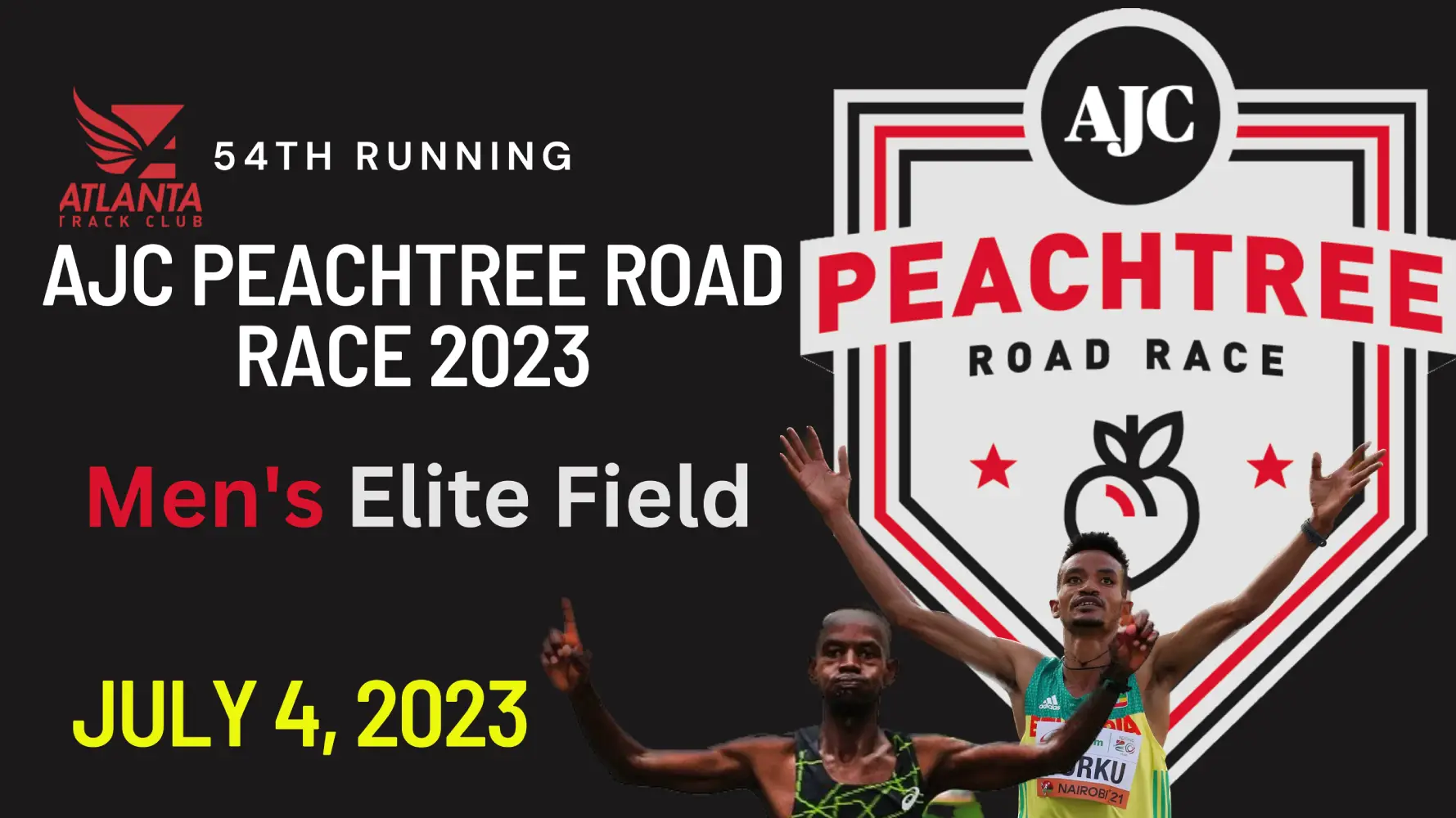 The Elite men's field at the Peachtree Road Race 2023 – iconic July 4 race – is equally as formidable as the women's start list, and it features eight individuals who have achieved impressive sub-27:30 times for the 10K distance on the road.
Among the leading starters in the race is Tadesse Worku of Ethiopia, who holds a quick personal best time of 26:56, which is five seconds faster than the Peachtree Road Race course record of 27:01. – Read more: AJC Peachtree Road Race 2022 results; Rhonex Kipruto and Senbere Teferi take wins
Also entered the race with a 10K personal best faster than the course mark is Charles Langat of Kenya, who ran a time of 26:57 in Valencia in January. He will be joined in the top ranks by Ethiopians Jemal Yimer, last year's third-place finisher, and Tsegay Kidanu, the winner of the 2023 Publix Atlanta Half Marathon.
Nonetheless, none of these accomplished athletes have tasted victory at the Peachtree Road Race before. – Read more: Peachtree Road Race 2023 Women's Elite Field
One runner to watch out for is Gabriel Geay of Tanzania, who emerged triumphant at the young age of 19 in 2016. Geay, now 26 and the runner-up at this year's Boston Marathon, returns to Atlanta as one of the favorites to clinch the coveted title.
Geay carries significant momentum into the race after securing victory at the B.A.A. 10K in Boston just last weekend.
Leading the American charge in the men's field is Elkanah Kibet, who hopes to continue the tradition of strong performances by members of the U.S. Army team at the Peachtree Road Race 2023.
Other notable American contenders include Ben Blankenship, an Olympian in the 1500-meter event in 2016 who is transitioning to longer distances, and Andrew Colley, a qualifier for the World Cross Country Championships.
In the Shepherd Center Wheelchair Division, Daniel Romanchuk aims to claim his sixth Peachtree title. The course record-holder faces stiff competition from Josh Cassidy, a two-time Peachtree champion, and Aaron Pike, who emerged victorious at last weekend's Grandma's Marathon.
The 54th Running of the Atlanta Journal-Constitution Peachtree Road Race 2023 is scheduled to take place on Tuesday, July 4, in Atlanta, Georgia. With a staggering participation of 50,000 runners and walkers, the event has solidified its position as the largest 10K race in the world.
Live streaming coverage will be on the Atlanta Track Club's YouTube and Facebook pages, while local audiences can tune in to WXIA-11Alive for the broadcast.
Information Provided by Jay Holder [jholder@atlantatrackclub.org]
Men's Elite Division and Men's Shepherd Center Wheelchair Division Fields For Peachtree Road Race 2023:
Men's Open Elite Division
Tadesse Worku 26:56 ETH
Charles Langat 26:57 KEN
Tsegay Kidanu 27:14 ETH
Kiprono Sitonik 27:14 KEN
Philemon Kiplimo 27:23 KEN
Hillary Kipkoech 27:23 KEN
Nibret Melak Bogale 27:24 ETH
Isaac Kipkemboi 27:29 KEN
Jemal Yimer 27:50 ETH
Mogos Tuemay 27:50 ETH
Reid Buchanan 27:52 USA
Gabriel Geay 27:58 TAN
Sikiyas Misganaw 28:01 ETH
Rory Linkletter 28:06 CAN
Andrew Colley 28:45 USA
Daniel Chaves 28:46 BRA
Michael Somers 28:52 BEL
Elkanah Kibet 28:57 USA
Rob Mullett 29:20 GB&NI
Craig Lautenslager 29:26 NZL
Charlie Smogoleski 30:07 USA
Ben Blankenship 30:11 USA
Zacchaeus Widner 30:51 USA
Edwin Kurgat DEBUT KEN
Men's Shepherd Center Wheelchair Division
Daniel Romanchuk 18:11 USA
Aaron Pike 18:00 USA
Raphael Botello Jimenez 20:10 ESP
Josh Cassidy 18:52 CAN
Herman Garic 20:51 USA
Luis Francisco 20:19 COL
Evan Correll 22:26 USA
Brian Siemann 20:00 USA
James Senbeta 20:05 USA
Valera "Jacob" Allen 20:58 USA
Alfonso Zaragoza Solorio 21:04 MEX
Dustin Stallberg 21:43 USA
Peyton Gunnarson 21:50 USA
Jason Robinson 23:08 USA
Phillip Kroft 24:00 USA
Jose Pulido 24:22 USA
Juan Pablo Cervantes 22:00 MEX
Aiden Gravelle 20:54 USA
Wyatt Bruce Willand 20:53 USA
Miguel Jimenez Vergara 21:48 USA
Laurens Molina 22:19 CR
Juan Ramon Vallado 23:00 VEN
Sairo Moises Fernandez 24:00 COL
Brad Smith 27:05 USA
Colby Higgins 22:05 USA
Dan Berschinski 37:00 USA
Darius Barrow 39:53 USA
Natan Morales Vela'zquez 39:34 MEX
Dwain Farley 45:00 USA